Nightjars of Vietnam – Caprimulgidae
With 5 species of Nightjars of Vietnam, occurring over the country, all species hard to see, the striking Great Eared-Nightjar and Savanna Nightjar the more understated. Their range throughout Vietnam but their ability to camouflage makes them invisible on the forest floor.
The overview of Nightjars families
Nightjars are medium-sized nocturnal or crepuscular birds in the family Caprimulgidae /ˌkæprɪˈmʌldʒɪdiː/ and order Caprimulgiformes, characterized by long wings, short legs, and very short bills. They are sometimes called goatsuckers, due to the ancient folk tale that they sucked the milk from goats (the Latin for goatsucker is Caprimulgus), or bug eaters, their primary source of food being insects. Some New World species are called nighthawks. The English word "nightjar" originally referred to the European nightjar.
Nightjars are found all around the world, with the exception of Antarctica and certain island groups such as Seychelles. They can be found in a variety of habitats, most commonly in the open country with some vegetation. They usually nest on the ground, with a habit of resting and roosting on roads.
The subfamilies of nightjars have similar characteristics, including small feet, of little use for walking, and long, pointed wings. Typical nightjars, though, have rictal bristles, longer bills, and softer plumage. The color of their plumage and their unusual perching habits help conceal them during the day.
Nightjars of Vietnam Highlight note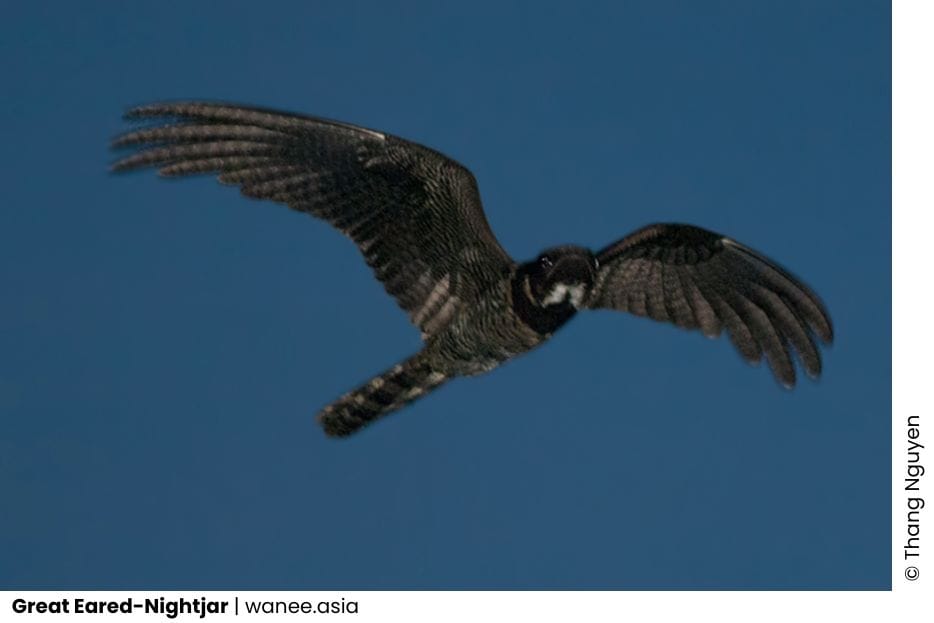 Great Eared-Nightjar Lyncornis macrotis
Status: Common resident
Best time to watch & Photo: Feb-Apr
Tour cover: Exclude Mekong Delta
Hotspot: Cat Tien, Tan Phu, Da Lat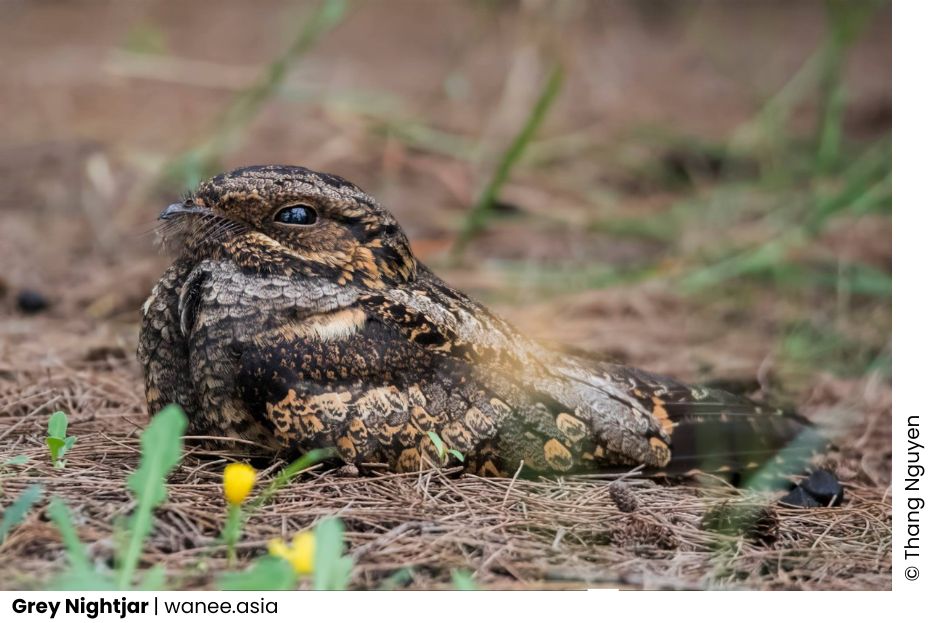 Grey Nightjar Caprimulgus jotaka
Status: Common resident
Best time to watch & Photo: Feb-Apr
Tours: Throughout
Hotspot: Bach Ma, Da Lat, Kon Tum, SaPa
Large-tailed Nightjar Caprimulgus macrurus
Status: Fairly Common resident (throughout)
Best time to watch & Photo: Feb-Apr
Tours: Throughout
Hotspot: Tram Chim, Can Gio, Cat Tien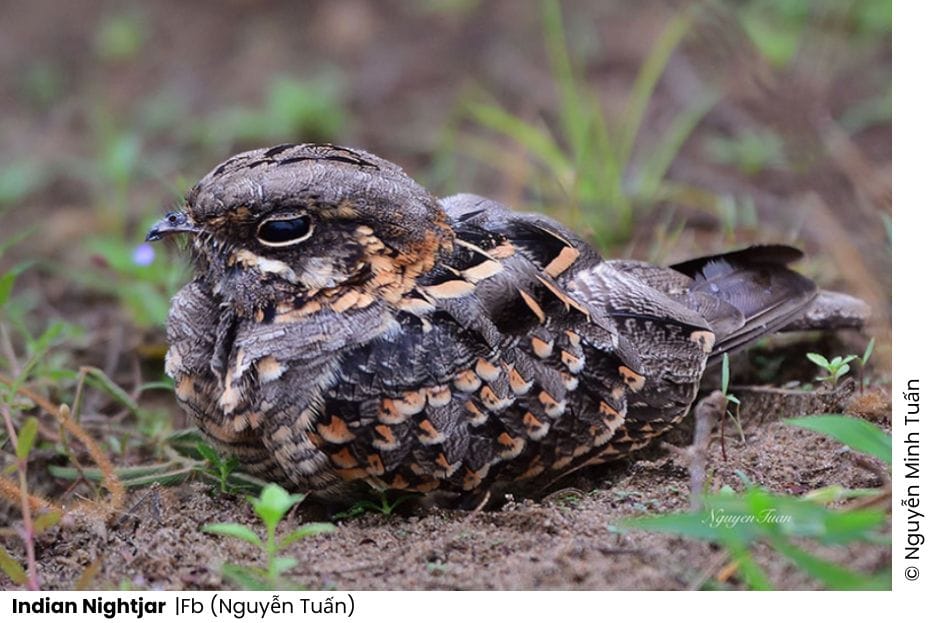 Indian Nightjar Caprimulgus asiaticus
Status: Fairly Common resident (throughout)
Best time to watch & Photo: Feb-Apr
Tours: Throughout
Hotspot: Cat Tien, Ma Da, Tan Phu, Can Gio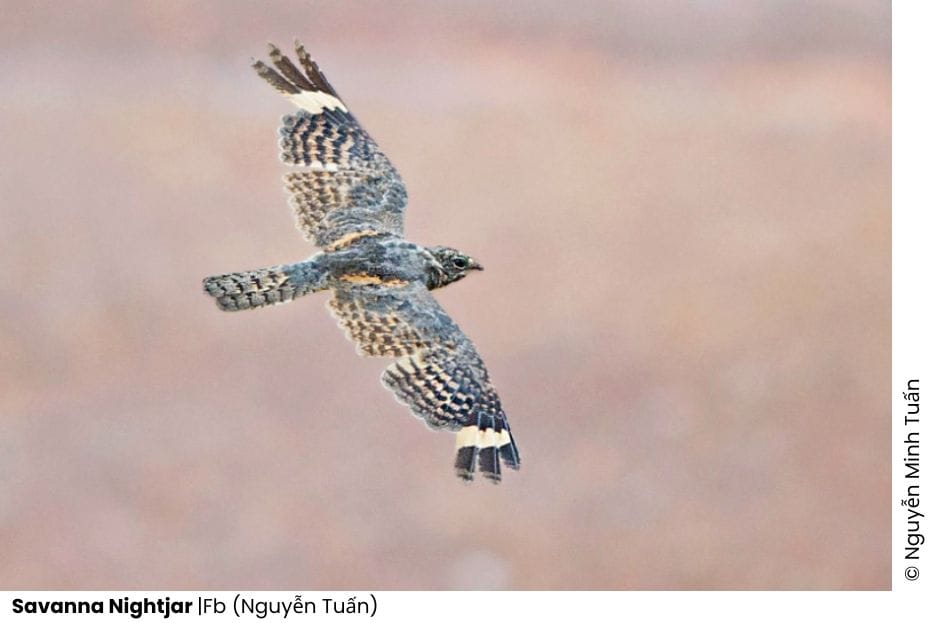 Savanna Nightjar Caprimulgus affinis
Status: Common resident in South Central Vietnam
Best time to watch & Photo: Feb-Apr
Tours: Central Highland
Hotspot: Di Linh, Dalat, Yok Don