Herons Of Vietnam – Pittidae
With 20 species of Herons of Vietnam, occurring over the country, all of them are really easy to see in every corner of Vietnam. They are easy to find because of their appearance although with many colors but quite hard to ID what species in this family especially 5 species of Egret
The overview of Herons families
The Herons are long-legged, long-necked, freshwater and coastal birds in the family Ardeidae, with 72 recognized species in the world, some of which are referred to as egrets or bitterns rather than herons. Members of the genera Botaurus and Ixobrychus are referred to as bitterns, and, together with the zigzag heron, or zigzag bittern, in the monotypic genus Zebrilus, form a monophyletic group within the Ardeidae. Egrets do not form a biologically distinct group from herons and tend to be named differently because they are mainly white or have decorative plumes in breeding plumage. Herons, by evolutionary adaptation, have long beaks.
The classification of the individual heron/egret species is fraught with difficulty, and no clear consensus exists about the correct placement of many species into either of the two major genera, Ardea and Egretta. Similarly, the relationships of the genera in the family are not completely resolved. However, one species formerly considered to constitute a separate monotypic family, the Cochlearidae or the boat-billed heron, is now regarded as a member of the Ardeidae.
Although herons resemble birds in some other families, such as the Storks, Ibises, Spoonbills, and Cranes, they differ from these in flying with their necks retracted, not outstretched. They are also one of the bird groups that have powder down. Some members of this group nest colonially in trees, while others, notably the bitterns, use reed beds. A group of them is called a "siege."
Some Highlight Herons of Vietnam species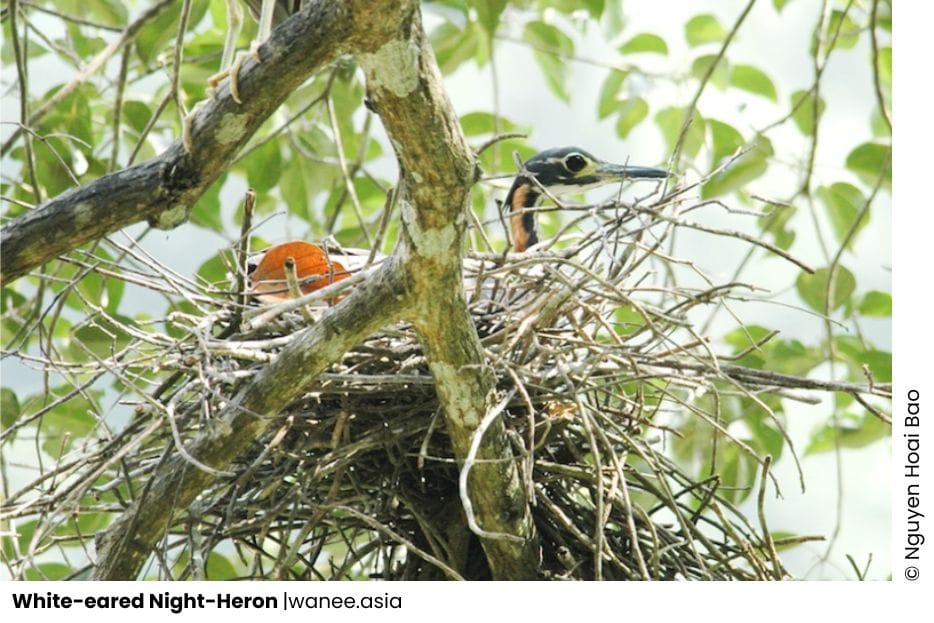 White-eared Night-Heron Gorsachius magnificus
Status: Uncommon resident – Endangered sp.
Best time to watch & Photo: Feb
Tour cover: Ba Be
Hotspot: Ba Be Np.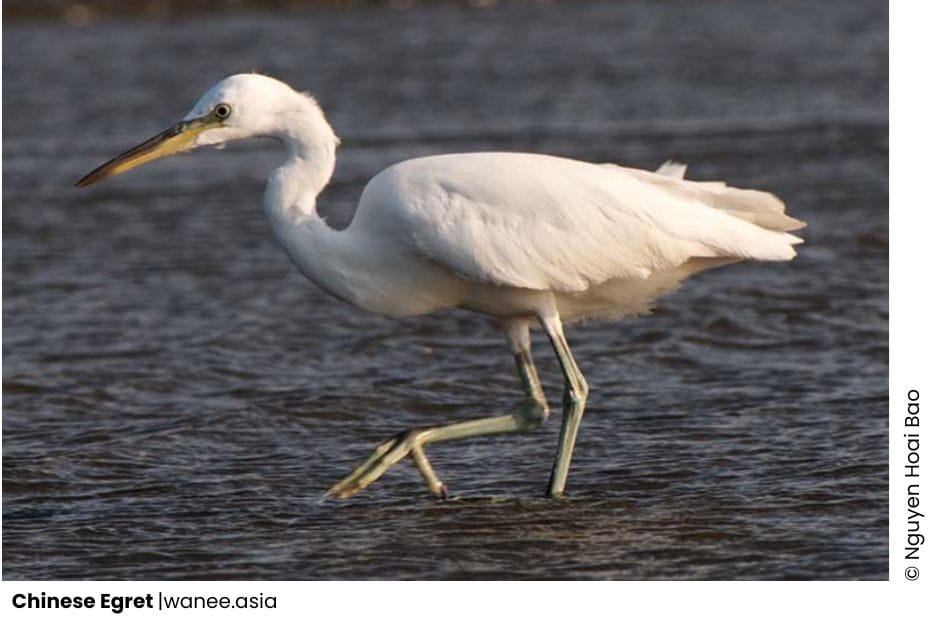 Chinese Egret Egretta eulophotes
Status: Scarce Migrant – Vulnerable sp.
Best time to watch & Photo:
Tours: South Vietnam
Hotspot: Can Gio, Xuan Thuy, Go Cong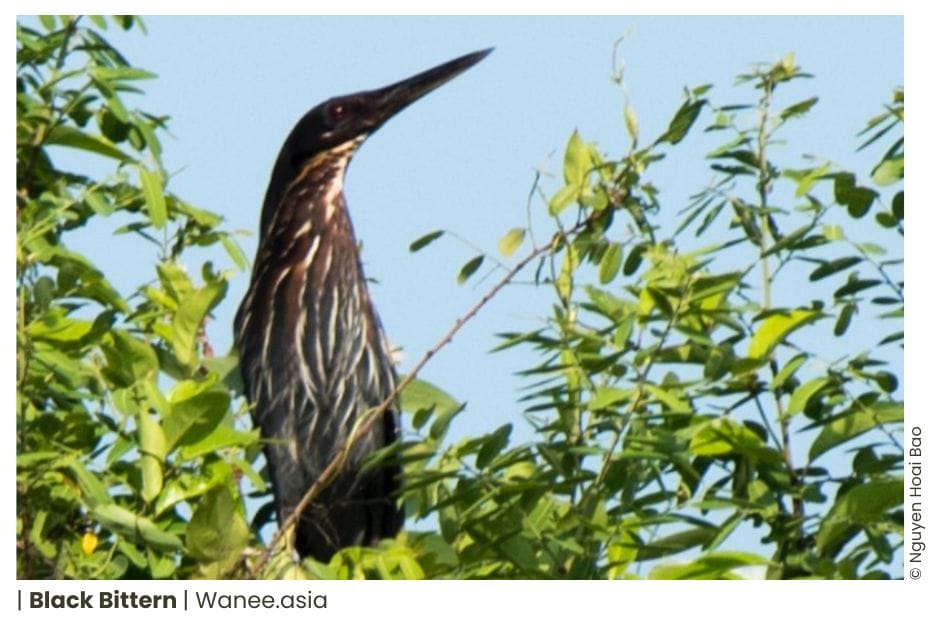 Black Bittern Ixobrychus flavicollis
Status: Uncommon Migrant
Best time to watch & Photo: UNKNOW
Tours: South Central Vietnam
Hotspot: Bach Ma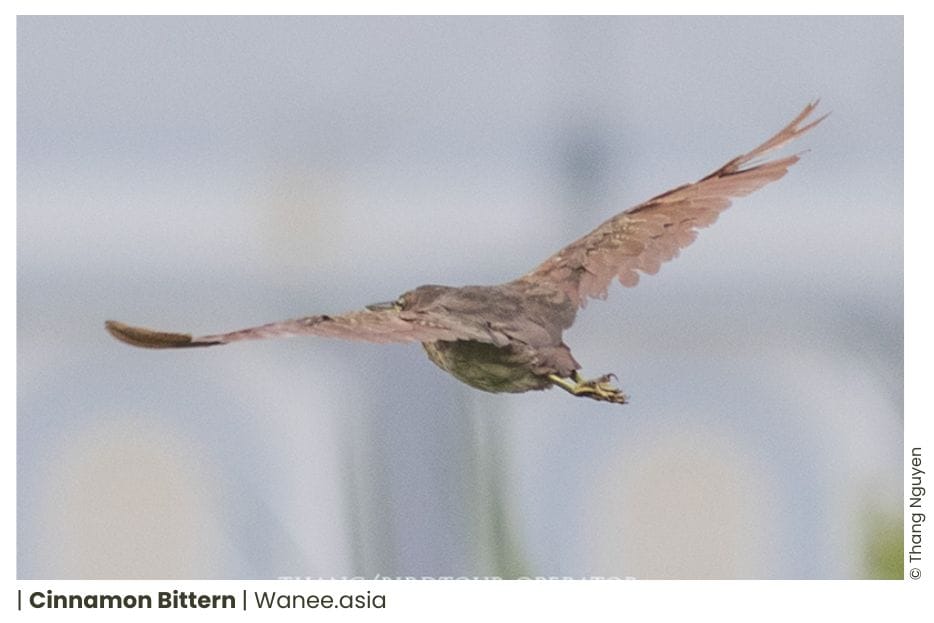 Cinnamon Bittern Ixobrychus cinnamomeus
Status: Common resident
Best time to watch & Photo:
Tours: Throughout Vietnam
Hotspot: Cat Tien, Yok Don, Tan Phu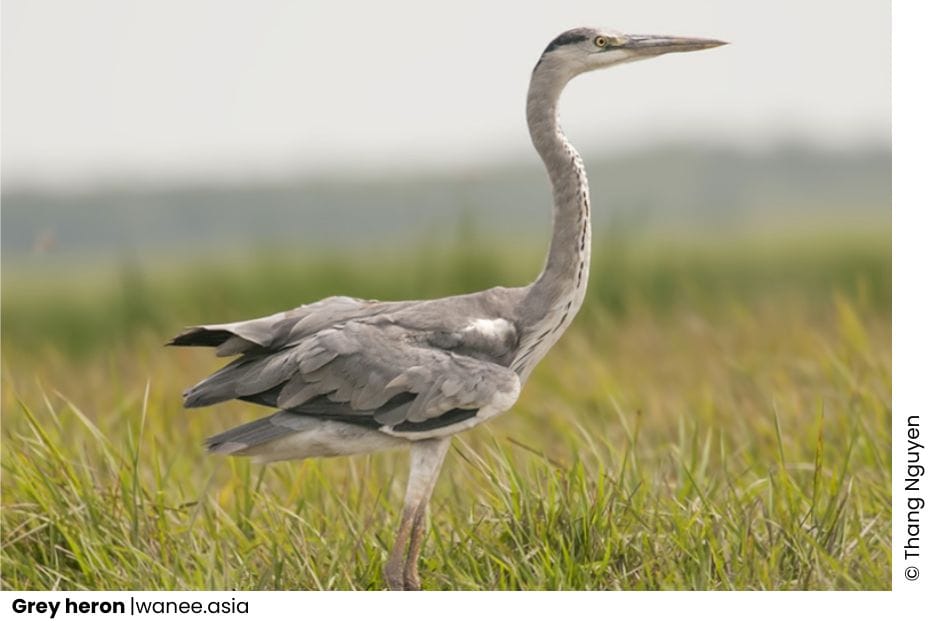 Grey Heron Ardea cinerea
Status: Local fairly common resident
Best time to watch & Photo:
Tours: Throughout
Hotspot: Di Linh, Dalat, Tram Chim, Cat Tien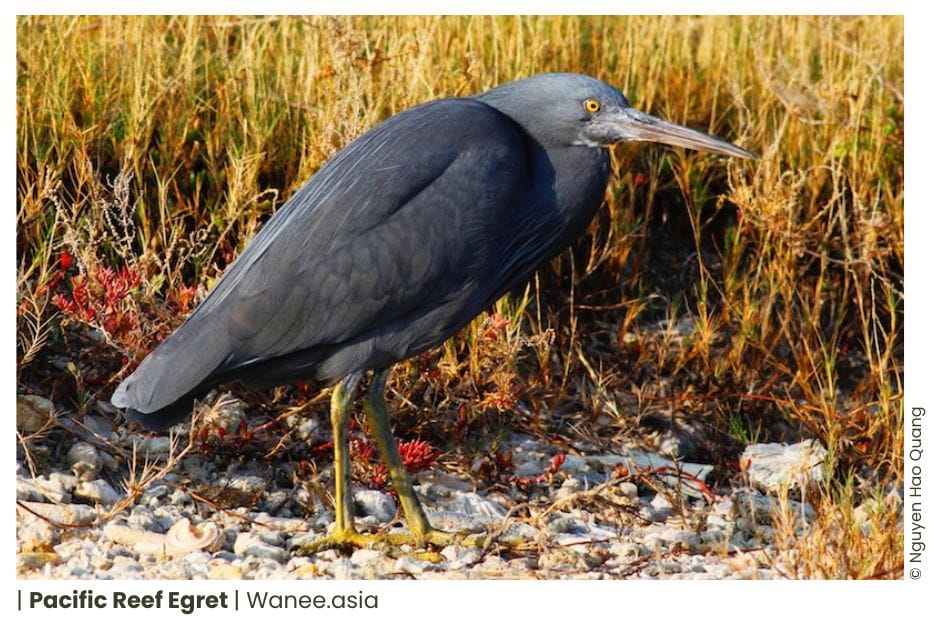 Pacific Reef-Egret Egretta sacra
Status: Common Migrant
Best time to watch & Photo:
Tours: Mekong & Red River Delta
Hotspot: Can Gio, Xuan Thuy, Go Cong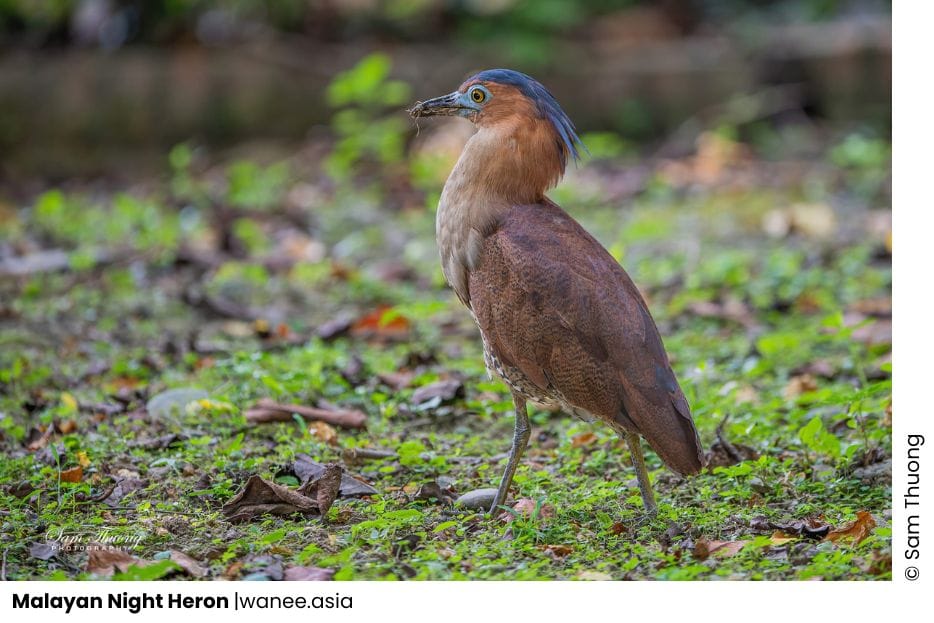 Malayan Night Heron Gorsachius melanolophus
Status: Local common resident
Best time to watch & Photo:
Hotspot: Tram Chim, Can Gio, Cat Tien, Ma Da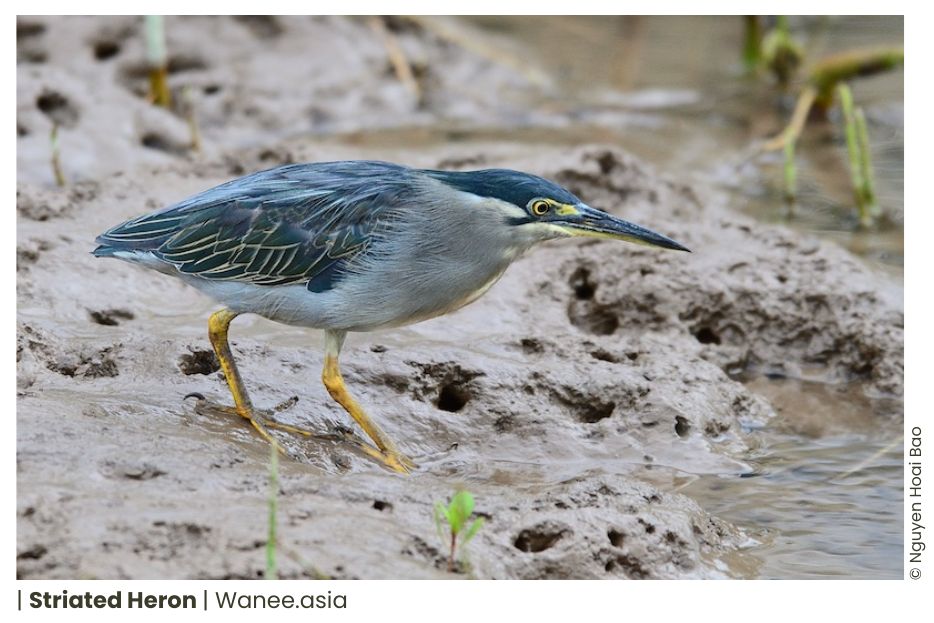 Striated Heron Butorides striata
Status: Local common resident
Best time to watch & Photo:
Tours: throughout
Hotspot: Ma Da, Tan Phu, Can Gio, Yok Don
List of all Herons in Vietnam
| | | |
| --- | --- | --- |
| | Name | Level |
| 1 | Great Bittern | Hard |
| 2 | Yellow Bittern | Easy |
| 3 | Schrenck's Bittern | Lack Data |
| 4 | Cinnamon Bittern | Easy |
| 5 | Black Bittern | Easy |
| 6 | Grey Heron | Easy |
| 7 | Great-billed Heron | Lack Data |
| 8 | Purple Heron | Easy |
| 9 | Great Egret | Easy |
| 10 | Intermediate Egret | Easy |
| 11 | Chinese Egret | Easy |
| 12 | Little Egret | Easy |
| 13 | Pacific Reef-Heron | Easy |
| 14 | Cattle Egret | Easy |
| 15 | Chinese Pond-Heron | Easy |
| 16 | Javan Pond-Heron | Easy |
| 17 | Striated Heron | Easy |
| 18 | Black-crowned Night-Heron | Easy |
| 19 | White-eared Night-Heron | Hard |
| 20 | Malayan Night-Heron | Hard |

Note: Hard – Really hard to see; Maybe – …..; Easy – Easy to see with guide; Impossible – Weak info; Lack Data – Consider out of list