Flycatcher of Vietnam – Muscicapidae
With 73 Flycatchers of Vietnam, occurring on every corner of the country. Flycatcher is a family of the crowdest order so they have many types, sizes, colors, and habitat although they do not have any endemic species. They help our journey get more interesting with their appearance.
You may know: They are including migrants and residents in every corner especially Verditer Flycatcher outstanding for residents throughout the country & Narcissus Flycatcher for migrants on over Vietnam
The overview of Flycatcher families
The Old World Flycatchers are a large family, the Muscicapidae, of small passerine birds restricted to the Old World (Europe, Africa and Asia), with the exception of several vagrants and two species, Bluethroat (Luscinia svecica) and Northern Wheatear (Oenanthe oenanthe), found also in North America. These are mainly small arboreal insectivores, many of which, as the name implies, take their prey on the wing. The family includes 344 species and is divided into 51 genera.
The appearance of these birds is very varied, but they mostly have weak songs and harsh calls. They are small to medium birds, ranging from 9 to 22 cm in length. Many species are dull brown in color, but the plumage of some can be much brighter, especially in the males. Most have broad, flattened bills suited to catching insects in flight, although the few ground-foraging species typically have finer bills.
Old World Flycatchers live in almost every environment with a suitable supply of trees, from dense forest to open scrub, and even the montane woodland of the Himalayas. The more northerly species migrate south in winter, ensuring a continuous diet of insects.
Depending on the species, their nests are either well-constructed cups placed in a tree or cliff ledge or simply lined in a pre-existing tree hole. The hole-nesting species tend to lay larger clutches, with an average of eight eggs, rather than just two to five.
Flycatchers of Vietnam species note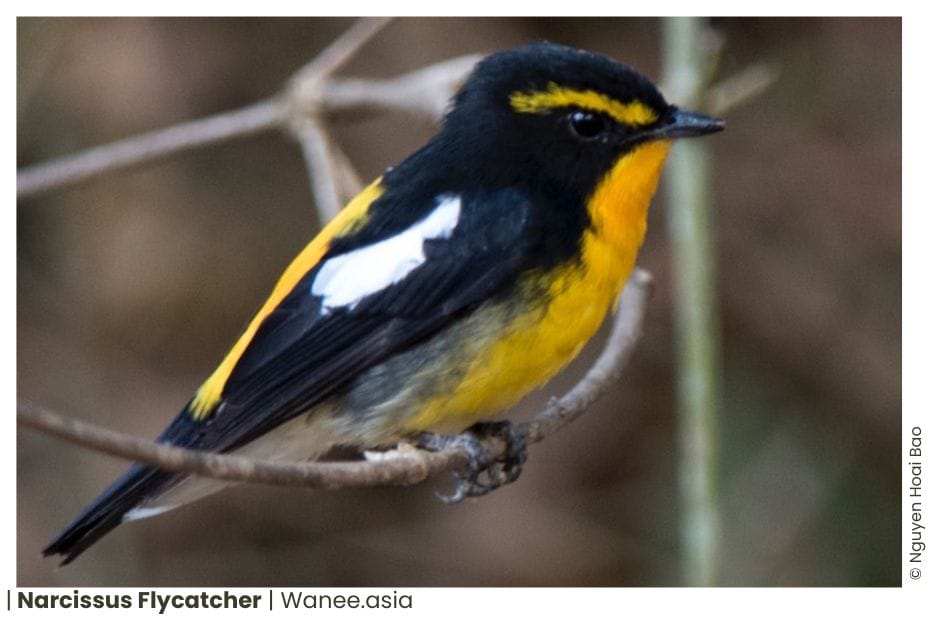 Narcissus Flycatcher Ficedula narcissina
Status: Uncommon Pass Migrants
Best time to watch & Photo: Feb-Apr
Tour cover: Edge Coastline & South
Hotspot: Cat Tien, Bach Ma, Cuc Phuong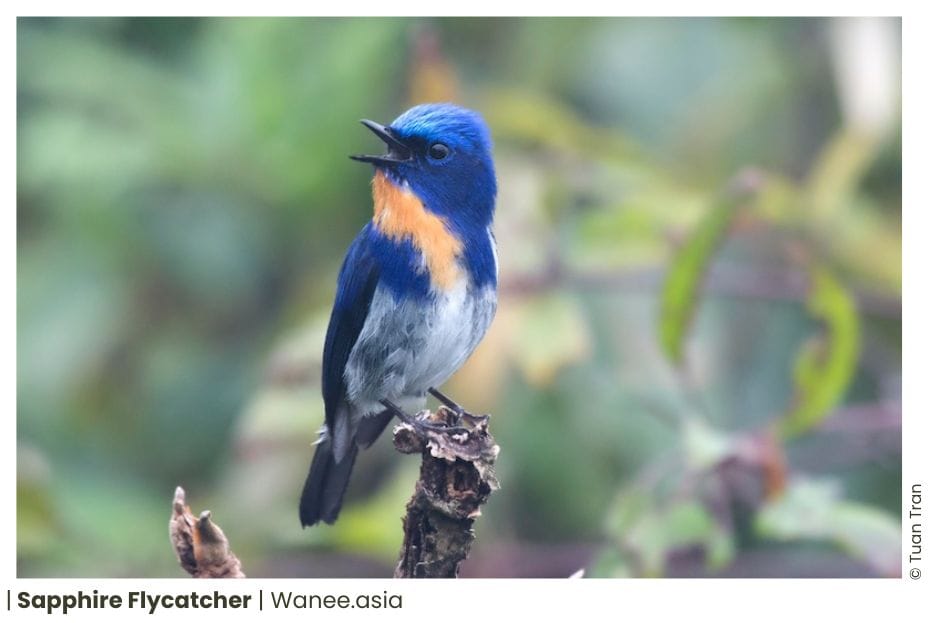 Sapphire Flycatcher Ficedula sapphira
Status: Scarce resident
Best time to watch & Photo: Feb-Apr
Tours: Northern Highland Vietnam
Hotspot: Sa Pa – Fansipan Moutain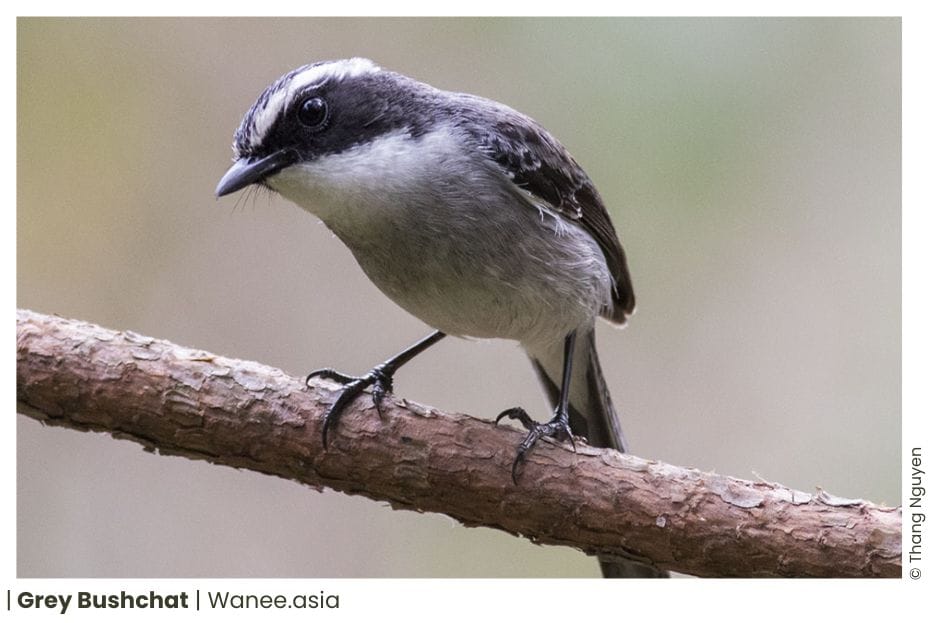 Grey Bushchat Saxicola ferreus
Status: Uncommon resident
Best time to watch & Photo: Feb-Apr
Tours: Highlands
Hotspot: Dalat, Kon Tum, Sa Pa, Cuc Phuong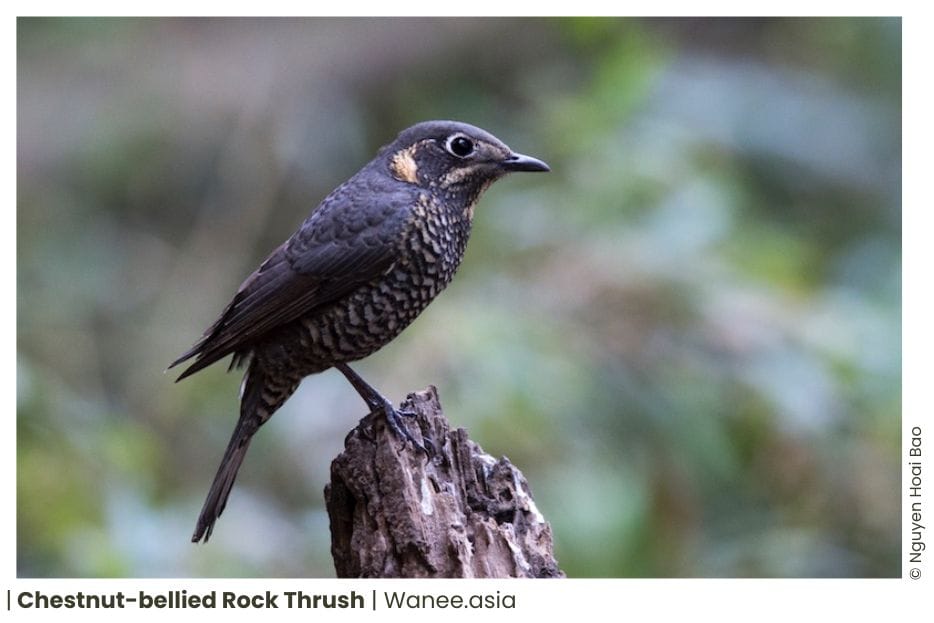 Chestnut-bellied Rock Thrush Monticola rufiventris
Status: Common resident (throughout)
Best time to watch & Photo: Feb-Apr
Tours: Temperate zone
Hotspot: Sa Pa – Fansipan Moutain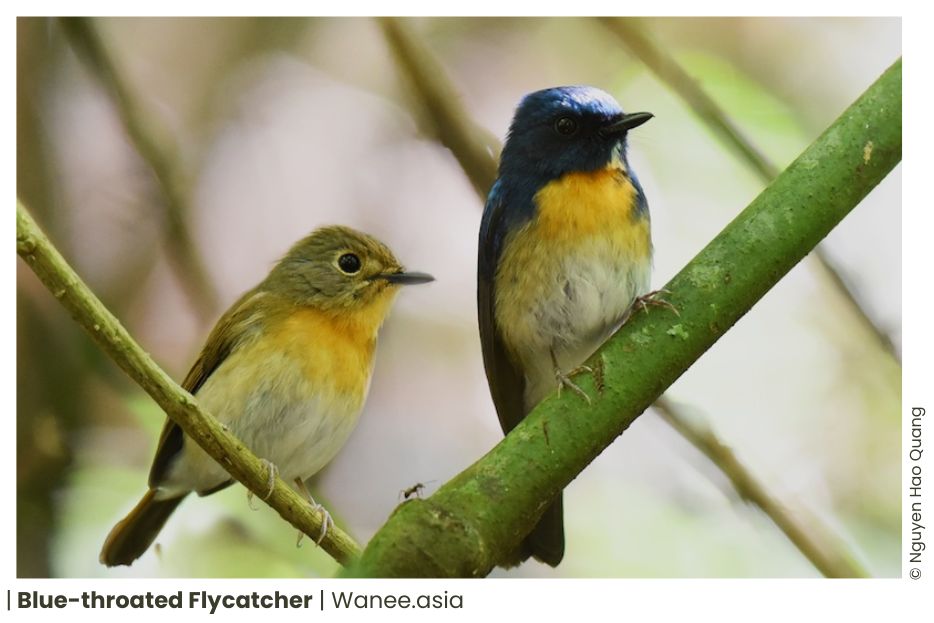 Blue-throated Flycatcher Cyornis rubeculoides
Status: Uncommon resident
Best time to watch & Photo: Feb-Apr
Tours: South of Central
Hotspot: Di Linh, Dalat, Cat Tien, Tan Phu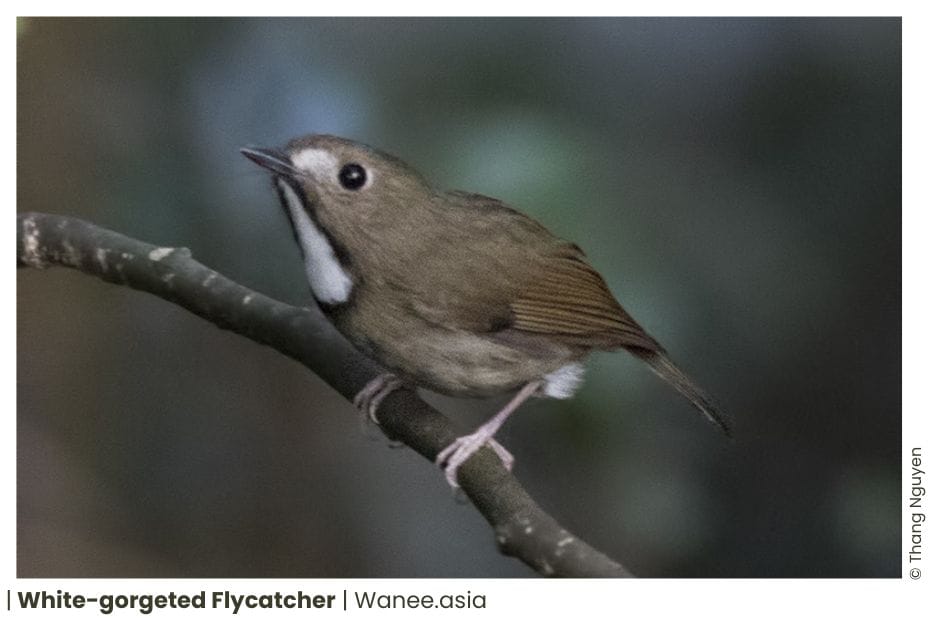 White-gorgeted Flycatcher Anthipes monileger
Status: Uncommon resident
Best time to watch & Photo: Feb-Apr
Tours: Central & Northern
Hotspot: Bach Ma, Sa Pa – Fansipan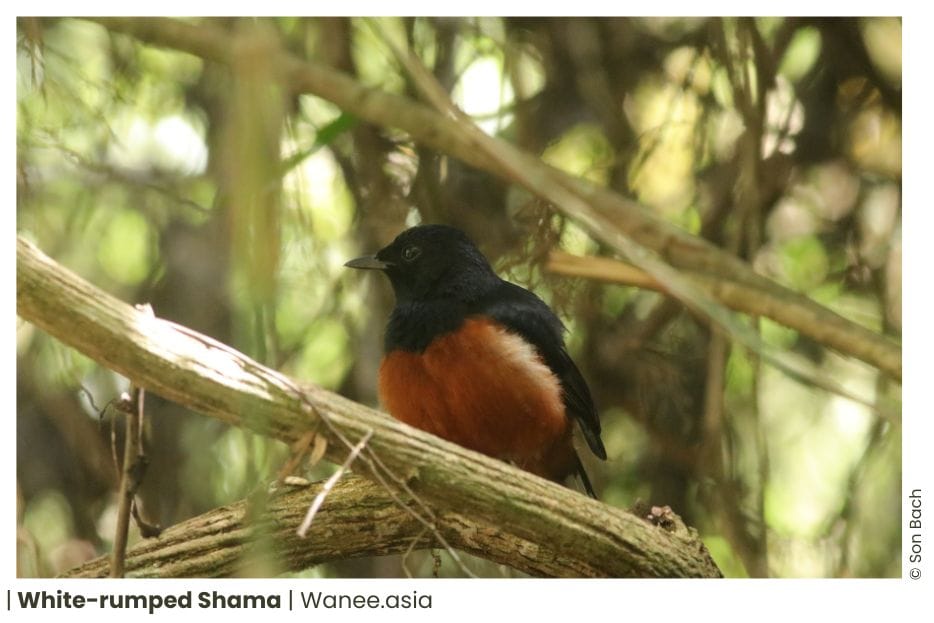 White-rumped Shama Copsychus malabaricus
Status: Fairly common Resident (Throughout)
Best time to watch & Photo: Feb-Apr
Tours: Throughout
Hotspot: Cat Tien, Nui Dinh, Ma Da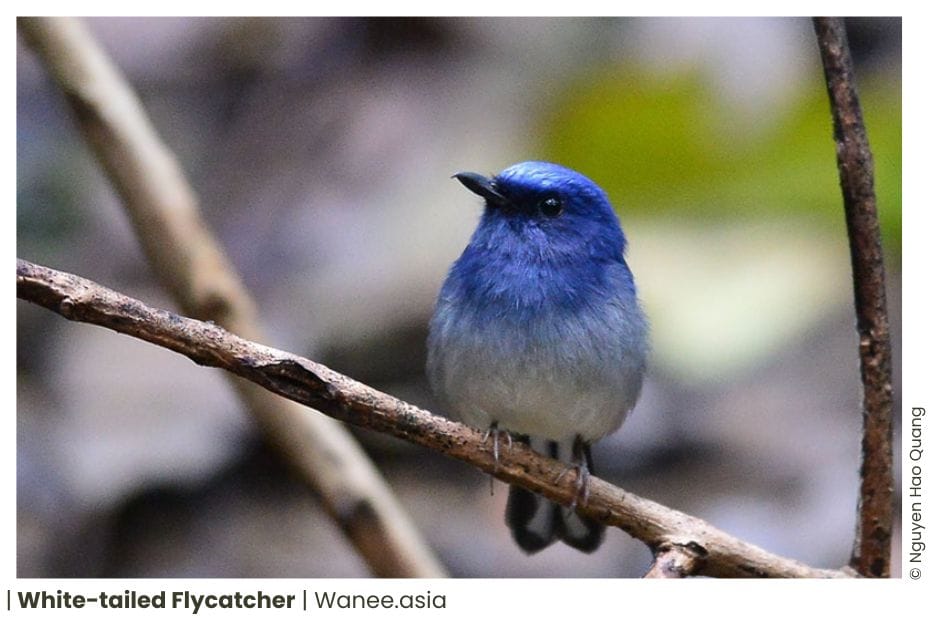 White-tailed Flycatcher Cyornis concretus
Status: Local Resident
Best time to watch & Photo: Jun-Aug
Tours: Northern
Hotspot: Xuan Thuy, Sa Pa – Fansipan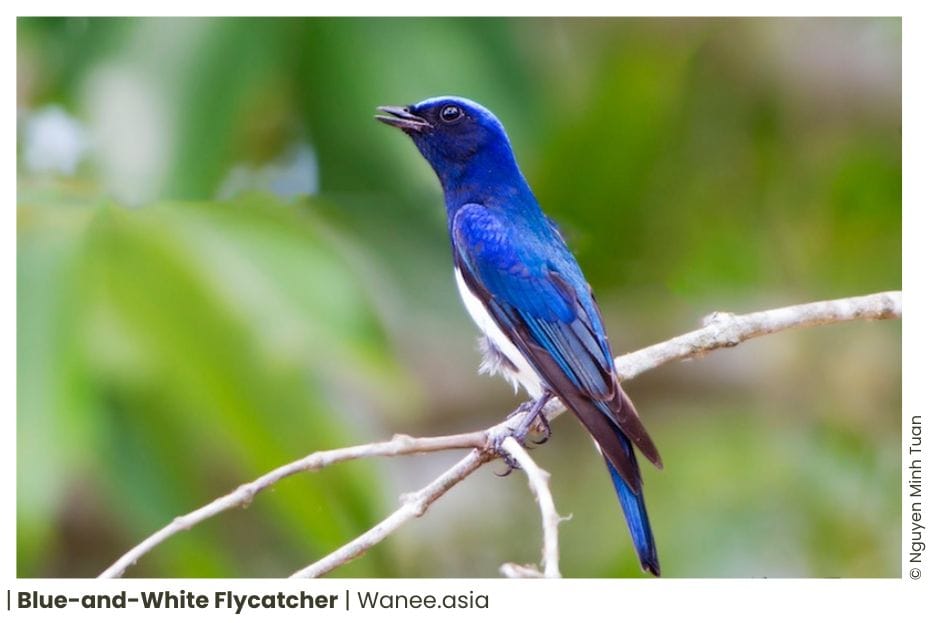 Blue-and-white Flycatcher Cyanoptila cyanomelana
Status: Common Pass Migrants
Best time to watch & Photo: Feb-Apr
Tour: Throughout
Hotspot: Cat Tien, Dalat, Tan Phu
List of all Flycatcher in Vietnam
| | | |
| --- | --- | --- |
| | Name | Level |
| 1 | Gray-streaked Flycatcher | Easy |
| 2 | Dark-sided Flycatcher | Easy |
| 3 | Ferruginous Flycatcher | Easy |
| 4 | Asian Brown Flycatcher | Easy |
| 5 | Brown-breasted Flycatcher | Easy |
| 6 | Brown-streaked Flycatcher | Easy |
| 7 | Oriental Magpie-Robin | Easy |
| 8 | White-rumped Shama | Easy |
| 9 | White-gorgeted Flycatcher | High |
| 10 | Rufous-browed Flycatcher | Easy |
| 11 | White-tailed Flycatcher | Easy |
| 12 | Hainan Blue Flycatcher | Easy |
| 13 | Pale Blue Flycatcher | Easy |
| 14 | Chinese Blue Flycatcher | Easy |
| 15 | Hill Blue Flycatcher | Easy |
| 16 | Indochinese Blue Flycatcher | Easy |
| 17 | Brown-chested Jungle Flycatcher | Easy |
| 18 | Large Niltava | Easy |
| 19 | Small Niltava | Easy |
| 20 | Fujian Niltava | Easy |
| 21 | Rufous-bellied Niltava | Easy |
| 22 | Chinese Vivid Niltava | Easy |
| 23 | Blue-and-white Flycatcher | Easy |
| 24 | Zappey's Flycatcher | Easy |
| 25 | Verditer Flycatcher | Easy |
| 26 | Lesser Shortwing | Easy |
| 27 | Himalayan Shortwing | Easy |
| 28 | Chinese Shortwing | Easy |
| 29 | Gould's Shortwing | Easy |
| 30 | Rufous-tailed Robin | Easy |
| 31 | Japanese Robin | Easy |
| 32 | Siberian Blue Robin | Easy |
| 33 | White-bellied Redstart | Easy |
| 34 | Bluethroat | Easy |
| 35 | Blue Whistling-Thrush | Easy |
| 36 | Little Forktail | Easy |
| 37 | White-crowned Forktail | Easy |
| 38 | Spotted Forktail | Easy |
| 39 | Slaty-backed Forktail | Easy |
| 40 | Blackthroat | Easy |
| 41 | Siberian Rubythroat | Easy |
| 42 | White-tailed Robin | Easy |
| 43 | Blue-fronted Robin | Easy |
| 44 | Red-flanked Bluetail | Easy |
| 45 | Himalayan Bluetail | Easy |
| 46 | White-browed Bush-Robin | Easy |
| 47 | Golden Bush-Robin | Easy |
| 48 | Yellow-rumped Flycatcher | Easy |
| 49 | Green-backed Flycatcher | Easy |
| 50 | Narcissus Flycatcher | High |
| 51 | Mugimaki Flycatcher | Easy |
| 52 | Slaty-backed Flycatcher | Easy |
| 53 | Slaty-blue Flycatcher | Easy |
| 54 | Snowy-browed Flycatcher | Easy |
| 55 | Pygmy Flycatcher | Easy |
| 56 | Rufous-gorgeted Flycatcher | Easy |
| 57 | Sapphire Flycatcher | Easy |
| 58 | Little Pied Flycatcher | Easy |
| 59 | Taiga Flycatcher | Easy |
| 60 | Red-breasted Flycatcher | Easy |
| 61 | Blue-fronted Redstart | Easy |
| 62 | Plumbeous Redstart | Easy |
| 63 | White-capped Redstart | Easy |
| 64 | Black Redstart | Easy |
| 65 | Daurian Redstart | Easy |
| 66 | Chestnut-bellied Rock-Thrush | Easy |
| 67 | White-throated Rock-Thrush | Easy |
| 68 | Blue Rock-Thrush | Easy |
| 69 | Siberian Stonechat | Easy |
| 70 | Amur Stonechat | High |
| 71 | Pied Bushchat | High |
| 72 | Jerdon's Bushchat | High |
| 73 | Gray Bushchat | High |