Why birding in Mekong Delta
A variety of interesting habitats include intertidal mudflats, salt-pans, shrimp ponds, mangrove and melaleuca forests, seasonally inundated grasslands, swamps, marshes, canals, and rivers. 
There are several interesting national parks that are accessible by road from Ho Chi Minh City including Tan Thanh – Go Cong, Tram Chim, Bac Lieu bird sanctuary, U Minh Thuong Np., Ca Mau Np…
What to see?
About 350 species of birds have been recorded in the area, which is mainly waterbirds. Of which, many species are endangered or threatened such as Sarus Crane, Lesser Adjutant, Bengal Florican. Egrets and herons are the most common in reserved areas and bird sanctuaries. Waterfowls, cormorants, kingfishers, and bee-eaters can be found almost everywhere. To the river mouths or muddy beaches, waders including Spoon-billed Sandpiper, Plovers, Greenshanks.
Most highlights Birding in Mekong delta
Sarus Crane, Spoon-billed Sandpiper, Nordmann's Greenshank, Asian Golden Weaver and lots of waterbirds
When is the best time for birding in Mekong delta
Before focusing on birding we must know
Located adjacent to Southeast Vietnam, Mekong Delta shares the same climate as the south. It has a humid tropical and sub-equatorial climate. The average temperature ranges from 23°C  to 34°C. The disparity between day and night temperatures is not high; there are not many storms or typhoons occurring in this region.
This region has two distinct seasons: the dry season runs from November to April with less, even almost no rain while the rainy season is from May to November. Ninety percent of the year's rainfall occurs during this season. The climatic factors of this area are said to be suitable for developing not only all agriculture types but also tourism.
Rainy season
The rainy season is from May to October. The rain takes place in the afternoon and often lasts for only 1 hour, so it does not affect your trip much. The beginning of the rainy season is also the hottest time of the year and the humidity is often high, and you may feel uncomfortable. This period is considered to be the low season for traveling in the Mekong Delta. However, summer is a great time to eat fresh fruits that have been grown locally, such as dragon fruits and mangoes. Moreover, fishing is also said to be better during these months.
Dry season
The dry season lasts from November to April. During this time, some rivers are harder to navigate, and boat journeys in remote places may not be possible. However, the dry season seems to be the best time to have the best weather in the region. The region is described by the azure sky, lush vegetation, and calm rivers during this time, you have a good chance to enjoy the peaceful beautiful landscape here with no worry about the rain.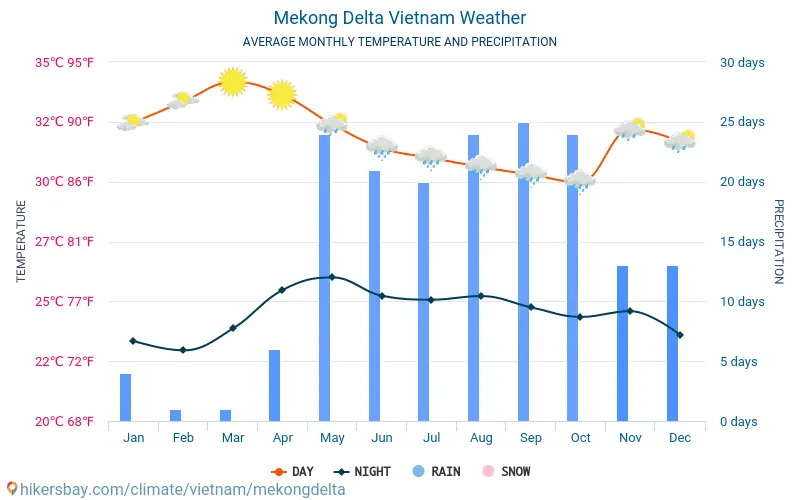 ---
"The best time for birding in Mekong Delta is from Nov to Mar when it is not much rain and migratory time"
---
Where birding in Mekong Delta
Birding routes
Birding in Mekong delta is relatively easy as the habitats are mainly open, grassland or canals. Birders can visit these sites for 1 or 2 days.
Tan Thanh – Go Cong:
It is about 3 hours from Ho Chi Minh city, 1 hour from My Tho by private car so one day of birding here is quite reasonable.
A wide range of waders and terns can occur here but of particular interest are Chinese Egret, Far Eastern Curlew, the Critically Endangered Spoon-billed Sandpiper, Asian Dowitcher and Spotted Greenshank. Both Great and Red Knot have been recorded roosting here in large numbers in recent years, as have Caspian and Gull-billed Terns, and White-faced Plover has bred. Far Eastern Curlew, Spoon-billed Sandpiper and Spotted Greenshank and a similar range of waders have also been recorded on the intertidal mudflats at Tan Thanh beach, on the opposite side of the Soai Rap River from Can Gio.
Tram Chim National Park
Tram Chim National Park is well known as a wintering site for Sarus Crane though numbers have fallen in recent years due to land conversion.
Other species of interest occurring at Tram Chim include Indian Spot-billed Duck, Greater and Lesser Adjutants, Painted Stork, Greater Spotted Eagle and Asian Golden Weaver. Overnight accommodation and restaurants are available in nearby towns.
Tra Su malaleuca forest
Tra Su Nature Reserve, an hour's drive from Chau Doc on the Cambodian border, has a mix of melaleuca plantation, seasonally inundated grassland, and swamp forest. An enormous heronry here is home to Little and Cattle Egrets, Javan Pond-heron, and Black-crowned Night-heron. Indian Spot-billed Duck, Asian Openbill, and Oriental Darter can also be found here in good numbers and the extremely rare Milky Stork has been recorded.
Bac Lieu bird sanctuary: It is not far from Bac Lieu city, the site supports a great number of species, and they make up for it in abundance. Thousand breeding waterbirds, most of which are egrets, cormorants, and Black-crowned Night-heron. Other rare species are Spot-billed Pelican, Black Ibis, and Painted Stork.
U Minh Thuong National Park
Further south, U Minh Thuong National Park supports colonies of breeding waterbirds in its melaleuca swamp forests including Lesser Adjutant, Painted Stork, Asian Openbill, Black-headed, and Glossy Ibises. Spot-billed Pelican and Greater Spotted Eagle also occur here. Simple accommodation is available near the park. 
Ca Mau National Park
At the southwestern tip of mainland Vietnam is Mui Ca Mau National Park where Painted Stork, Black-headed Ibis, Chinese Egret, Spot-billed Pelican, Far Eastern Curlew, and Asian Dowitcher have all been recorded.
Tips for birding in Mekong
Transportation
There are many ways to reach Mekong delta, by private car, express bus, the motorbike is applicable. Depends on where you live or stay.
Accommodations
Hotels are found in almost all towns in the area. For Tram Chim national park, a new hotel (Hoang Gia hotel) near the park, you also can stay at the guesthouse belong to headquarter. In My Tho, Chuong Duong hotel perhaps the best choice for Tan Thanh beach. As the tourist attraction town of Chau Doc, plenty of hotels range from standard to 5-star, recommending Pho Chau hotel, Victoria hotel… 
The best tour cover Birding in Mekong delta
Hot-spot for Birding in Vietnam 
all birding in hot-spot informative info [updated Jan 2023]
Nr.: Nature reserve; Np. National Park; mt. Mountain