Woodpeckers of Vietnam – Picidae
With 27 species Woodpeckers of Vietnam, occurring over the country, more than half of them are really difficult to encounter. But each species in this family has a feather fur colorful and different from others so it can be said that this family is easy to ID if encountered in the field.
You may know: Vietnam is honored to record a species in the Woodpeckers family Great Slaty Woodpecker is known as the biggest Asian Woodpeckers.
The overview of Woodpeckers families
Woodpeckers are part of the bird family Picidae, which also includes the piculets, wrynecks, and sapsuckers. Members of this family are found worldwide, except for Australia, New Guinea, New Zealand, Madagascar, and the extreme polar regions. Most species live in forests or woodland habitats, although a few species are known that live in treeless areas, such as rocky hillsides and deserts, and the Gila woodpecker specializes in exploiting cacti.
Members of this family are chiefly known for their characteristic behavior. They mostly forage for insect prey on the trunks and branches of trees and often communicate by drumming with their beaks, producing a reverberatory sound that can be heard at some distance. Some species vary their diet with fruits, birds' eggs, small animals, tree sap, human scraps, and carrion. They usually nest and roost in holes that they excavate in tree trunks, and their abandoned holes are of importance to other cavity-nesting birds. They sometimes come into conflict with humans when they make holes in buildings or feed on fruit crops, but perform a useful service by their removal of insect pests on trees.
The Picidae is one of nine living families in the order Piciformes, the others being barbets (comprising three families), toucans, toucan-barbets, and honeyguides, which (along with woodpeckers) comprise the clade Pici, and the jacamars and puffbirds in the clade Galbuli. DNA sequencing has confirmed the sister relationships of these two groups. The family Picidae includes about 240 species arranged in 35 genera. Almost 20 species are threatened with extinction due to loss of habitat or habitat fragmentation, with one, the Bermuda flicker, being extinct and a further two possibly being so
Woodpeckers of Vietnam Highlight Note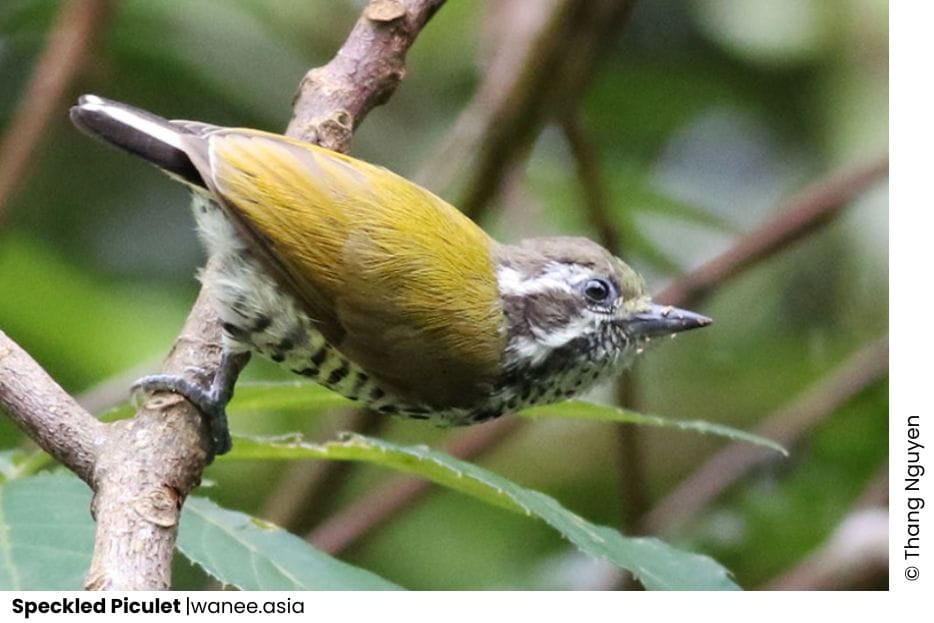 Speckled Piculet Picumnus innominatus
Status: Uncommon resident
Best time to watch & Photo: Feb-Apr
Tour cover: South-East to Northern
Hotspot: Ba Vi, Da Lat, Kon Tum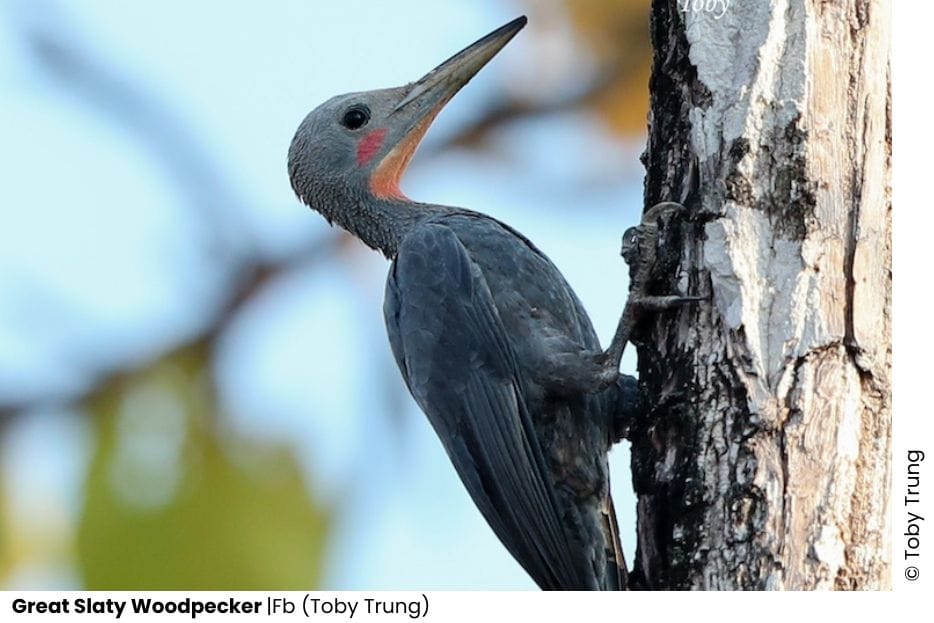 Great Slaty Woodpecker Mulleripicus pulverulentus
Status: Scarce resident – Vulnerable
Best time to watch & Photo: Feb-Apr
Tours: South-East & Central Vietnam
Hotspot: Da Lat, Yok Don, Cat Tien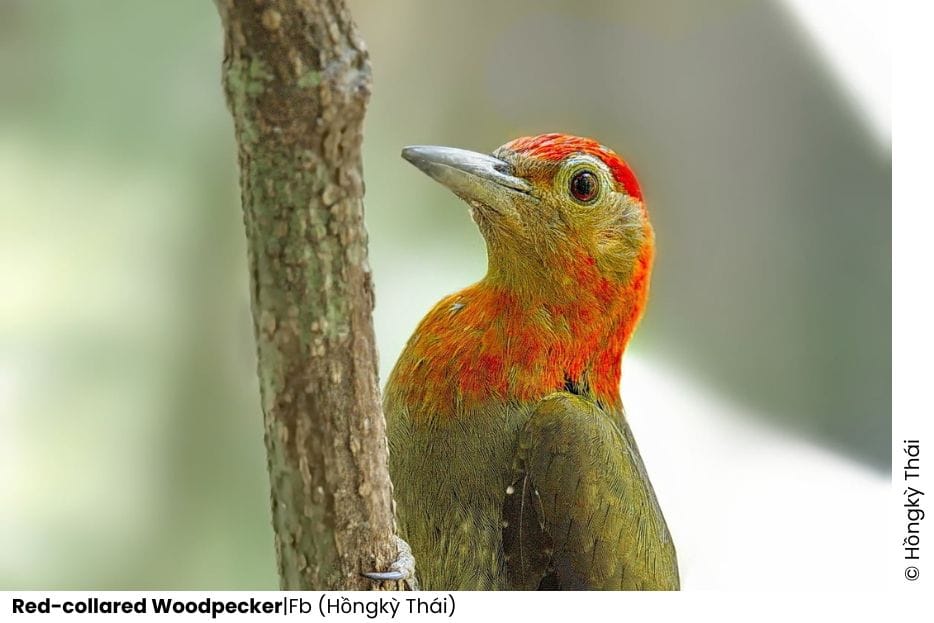 Red-collared Woodpecker Picus rabieri
Status: Uncommon resident – Near Threatened
Best time to watch & Photo: Feb-Apr
Tours: North of Central
Hotspot: Phong Nha – Ke Bang, Cuc Phuong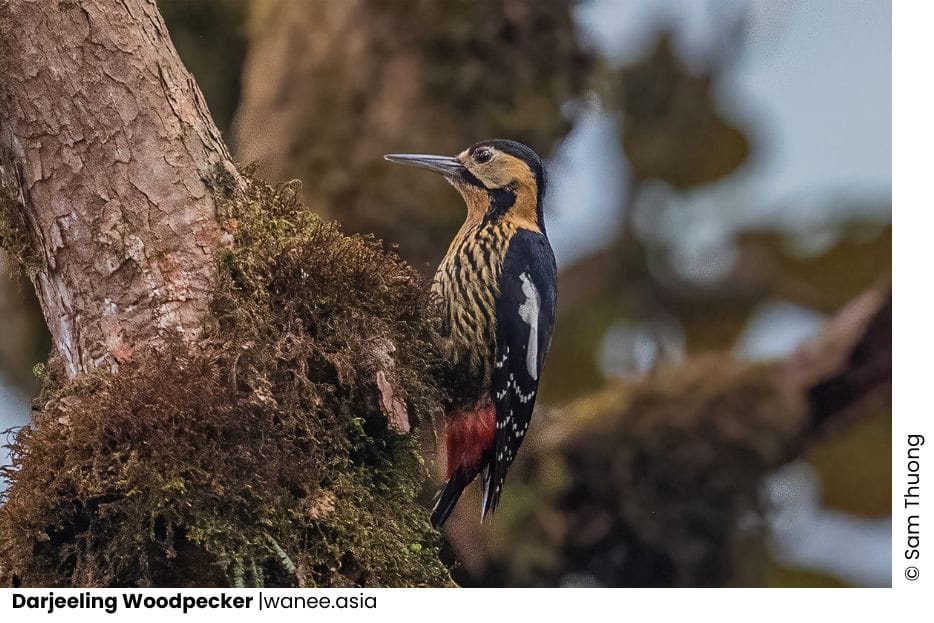 Darjeeling Woodpecker Dendrocopos darjellensis
Status: Resident
Best time to watch & Photo: Feb-Apr
Tours: Throughout
Hotspot: Sa pa- Fansipan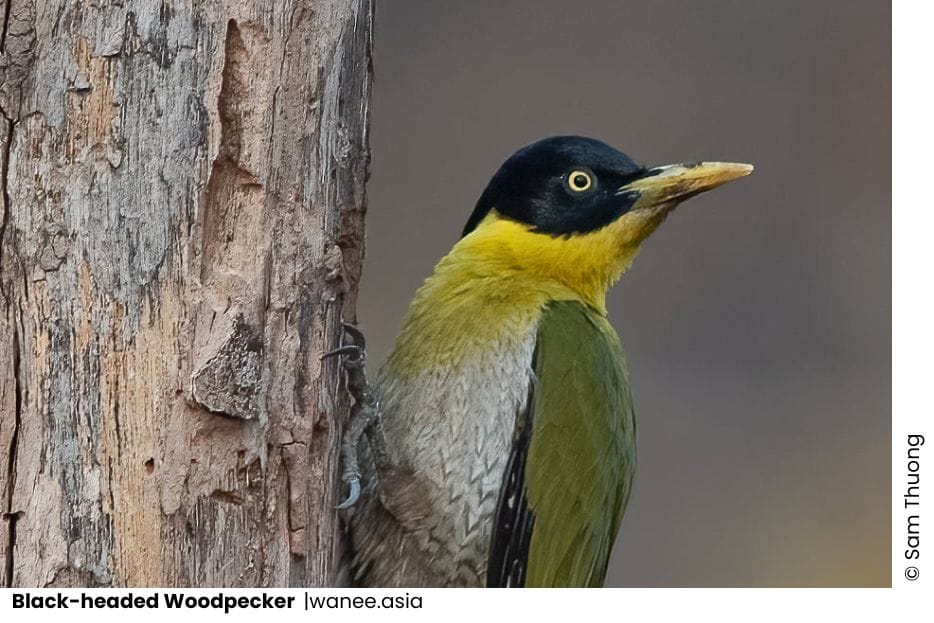 Black-headed Woodpecker Picus erythropygius
Status: Local fairly common resident
Best time to watch & Photo: Feb-Apr
Tours: Throughout
Hotspot: Takou, Yokdon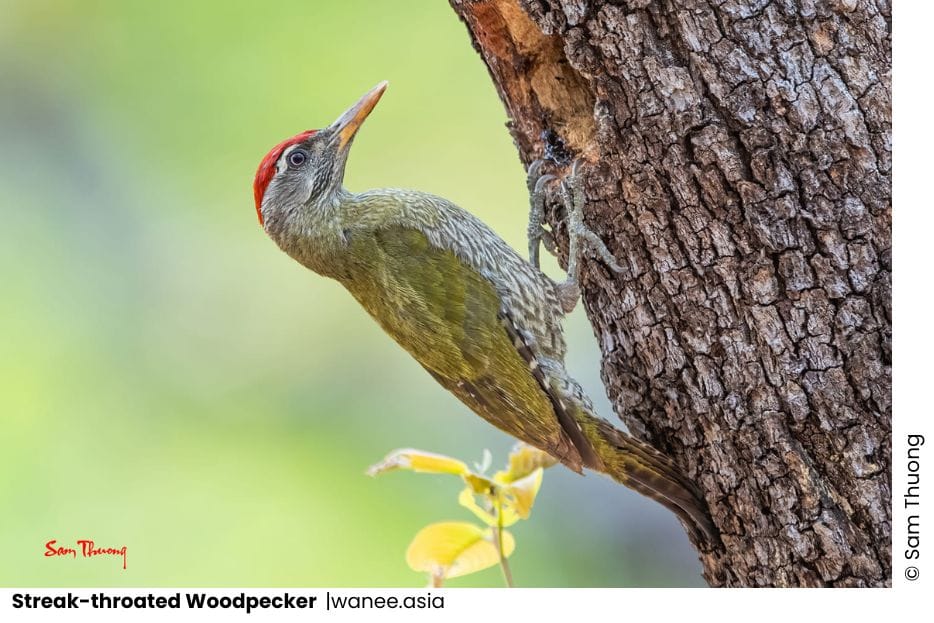 Streak-throated Woodpecker Picus xanthopygaeus
Status: Local common resident (throughout)
Best time to watch & Photo: Feb-Apr
Tours: Throughout
Hotspot: Cat Tien, Yokdon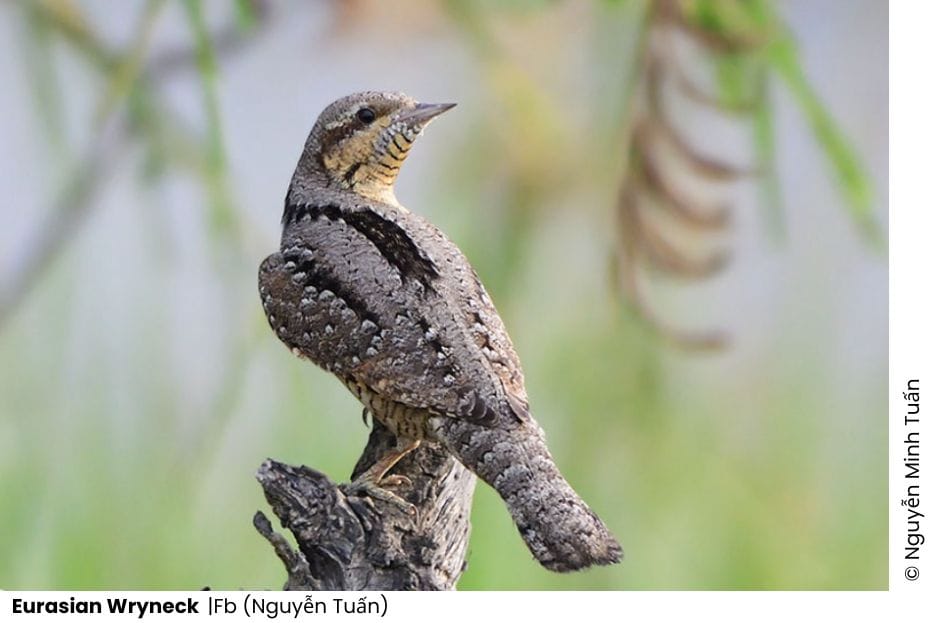 Eurasian Wryneck Jynx torquilla
Status: Common breeding visitor
Best time to watch & Photo: Feb-Apr
Tours: South & Central Highland
Hotspot: Cat Tien, Nui Dinh, Ma Da, Dalat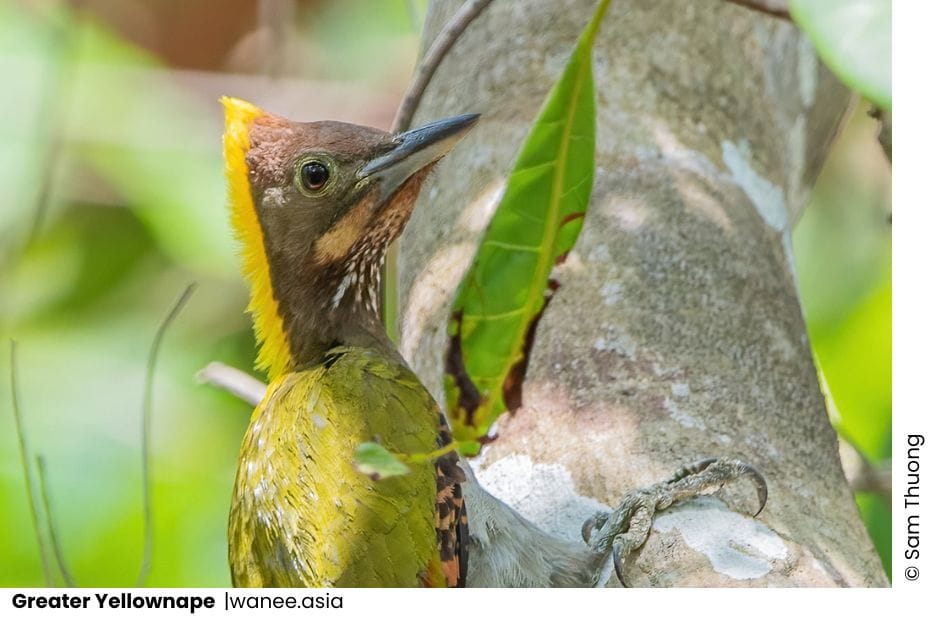 Greater Yellownape Picus flavinucha
Status: Local common resident (throughout)
Best time to watch & Photo: Jun-Aug
Tours: Throughout
Hotspot: Ma Da, Tan Phu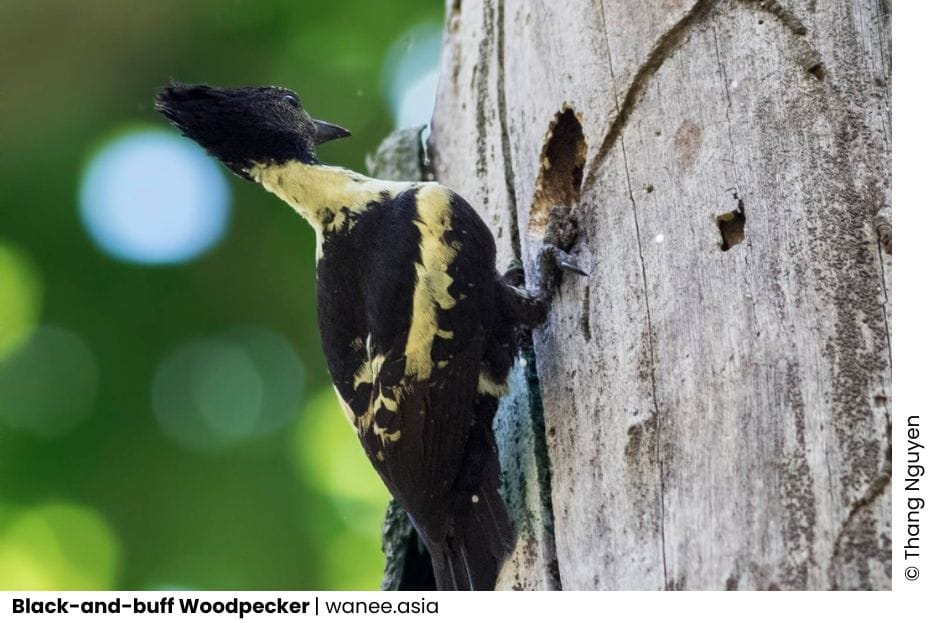 Black-and-buff Woodpecker Meiglyptes jugularis
Status: Uncommon resident
Best time to watch & Photo: Feb-Apr
Tour: South Vietnam
Hotspot: Cat Tien, Tan Phu
List of all Woodpeckers in Vietnam
| | | |
| --- | --- | --- |
| | Name | Level |
| 1 | Eurasian Wryneck | Hard |
| 2 | Speckled Piculet | Maybe |
| 3 | White-browed Piculet | Easy |
| 4 | Heart-spotted Woodpecker | Maybe |
| 5 | Gray-capped Pygmy Woodpecker | Easy |
| 6 | Yellow-crowned Woodpecker | Hard |
| 7 | Rufous-bellied Woodpecker | Hard |
| 8 | Freckle-breasted Woodpecker | Easy |
| 9 | Stripe-breasted Woodpecker | Maybe |
| 10 | Darjeeling Woodpecker | Hard |
| 11 | Great Spotted Woodpecker | Hard |
| 12 | Crimson-breasted Woodpecker | Maybe |
| 13 | Bay Woodpecker | Maybe |
| 14 | Greater Flameback | Maybe |
| 15 | Rufous Woodpecker | Easy |
| 16 | Black-and-buff Woodpecker | Easy |
| 17 | Pale-headed Woodpecker | Hard |
| 18 | Common Flameback | Easy |
| 19 | Lesser Yellownape | Easy |
| 20 | Streak-throated Woodpecker | Mabe |
| 21 | Red-collared Woodpecker | Hard |
| 22 | Laced Woodpecker | Easy |
| 23 | Gray-headed Woodpecker | Maybe |
| 24 | Black-headed Woodpecker | Easy |
| 25 | Greater Yellownape | Maybe |
| 26 | Great Slaty Woodpecker | Easy |
| 27 | White-bellied Woodpecker | Maybe |

Note: Hard – Really hard to see; Maybe – …..; Easy – Easy to see with guide; Impossible – Weak info; Lack Data – Consider out of list