Barbets Of Vietnam – Megalaimidae
With 11 species Barbets of Vietnam, occurring over the country. Barbets family mostly has green and lives in tropical forest even in the park of every city with the unique sound of the family. 2 species easy to encounter in Vietnam is Lineated Barbet and Coppersmith Barbet.
You may know: Because of their sing similar to the Pagoda sound 5 species Brown Barbet, Great Barbet, Red-vented Barbet, Green-eared Barbet, and Lineated Barbet called "Bonze" in Vietnamese name.
The overview of Barbets families
The Asian Barbets are a family of bird species, the Megalaimidae, comprising two genera with 35 species native to the forests of the Indomalayan realm from Tibet to Indonesia. They were once clubbed with all barbets in the family Capitonidae but the Old World species have been found to be distinctive and are considered, along with the Lybiidae and Ramphastidae, as sister groups.
In the past, the species were placed in three genera, Caloramphus, Megalaima, and Psilopogon, but studies show that Psilopogon is nested within the clade of Megalaima. Since members of this clade are better treated under a single genus, they have been moved to the genus Psilopogon which was described and erected earlier than Megalaima and is therefore chosen on the basis of taxonomic priority principles.
Nearly all members of the family are now in the genus Psilopogon, with the exception of those in Caloramphus, which are thought to have genetically diverged from the common ancestor around 21.32 million years ago. The latter species are distinct enough to warrant placement in a subfamily Caloramphinae. The family name is derived from that of the genus Megalaima which means 'large throat', from the Greek mega (μέγας, 'large, great') and laimos (λαιμός, 'throat').
Barbets of Vietnam Highlight Note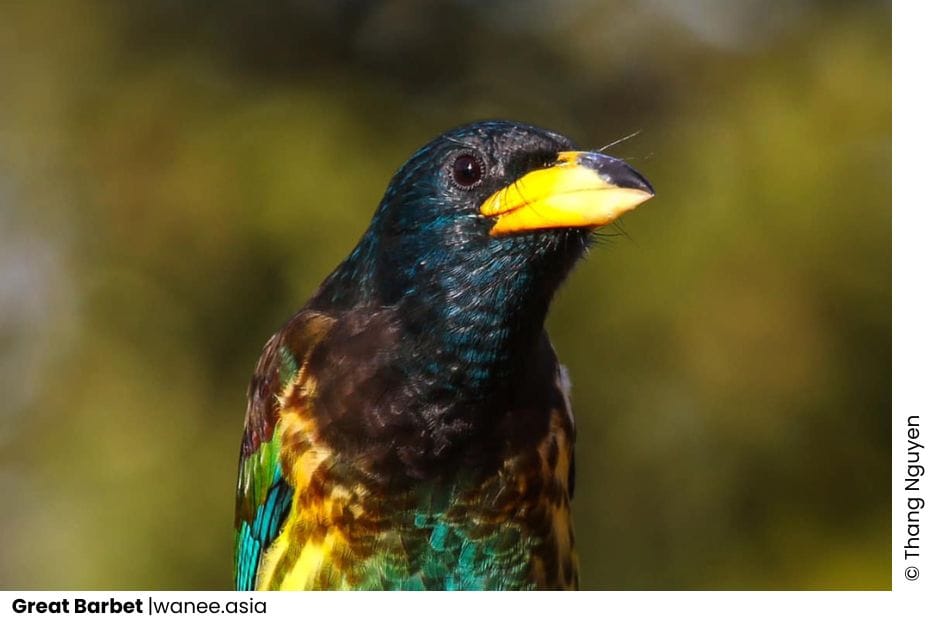 Great Barbet Psilopogon virens
Status: Uncommon resident
Best time to watch & Photo: Feb-Apr
Tour cover: Northern & North of Central
Hotspot: Sa Pa – Fansipan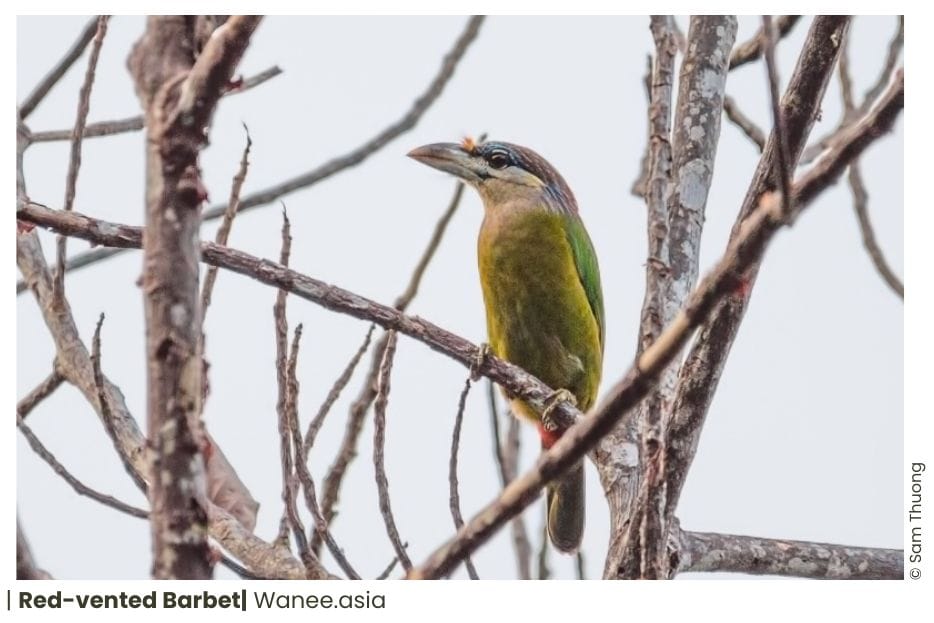 Red-vented Barbet Psilopogon lagrandieri
Status: Uncommon resident
Best time to watch & Photo: Feb-Apr
Tours: Exclude Plains
Hotspot: Cat Tien, Da Lat, Phong Nha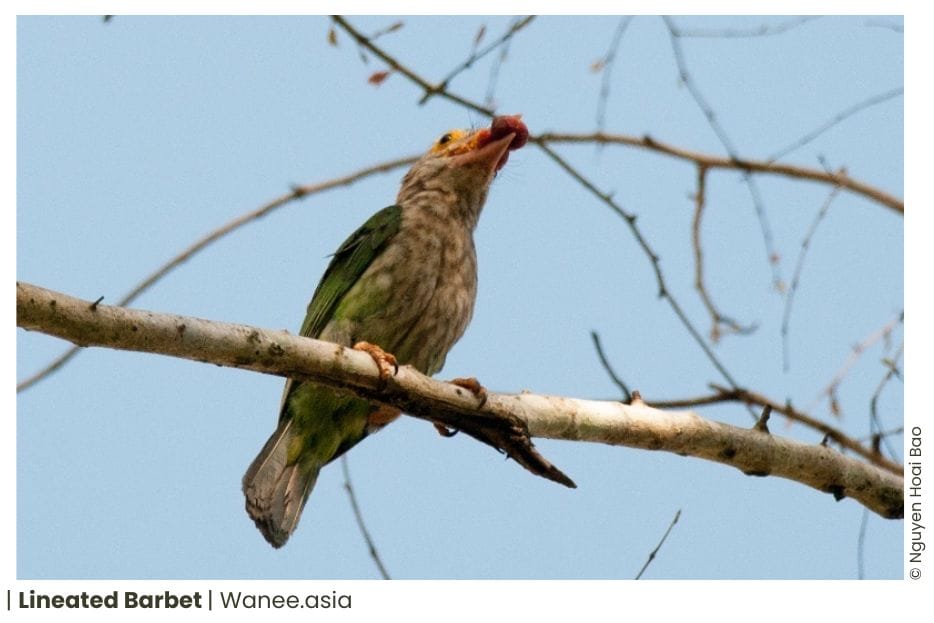 Lineated Barbet Psilopogon lineatus
Status: Local common resident (throughout)
Best time to watch & Photo: Feb-Apr
Tours: South and Central
Hotspot: Da Lat, Yok Don, Cat Tien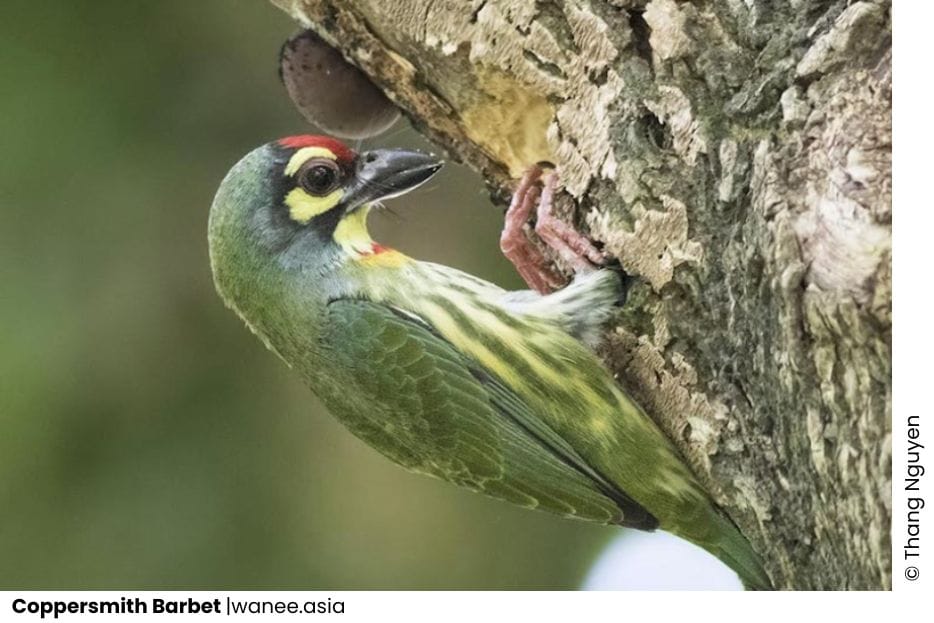 Coppersmith Barbet Psilopogon haemacephalus
Status: Fairly Common resident (throughout)
Best time to watch & Photo: Feb-Apr
Tours: Central & Southern
Hotspot: Cat Tien, Ma Da, Tan Phu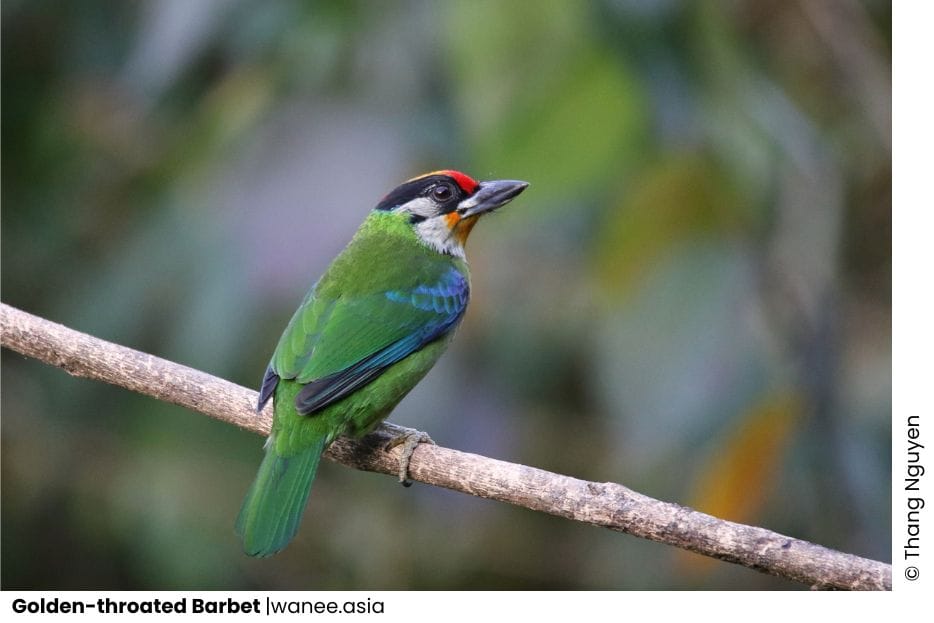 Golden-throated Barbet Psilopogon auricularis
Status: Uncommon resident
Best time to watch & Photo: Feb-Apr
Tours: Central & Northern
Hotspot: Di Linh, Dalat, Sa Pa – Fansipan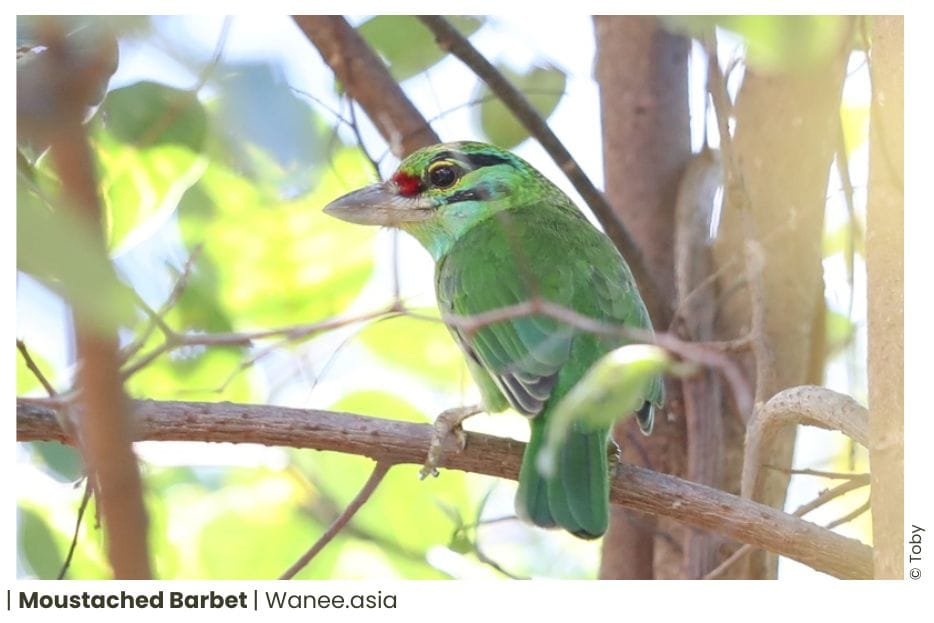 Moustached Barbet Psilopogon incognitus
Status: Uncommon resident
Best time to watch & Photo: Feb-Apr
Tours: Central & Northern
Hotspot: Di Linh, Dalat, Sa Pa – Fansipan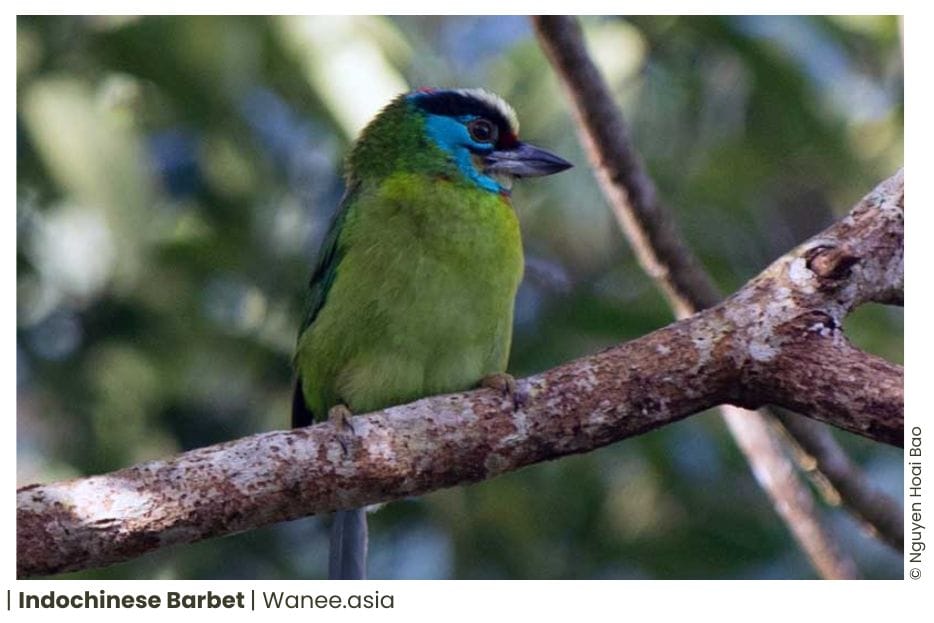 Indochinese Barbet Psilopogon annamensis
Status: Uncommon resident
Best time to watch & Photo: Feb-Apr
Tours: Central Vietnam
Hotspot: Da Lat, Bach Ma, Kon Tum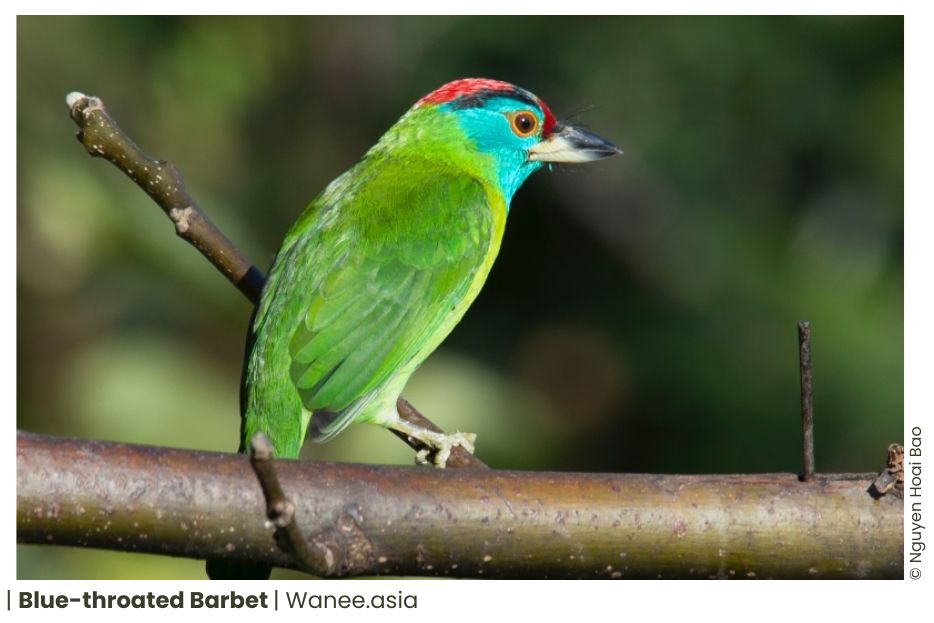 Blue-throated Barbet Psilopogon asiaticus
Status: Fairly Common resident (throughout)
Best time to watch & Photo: Jun-Aug
Tours: North of South & Northern
Hotspot: Sa Pa – Fansipan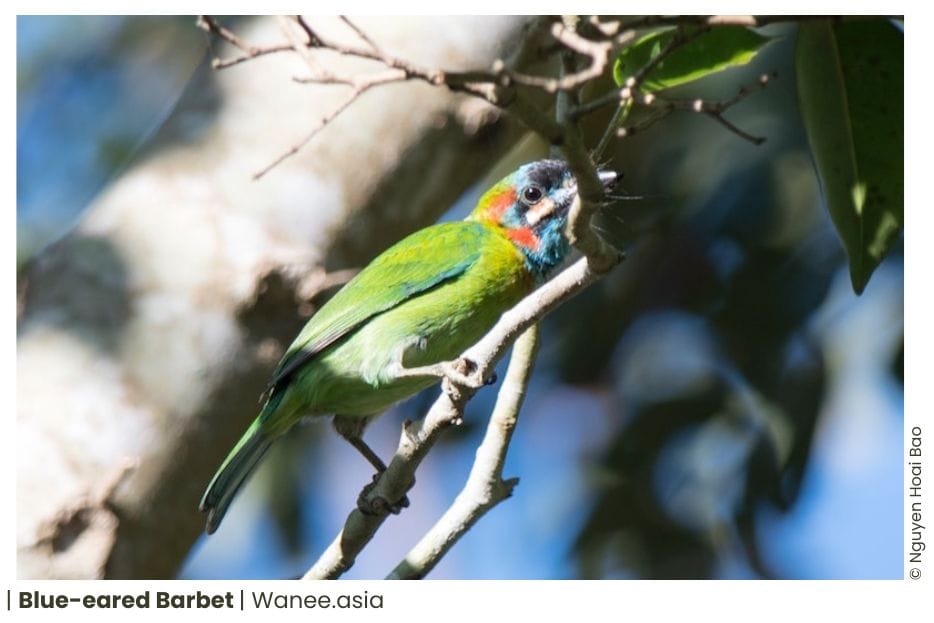 Blue-eared Barbet Psilopogon cyanotis
Status: Fairly Common resident (throughout)
Best time to watch & Photo: Feb-Apr
Tour: Throughout
Hotspot: Ho Chi Minh, Mekong Delta
List of all Barbets in Vietnam
| | | |
| --- | --- | --- |
| | Name | Level |
| 1 | Coppersmith Barbet | Easy |
| 2 | Blue-eared Barbet | Easy |
| 3 | Great Barbet | Hard |
| 4 | Red-vented Barbet | Hard |
| 5 | Green-eared Barbet | Easy |
| 6 | Lineated Barbet | Easy |
| 7 | Necklaced Barbet | Maybe |
| 8 | Golden-throated Barbet | Easy |
| 9 | Moustached Barbet | Maybe |
| 10 | Blue-throated Barbet | Hard |
| 11 | Indochinese Barbet | Easy |

Note: Hard – Really hard to see; Maybe – …..; Easy – Easy to see with guide; Impossible – Weak info; Lack Data – Consider out of list