Leaf Warbler of Vietnam – Phylloscopidae
With 34 species Leaf Warblers of Vietnam, occurring over the country. Leaf Warbler has a number of species quite varied than the rest of the family species, their appearance is like some species of others such as Flycatcher & Tailorbird bonus of their tiny size so can be said that it is too hard to realize and ID them
You may know: Leaf-Warbler can live in every environment with or without the appearance of human
The overview of Leaf Warblers families
Leaf warblers are small insectivorous passerine birds belonging to the genus Phylloscopus.
Leaf Warblers were formerly included in the Old World warbler family but are now considered to belong to the family Phylloscopidae, introduced in 2006. The family originally included the genus Seicercus, but all species have been moved to Phylloscopus in the most recent classification.
Leaf Warblers are active, constantly moving, often flicking their wings as they glean the foliage for insects along the branches of trees and bushes. They forage at various levels within forests, from the top canopy to the understorey. Most of the species are markedly territorial both in their summer and winter quarters. Most are greenish or brownish above and off-white or yellowish below. Compared to some other "warblers", their songs are very simple. Species breeding in temperate regions are usually strongly migratory.
The species are of various sizes, often green-plumaged above and yellow below, or more subdued with greyish-green to greyish-brown colours, varying little or not at all with the seasons. The tails are not very long and contain 12 feathers (unlike the similar Abroscopus species, which have 10 tail feathers). Many species are more easily identified by their distinctive songs than their dull plumage.
These are very small passerines with adult body masses that can vary from 3.5 to 17 g (0.12 to 0.60 oz) and in some cases, such as the Chinese Leaf Warbler, are among the lightest passerines anywhere. Several of the larger species are similar in size including the large-billed Leaf Warbler, Radde's Warbler and the Pale-legged Leaf Warbler. Total length can vary from 9 to 14.5 cm (3.5 to 5.7 in).
Leaf-Warblers of Vietnam species note
Chestnut-crowned Warbler Seicercus castaniceps
Status: Common Resident
Best time to watch & Photo: Feb-Apr
Tour cover: Exclude Plains
Hotspot: Dalat, Kon Tum Sa Pa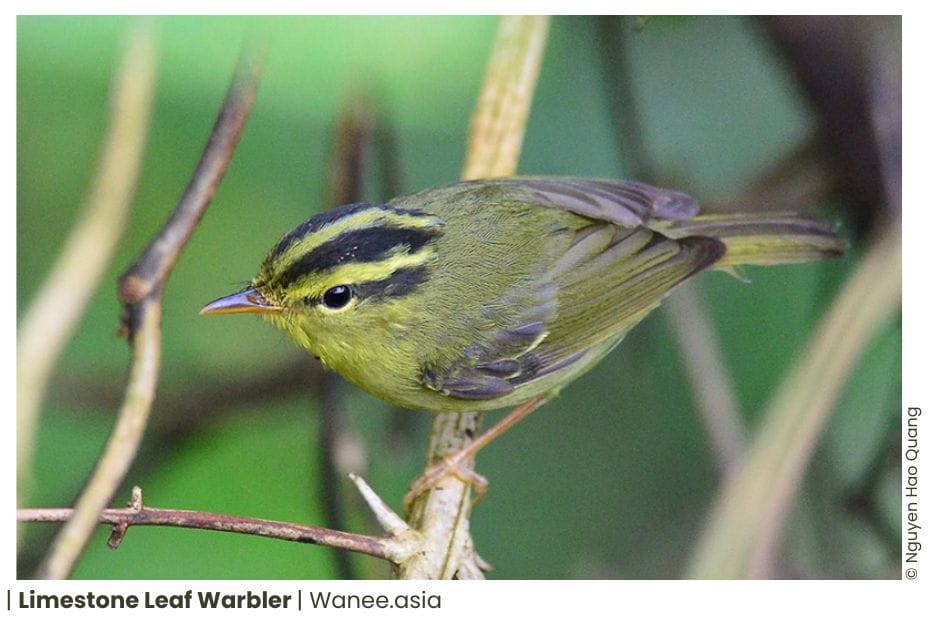 Limestone Leaf Warbler Phylloscopus calciatilis
Status: Common resident
Best time to watch & Photo: Feb-Apr
Tours: North Vietnam
Hotspot: Phong Nha, Cuc Phuong, Ba Be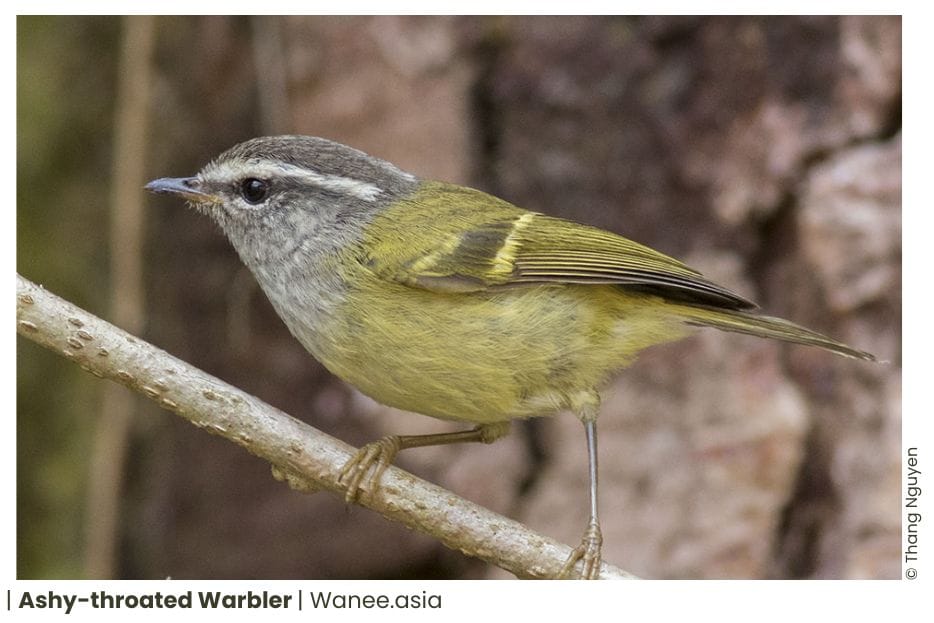 Ashy-throated Warbler Phylloscopus maculipennis
Status: Common resident
Best time to watch & Photo: Feb-Apr
Tours: Exclude Plains
Hotspot: Dalat, Kon Tum, Sa Pa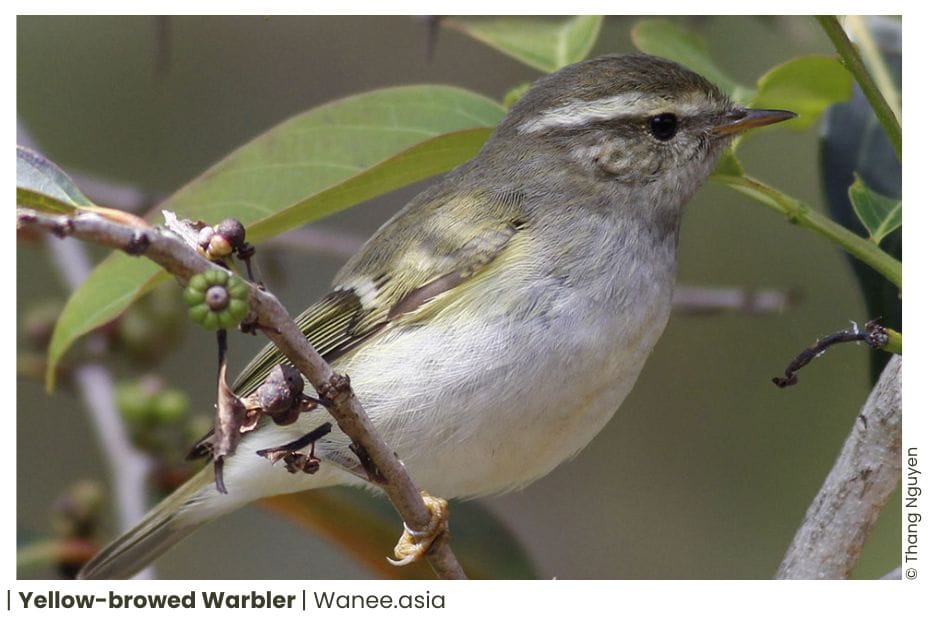 Yellow-browed Warbler Phylloscopus inornatus
Status: Common Pass Migrant (throughout)
Best time to watch & Photo: Feb-Apr
Tours: Throughout
Hotspot: Cat Tien, Ma Da, Tan Phu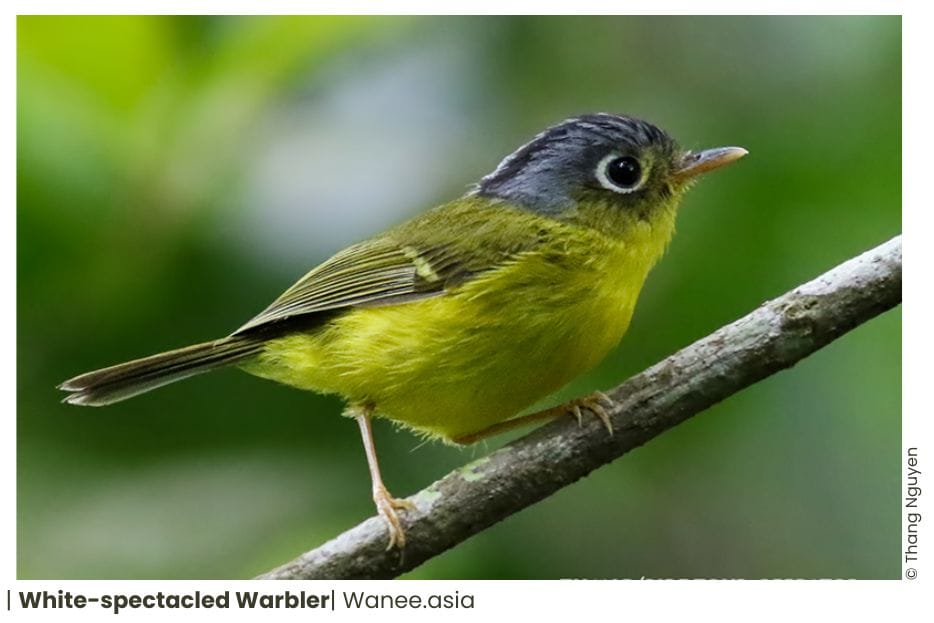 White-spectacled Warbler Seicercus affinis
Status: Common resident
Best time to watch & Photo: Feb-Apr
Tours: Highlands
Hotspot: Di Linh, Dalat, Sa Pa – Fansipan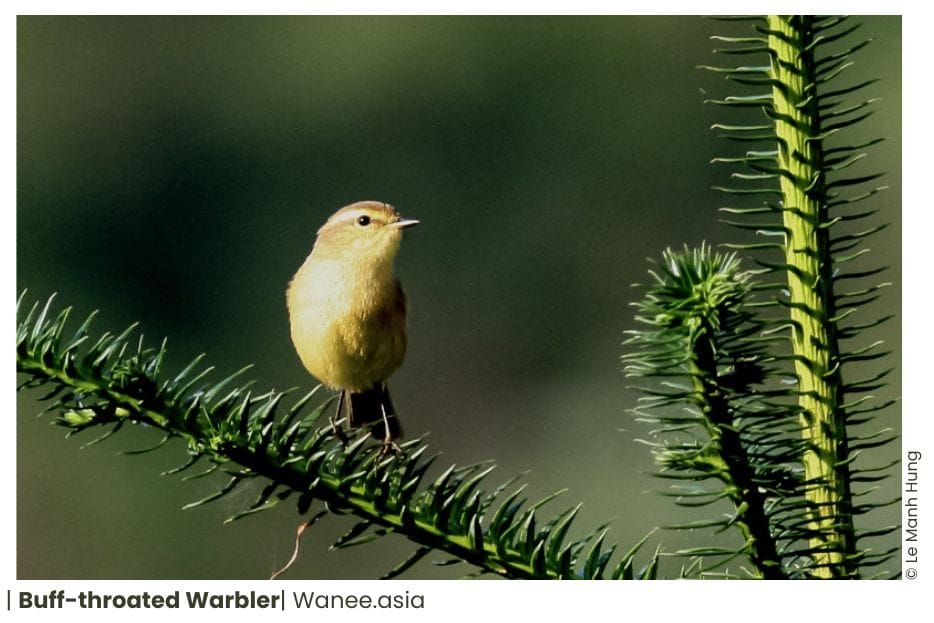 Buff-throated Warbler Phylloscopus subaffinis
Status: Uncommon resident
Best time to watch & Photo: Feb-Apr
Tours: Nort-West
Hotspot: Sa Pa – Fansipan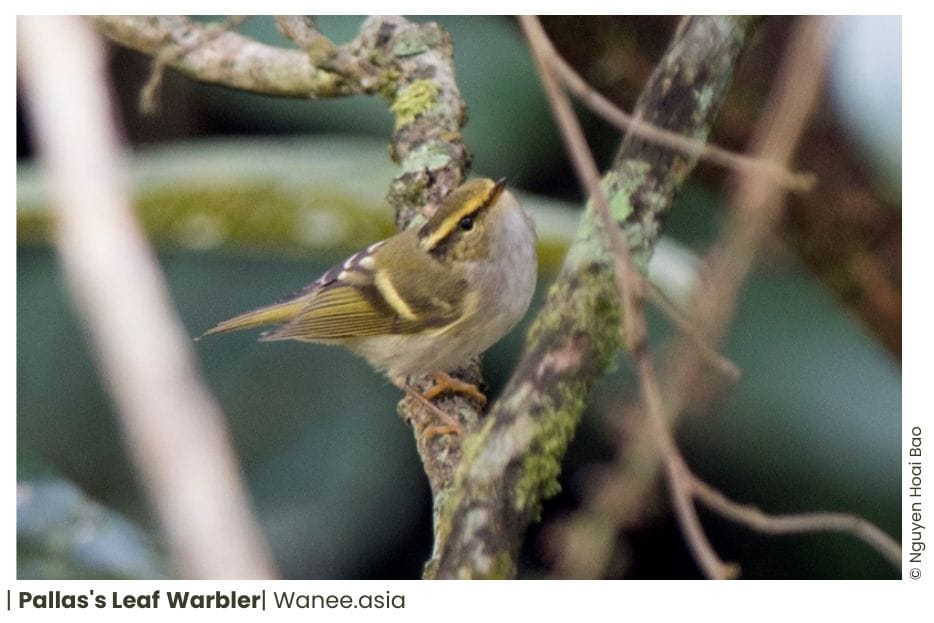 Pallas's Leaf Warbler Phylloscopus proregulus
Status: Uncommon Pass Migrant
Best time to watch & Photo: Feb-Apr
Tours: Northern Vietnam
Hotspot: Sa Pa – Fansipan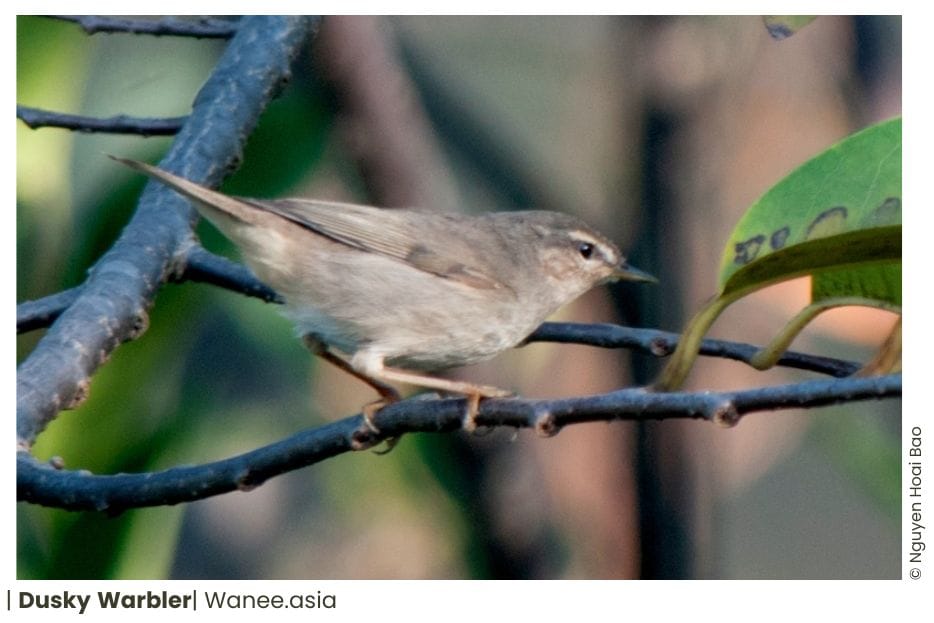 Dusky Warbler Phylloscopus fuscatus
Status: Common pass migrant
Best time to watch & Photo: Jun-Aug
Tours: Throughout
Hotspot: Ma Da, Tan Phu, Tram Chim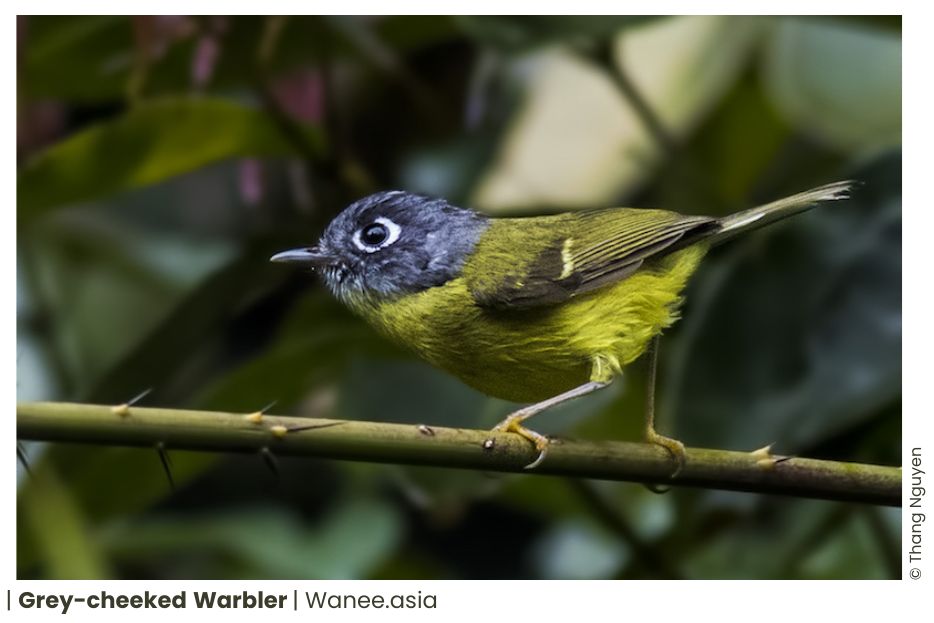 Grey-cheeked Warbler Seicercus poliogenys
Status: Rare Pass Migrant
Best time to watch & Photo: Feb-Apr
Tour: Highlands
Hotspot: Dalat, Kon Tum, Sa Pa – Fansipan
List of all Leaf-Warblers in Vietnam
| | | |
| --- | --- | --- |
| | Name | Level |
| 1 | Ashy-throated Warbler | Easy |
| 2 | Buff-barred Warbler | |
| 3 | Yellow-browed Warbler | Easy |
| 4 | Hume's Warbler | Easy |
| 5 | Chinese Leaf Warbler | |
| 6 | Pallas's Leaf Warbler | Easy |
| 7 | Gansu Leaf Warbler | |
| 8 | Sichuan Leaf Warbler | |
| 9 | Radde's Warbler | |
| 10 | Yellow-streaked Warbler | |
| 11 | Dusky Warbler | Easy |
| 12 | Buff-throated Warbler | |
| 13 | Common Chiffchaff | Easy |
| 14 | Grey-cheeked Warbler | |
| 15 | Gray-crowned Warbler | Easy |
| 16 | Bianchi's Warbler | |
| 17 | Martens's Warbler | |
| 18 | Alström's Warbler | Easy |
| 19 | Greenish Warbler | Easy |
| 20 | Two-barred Warbler | Easy |
| 21 | Pale-legged Leaf Warbler | Easy |
| 22 | Sakhalin Leaf Warbler | |
| 23 | Arctic Warbler | Easy |
| 24 | Chestnut-crowned Warbler | Easy |
| 25 | Limestone Leaf Warbler | |
| 26 | Yellow-vented Warbler | |
| 27 | Sulphur-breasted Warbler | |
| 28 | Blyth's Leaf Warbler | Easy |
| 29 | Claudia's Leaf Warbler | |
| 30 | Hartert's Leaf Warbler | |
| 31 | Davison's Leaf Warbler | Easy |
| 32 | Kloss's Leaf Warbler | Easy |
| 33 | Eastern Crowned Warbler | Easy |
| 34 | White-spectacled Warbler | Easy |

Note: Hard – Really hard to see; Maybe – …..; Easy – Easy to see with guide; Impossible – Weak info; Lack Data – Consider out of list