Monarch Flycatchers of Vietnam – Monarchidae
With 4 species Monarch Flycatchers of Vietnam, although they are one of a family number of species fewest in Vietnam, every species in this family live throughout occurring in the country.
The overview of Monarch Flycatchers families
The Monarchs (family Monarchidae) comprise a family of over 100 passerine birds which includes Shrikebills, Paradise Flycatchers, and Magpie-larks.
Monarchids are small insectivorous songbirds with long tails. They inhabit forest or woodland across sub-Saharan Africa, South-east Asia, Australasia and a number of Pacific islands. Only a few species migrate. Many species decorate their cup-shaped nests with lichen.
The Monarchs are a diverse family of passerine birds that are generally arboreal (with the exception of the magpie-larks). They are mostly slim birds and possess broad bills. The bills of some species are quite large and the heavy-set bills of the shrikebills are used to probe dead wood and leaves. The plumage of the family ranges from sombre, such as the almost monochrome black monarch, to spectacular, as displayed by the golden monarch.
The tails are generally long and spectacularly so in the paradise flycatchers in the genus Terpsiphone. Sexual dimorphism in plumage can be subtle, as in the paperbark flycatcher, where the female is identical to the male except for a slight buff on the throat; striking, as in the Chuuk Monarch where the male almost entirely white and the female entirely black; or non-existent, as in the Tahiti monarch. In some species, for example the Malagasy Paradise Flycatcher, the males have two or more colour morphs
Monarch Flycatchers of Vietnam species note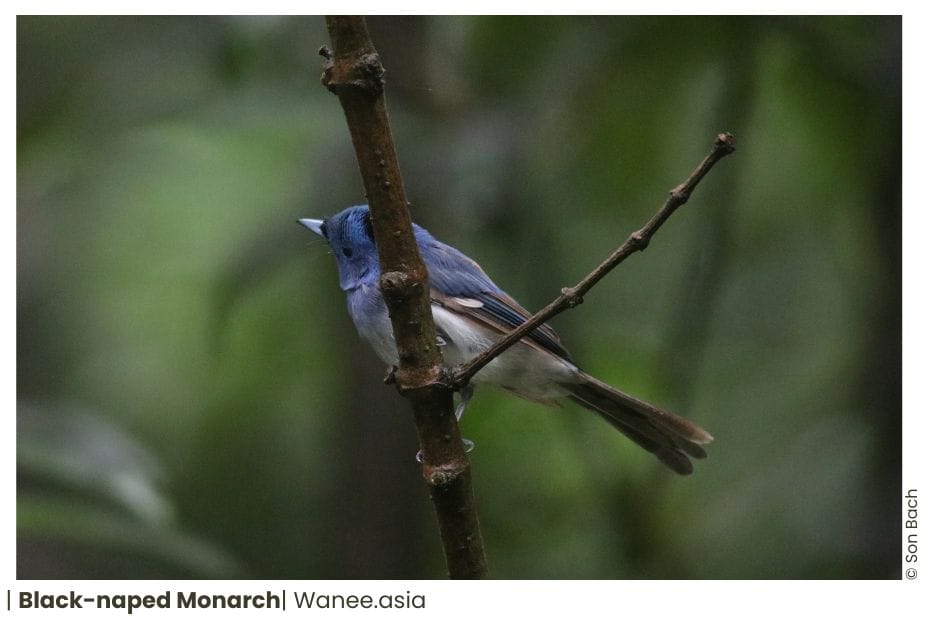 Black-naped Monarch Hypothymis azurea
Status: Fairly Common resident (throughout)
Best time to watch & Photo: Feb-Apr
Tour cover: Throughout
Hotspot: Through country
Japanese Paradise-Flycatcher Terpsiphone atrocaudata
Status: Rare Common resident
Best time to watch & Photo: Feb-Apr
Tours: Throughout
Hotspot:
Amur Paradise-Flycatcher Terpsiphone incei
Status: Fairly Common resident (throughout)
Best time to watch & Photo: Feb-Apr
Tours: Throughout
Hotspot:
Blyth's Paradise-Flycatcher Terpsiphone affinis
Status: Fairly Common resident (throughout)
Best time to watch & Photo: Feb-Apr
Tours: Throughout
Hotspot: