Parrotbills of Vietnam – Paradoxornithidae (Sylviidae)
With 16 species Parrotbills of Vietnam, occurring over the Highlands, especially the Northern Highlands make the bird diversity in this site get a huge difference from others. Parrotbills like their name with a long and curved beak but inside a Warbler body make them become one of the most interesting species of Vietnam. Black-headed Parrotbill (Psittiparus margaritae) is endemic to Vietnam.
You may know: Nuthach & Parrotbills are two families in Central Highland if you found them you can never be eyed off. Most people who come to Vietnam just want to see them once in their life.
The overview of Parrotbills families
The Parrotbills are a family, Paradoxornithidae, of passerine birds that are primarily native to East and Southeast Asia (with a single species in Western North America), though feral populations exist elsewhere. They are generally small, long-tailed birds that inhabit reedbeds and similar habitat. They feed mainly on seeds, e.g. of grasses, to which their bill, as the name implies, is well-adapted. Living in tropical to southern temperate climates, they are usually non-migratory.
The bearded reedling or "bearded tit", a Eurasian species long placed here, is more insectivorous by comparison, especially in summer. It also strikingly differs in morphology, and was time and again placed in a monotypic family Panuridae. DNA sequence data supports this.
As names like "bearded tit" imply, their general habitus and acrobatic habits resemble birds like the long-tailed tits. Together with these and others they were at some time placed in the titmouse family Paridae. Later studies found no justification to presume a close relationship between all these birds, and consequently the parrotbills and bearded reedling were removed from the tits and chickadees and placed into a distinct family. As names like Paradoxornis paradoxus – "puzzling, paradox bird" – suggest, their true relationships were very unclear, although by the latter 20th century they were generally seen as close to Timaliidae ("Old World babblers") and Sylviidae ("Old World warblers").
Parrotbills of Vietnam species note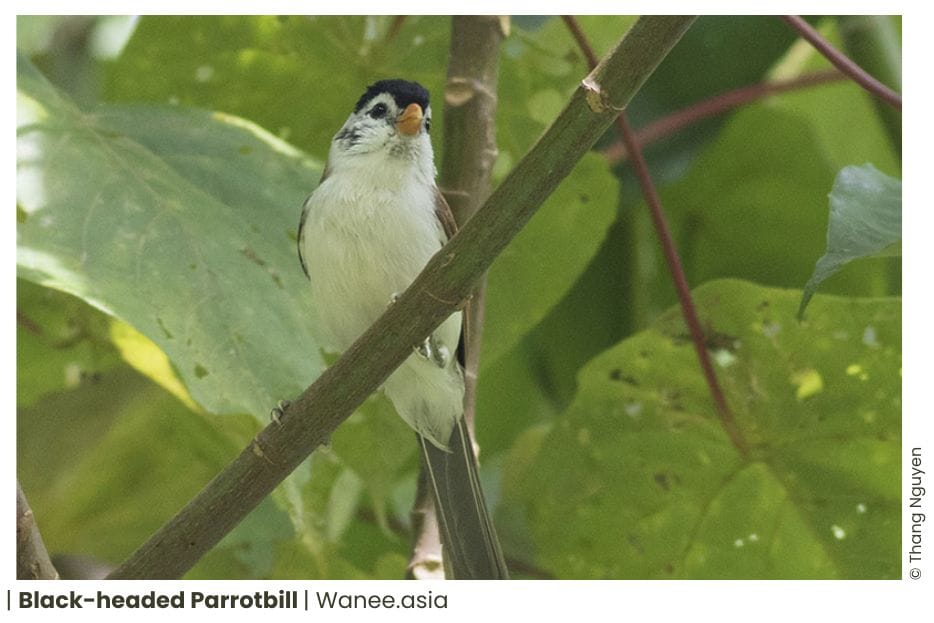 Black-headed Parrotbill Psittiparus margaritae
Status: Rare local resident – Vulnerable
Best time to watch & Photo: Feb-Apr
Tour cover: Central Highland
Hotspot: Dalat Plateau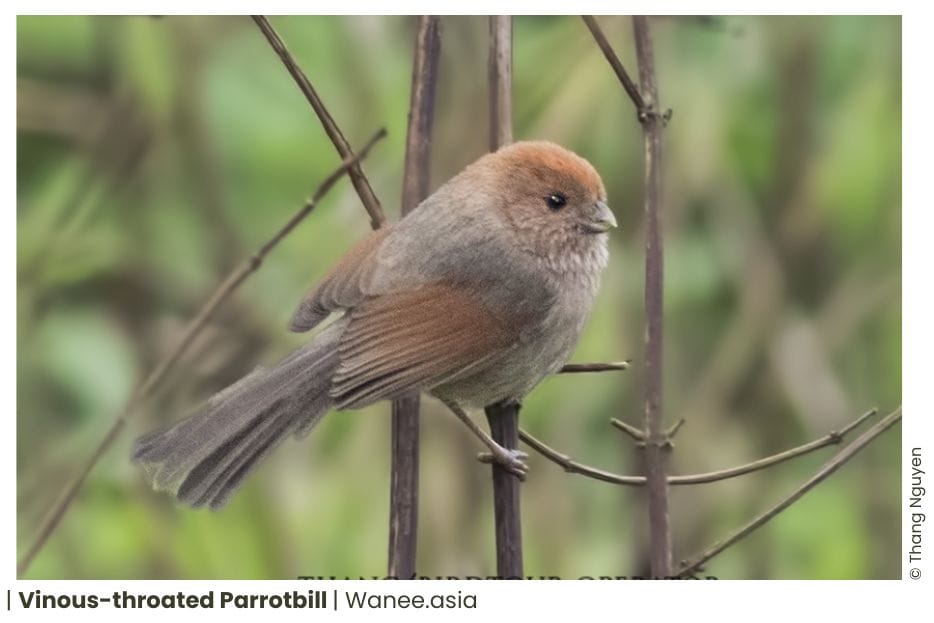 Vinous-throated Parrotbill Sinosuthora webbiana
Status: Uncommon local resident
Best time to watch & Photo: Feb-Apr
Tours: North Vietnam
Hotspot: Sa Pa – Fansipan Moutain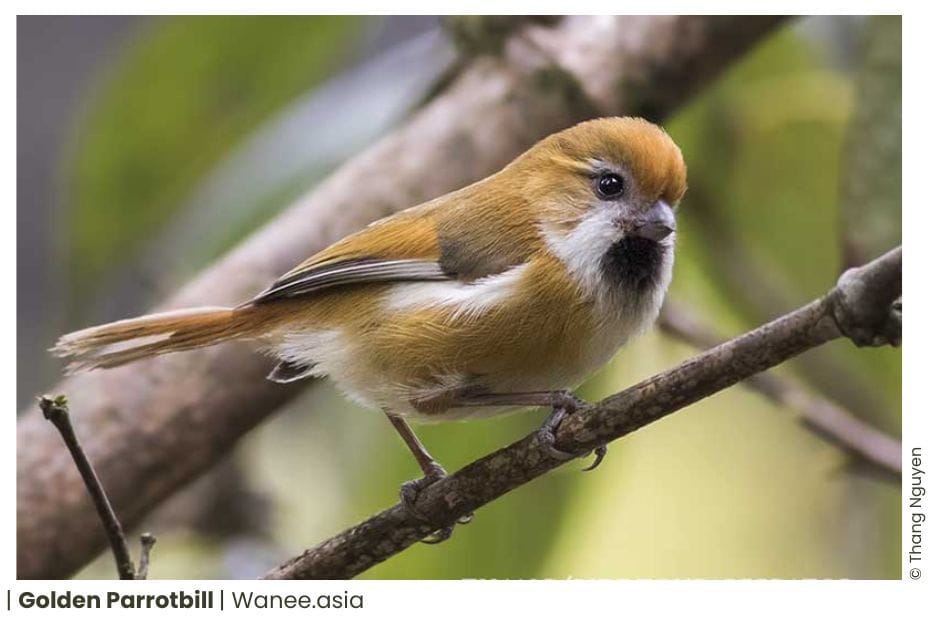 Golden Parrotbill Suthora verreauxi
Status: Uncommon local resident
Best time to watch & Photo: Feb-Apr
Tours: Northern Highlands
Hotspot: Sa Pa – Fansipan Moutain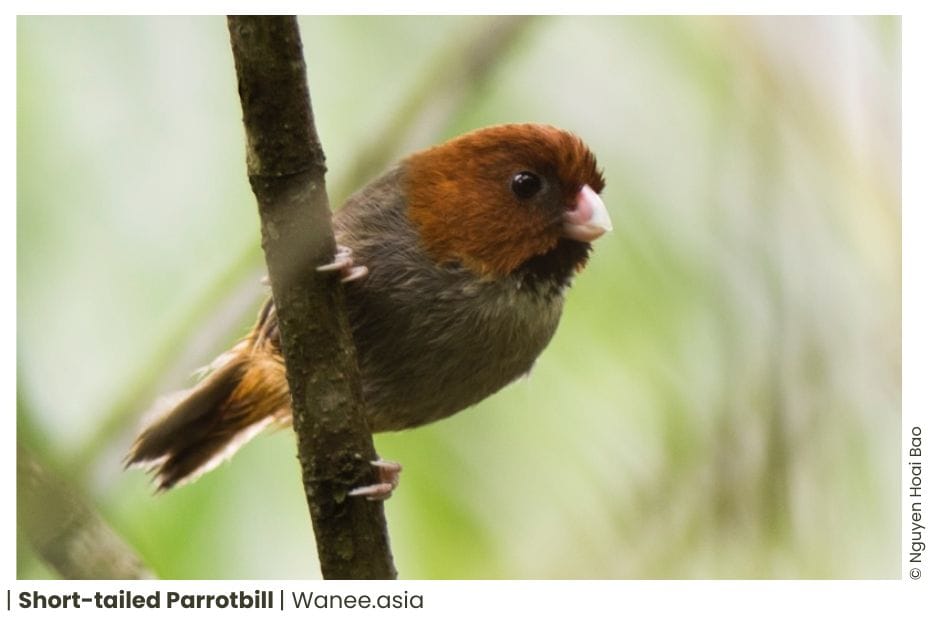 Short-tailed Parrotbill Neosuthora davidiana
Status: Uncommon local resident
Best time to watch & Photo: Feb-Apr
Tours: Northern Highlands
Hotspot: Sa Pa – Fansipan Moutain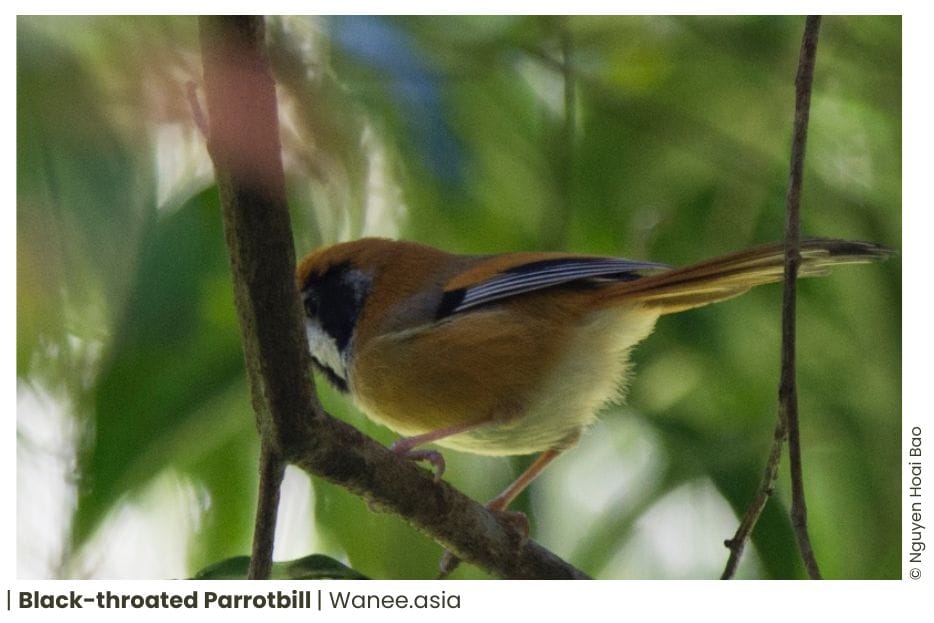 Black-throated Parrotbill Suthora nipalensis
Status: Uncommon local resident
Best time to watch & Photo: Feb-Apr
Tours: Central Highland
Hotspot: Di Linh, Dalat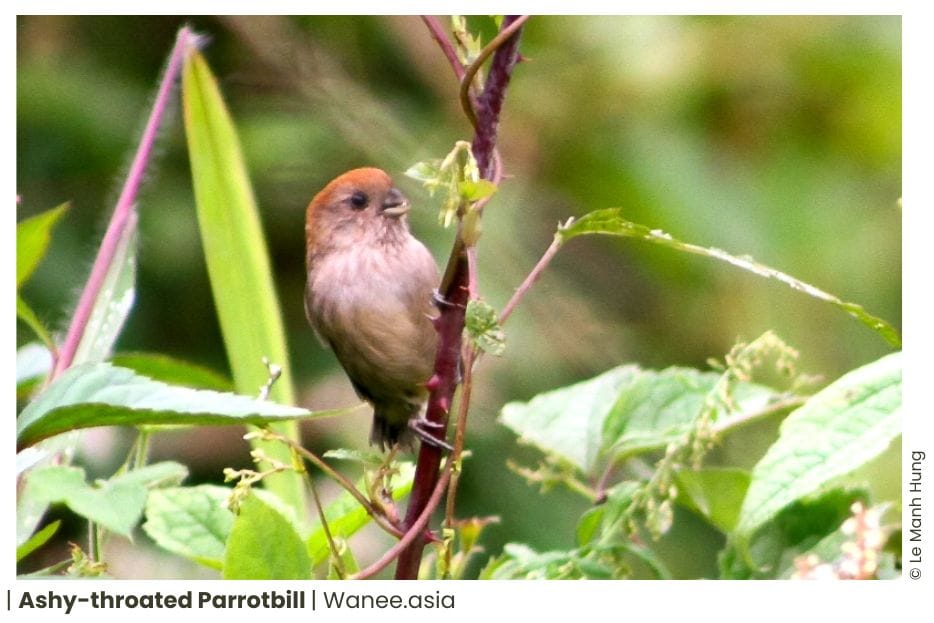 Ashy-throated Parrotbill Sinosuthora alphonsiana
Status: Uncommon local resident
Best time to watch & Photo: Feb-Apr
Tours: North-West
Hotspot: Sa Pa – Fansipan Moutain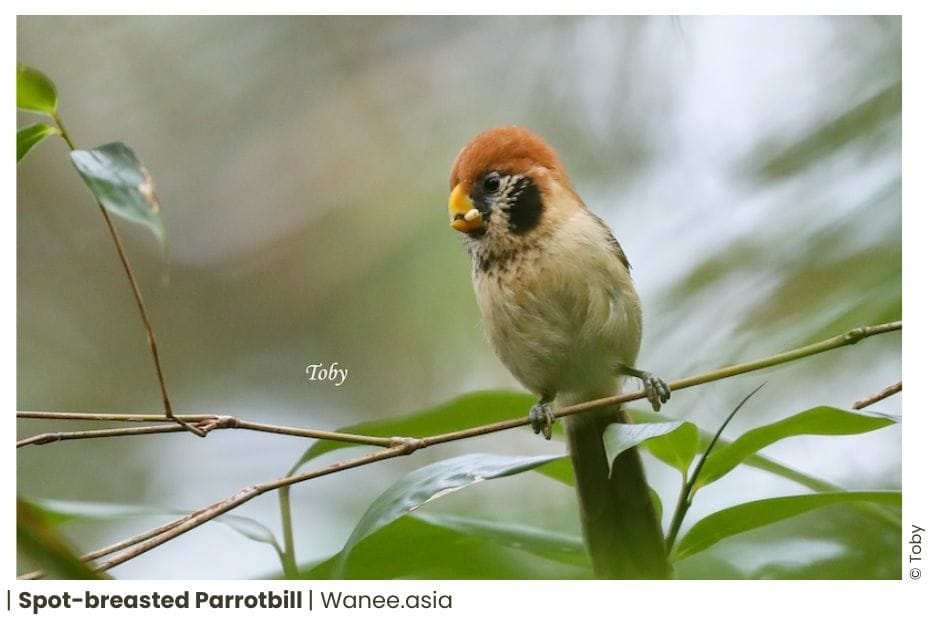 Spot-breasted Parrotbill Paradoxornis guttaticollis
Status: Uncommon local resident
Best time to watch & Photo: Feb-Apr
Tours: Northern Highlands
Hotspot: Sa Pa – Fansipan Moutain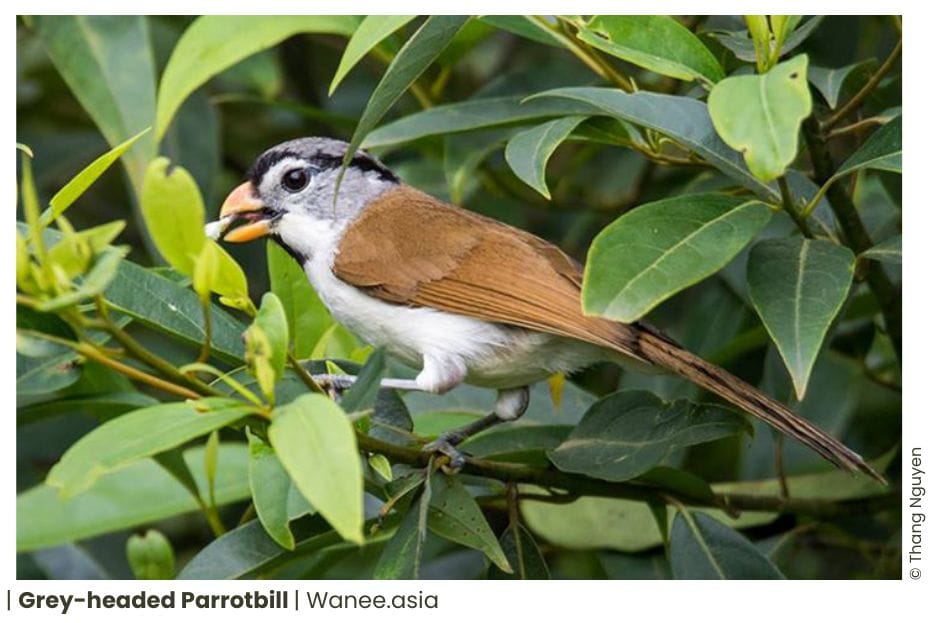 Grey-headed Parrotbill Psittiparus gularis
Status: Uncommon local resident
Best time to watch & Photo: Jun-Aug
Tours: Highlands
Hotspot: Kontum, Sa Pa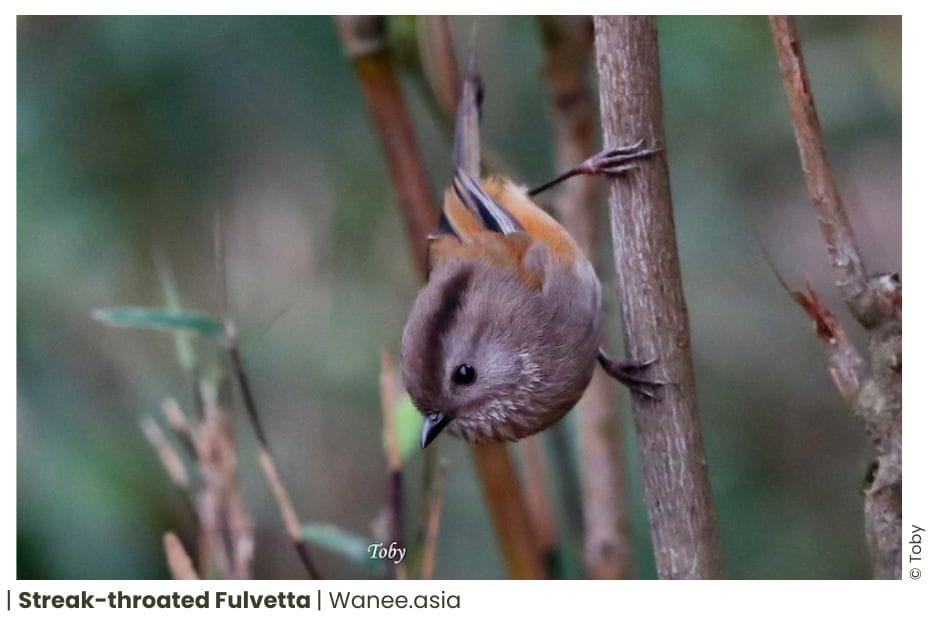 Streak-throated Fulvetta Fulvetta manipurensis
Status: Rare Pass Migrant
Best time to watch & Photo: Feb-Apr
Tour: North-West
Hotspot: Sa Pa – Fansipan Mountain
List of all Parrotbills in Vietnam
| | | |
| --- | --- | --- |
| | Name | Level |
| 1 | Golden-breasted Fulvetta | Maybe |
| 2 | Yellow-eyed Babbler | Maybe |
| 3 | Spectacled Fulvetta | Maybe |
| 4 | Indochinese Fulvetta | Maybe |
| 5 | White-browed Fulvetta | Maybe |
| 6 | Streak-throated Fulvetta | Easy |
| 7 | Spot-breasted Parrotbill | Maybe |
| 8 | Gray-headed Parrotbill | Maybe |
| 9 | Black-headed Parrotbill | Maybe |
| 10 | Rufous-headed Parrotbill | Hard |
| 11 | Short-tailed Parrotbill | Hard |
| 12 | Black-throated Parrotbill | Hard |
| 13 | Golden Parrotbill | Maybe |
| 14 | Pale-billed Parrotbill | Hard |
| 15 | Vinous-throated Parrotbill | Maybe |
| 16 | Ashy-throated Parrotbill | Maybe |
Note: Hard – Really hard to see; Maybe – …..; Easy – Easy to see with guide; Impossible – Weak info; Lack Data – Consider out of list