Cuc Phuong national Park guide for 2023
The best national park in Vietnam for butterfly
Cuc Phuong National Park is a fantastic destination in Ninh Binh, Vietnam. Visiting Cuc Phuong, you can discover rich flora and fauna, see beautiful natural landscapes, and participate in several outdoor activities.
It's an excellent choice for a weekend getaway, where you can both relax and have the opportunity to learn more about the surroundings and explore nature.
Established in 1962, Cuc Phuong is the oldest national park in Vietnam. Located only 120km southwest of Hanoi and nestled between the provinces of Ninh Binh, Hoa Binh and Thanh Hoa, Cuc Phuong boasts an engaging cultural and wildlife heritage and enchanting scenery.
Magnificent Limestone Mountains rise up majestically from the green rice-terraces and traditional stilt houses of the Muong hill-tribe. Covered in a dense forest, this landscape forms the habitat for some of Asia's rarest animal and plant species. It is no wonder that researchers, naturalists, enthusiasts and conservationists alike are drawn to this corner of the world.
Why visit Cuc Phuong National Park?
Cuc Phuong National Park is the first national forest of Vietnam. The park covers an area of 25,000 ha, adjacent to 3 provinces of Ninh Binh, Hoa Binh, and Thanh Hoa.
With the characteristic of tropical rainforest, green all year round, Cuc Phuong has a rich flora and fauna, including many rare plants and animals.
Specifically, the park has 307 species of birds, 133 species of mammals, 122 species of reptiles, and more than 2000 species of plants. Therefore, it plays an essential role in protecting and preserving Vietnam's rare and precious animals.
Tips
Visit Cuc Phuong national park
Opening hours: Cuc Phuong is open daily from 9:30 am to 11:30 am and from 1:30 am to 4:30 pm.
The best time to visit Cuc Phuong National Park is in the dry season, from December to May. At this time, the weather is cool and pleasant, suitable for outdoor activities.

On the other hand, you should avoid traveling in the rainy season because the road is slippery and there are many mosquitoes and leeches.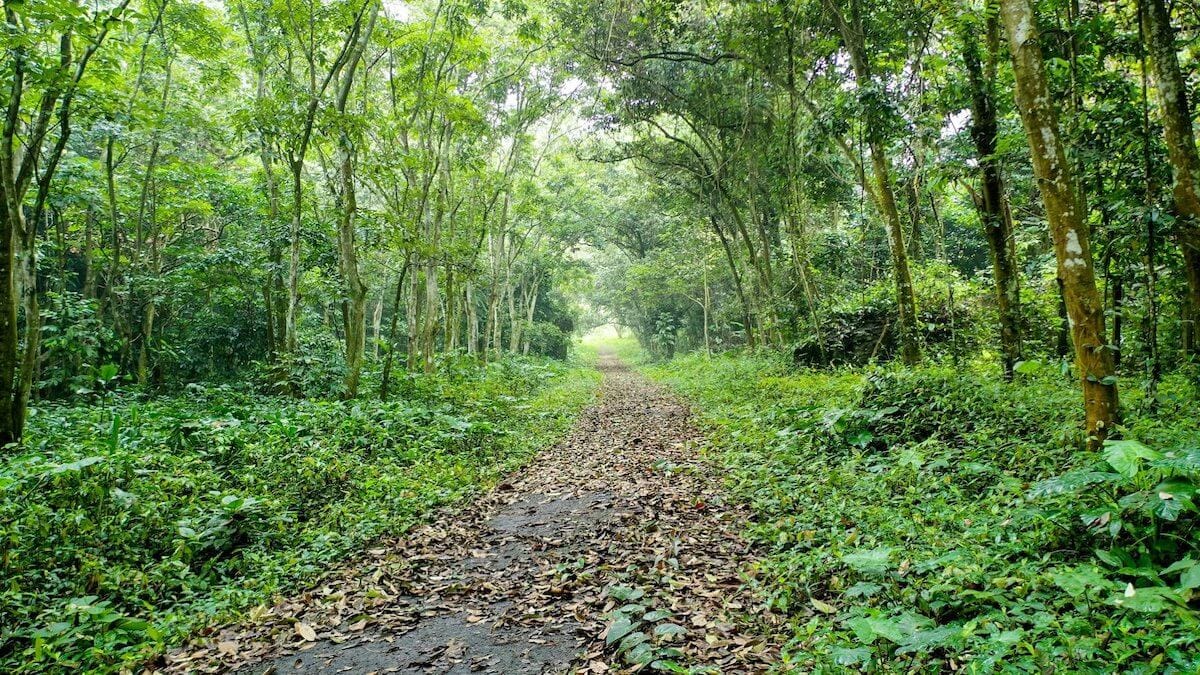 Go with local guide
There are several routes in Cuc Phuong park with different duration and attractions. While some paths you can explore by yourself, some courses require a park guide.
However, with the guidance of the tour guide, especially for wildlife watching, indeed your trip will become more exciting and meaningful.
Explore wildlife
See wildlife at night.
One of the most exciting activities at Cuc Phuong park is the wildlife night tour.
The park rangers organize exciting night wildlife viewing programs depending on weather conditions. You can see wild animals such as black squirrels, flying squirrels, roe deer, and small carnivores.
Go butterflies "hunting."
Perhaps this is the most magical experience at Cuc Phuong national park.
At this time, Cuc Phuong has thousands of colorful butterflies, creating a splendid and poetic scene.
If you drive a motorbike or car deep into the forest, you should go slowly because a flock of butterflies may swoop right into your body or the glass of your vehicle.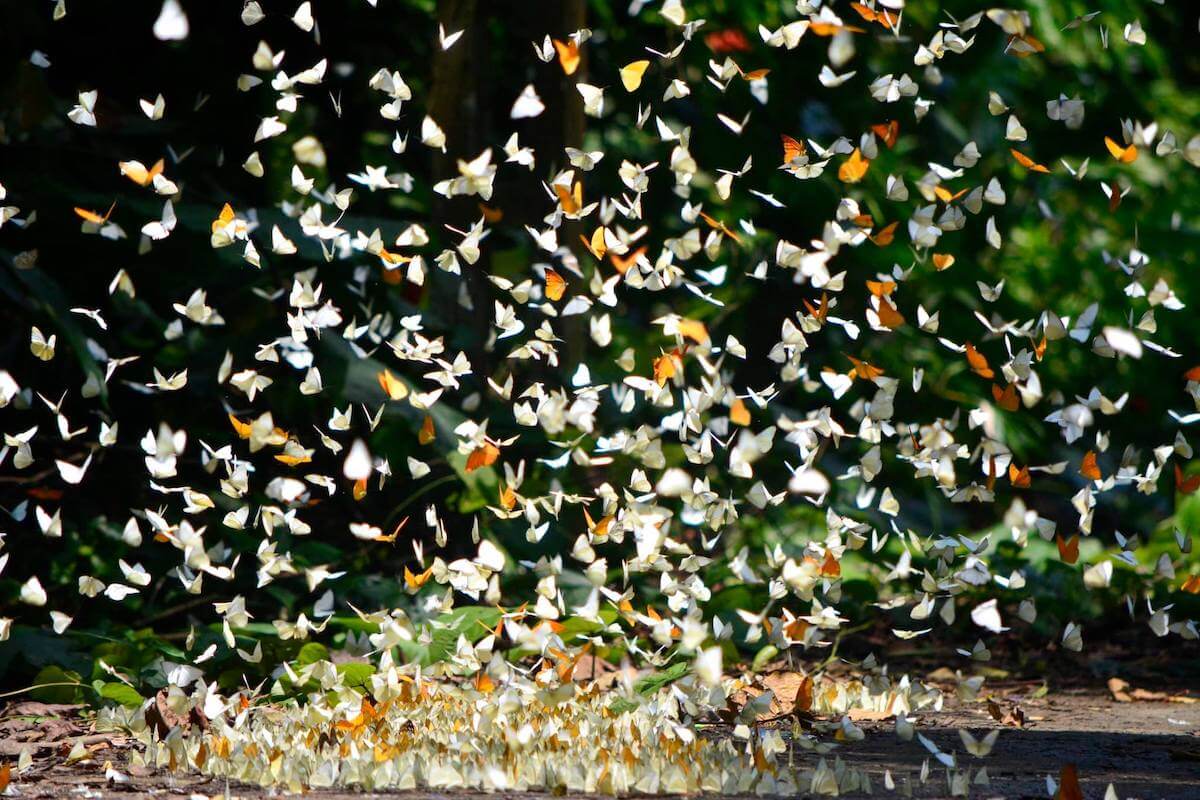 Experience Bird-watching
Cuc Phuong is home to a wealth of beautiful tropical birds, many of them endemic to Vietnam and Indochina. Some of the 308 species of rare birds that you might encounter are the Silver Pheasant, Red-collared Woodpecker, Brown Hornbill, Bar-bellied Pitta, and so on. Cuc Phuong is quickly becoming a must-see destination for scientists and birdwatchers alike. The best time for bird-watching is early in the morning or late afternoon.
Observe reptiles, amphibians, and insects
You'll surely see various animal species at Cuc Phuong National Park, including reptiles, amphibians, and insects.
Things to do and see besides wildlife
Explore the primal forest
Camping and overnight in the forest, Ngoc Son conservation area and Pu Luong conservation area are attractive routes that many people are interested in.
Cycling through the forest
One of the exciting experiences in Cuc Phuong is cycling through the forest. You can see the surrounding nature at your own pace and have the opportunity to encounter difficult-to-see animals. It's an excellent form of exercise too.
Visit the conservation centers.
Visitor Center, Primate Rescue Center, and Turtle Conservation Center are great places to visit and learn more about the park and its animals.
This is where many of the rarest primates are found in Cuc Phuong National Forest, such as White-butted langur, Ha Tinh langur, jet-black langur, Laotian langur, and Cat Ba langur. They also research primates such as foraging, living behavior, environment, and living space.
Currently, Cuc Phuong Primate Rescue Center raises nearly 160 individuals of 15 rare primate species. After that, the center will release them back to nature.
Among them, the black-and-white-breasted langur is a beautiful and rare primate chosen as the Cuc Phuong National Park symbol.
See the thousand-year tree.
Cuc Phuong National Park has a rich system of plants, and one of the most outstanding trees is the thousand-year tree.
This 45m high and 5m in diameter has floating roots on the ground running about 20m long. The distance from the park gate to the tree is about 3 km.
See the ancient Sau tree
There are other trees you should see too. For example, the image below is an old Sau tree with spiky roots – a plant's adaptation to its habitat.
The thick root system helps the tree stand firm, resist storms, and even grow on rocks.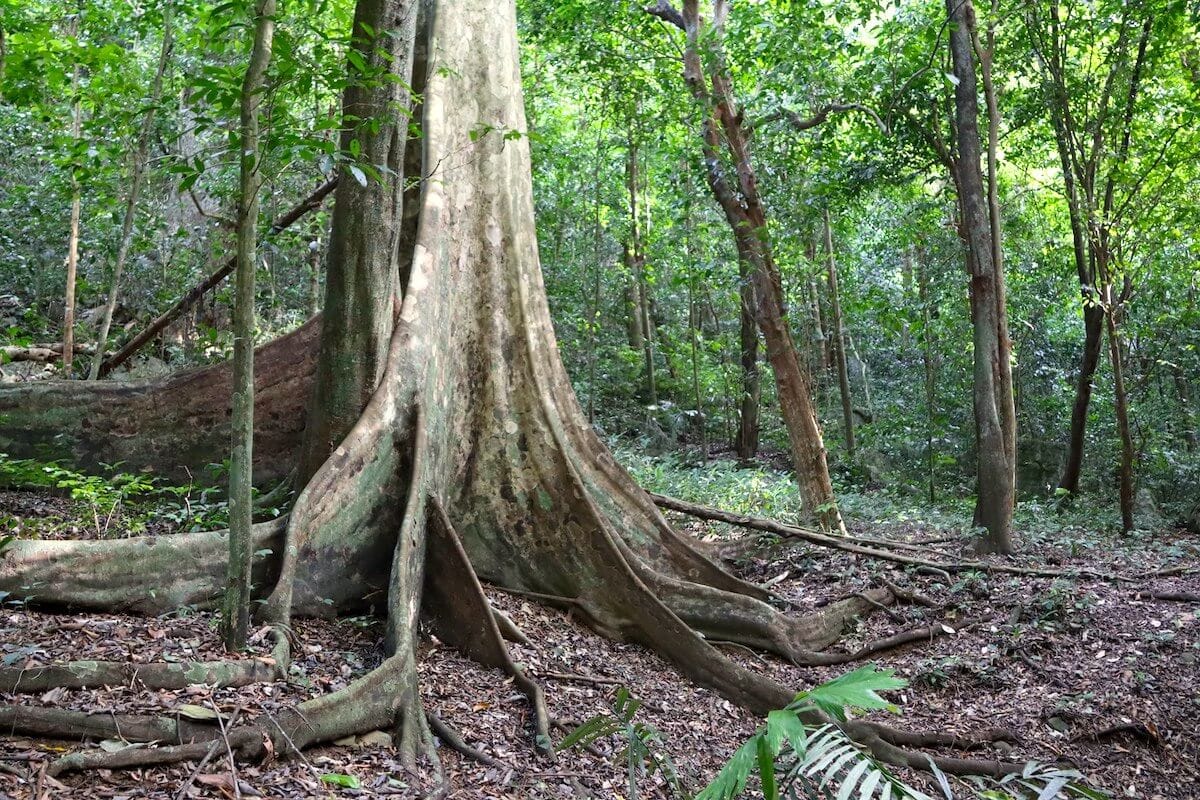 Visit Nguoi Xua cave.
Nguoi Xua cave is believed to be inhabited by prehistoric humans as a residence and burial relic. Inside the cave are some remnants of prehistoric times.
Explore Con Moong Cave
Con Moong Cave (meaning "beast cave") is a rock cave in Cuc Phuong National Park. Located near rivers and streams, the area has rich and diverse fauna and flora, so ancient people chose it as a long-term residence.
The cave is wide and long, with two connecting doors. Con Moong Cave also has a relatively thick cultural stratigraphy, a very complex structure, and a successive interweaving of clay, mollusk shells, and streaks of coal ash.
Hike the Silver Cloud Peak
Silver Cloud Peak, or Dinh May Bac in Vietnamese, is the highest mountain in the Cuc Phuong forest with an altitude of 648m.
You can see a panoramic view of the national park, Hoa Lu ancient capital, Bai Dinh pagoda, from the top of the mountain.
However, the way to the top of May Bac has many rocky slopes that are pretty difficult to go, so this place is only suitable for people with good health.
Please note that a park guide for this route must accompany you. The whole course takes about 4 hours.
Visit Cuc Phuong Botanical Garden
Built in 1985, the garden has an area of 167 ha, including a space for planting trees, natural forest on limestone mountains, and an administrative area.
Currently, the garden has 336 species of trees, including 210 species of Cuc Phuong trees, 85 species of trees from Vietnam, 5 species of imported trees, 20 species of fruit trees, 15 species of bamboo, 15 species of the areca palm, and 16 species of aphids.
Of the above species, there are 30 rare and precious species of Vietnam.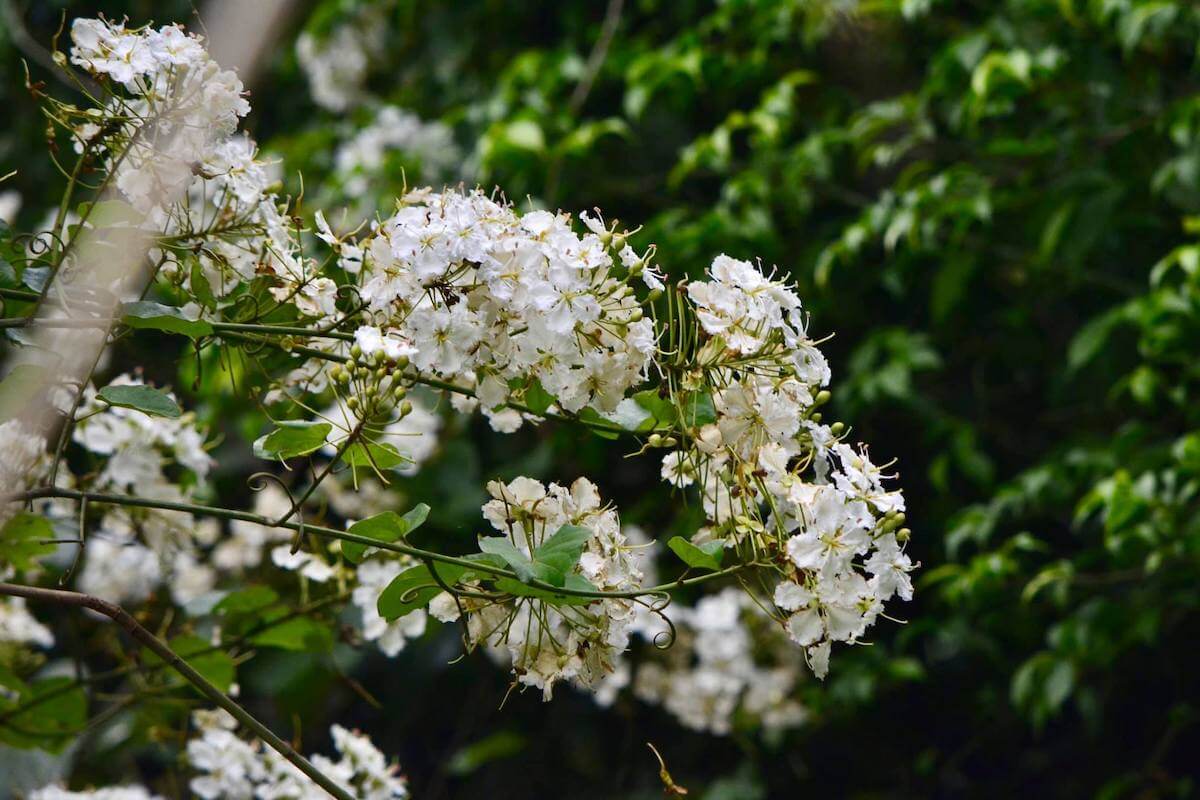 Go Camping
Cuc Phuong is an excellent spot for camping during the day and overnight.
If you camp during the day, you can choose the flat ground under the tree canopy. You can set up camp on the prepared cement squares for overnight camping.
While it's free to camp during the day, you'll have to pay a small fee for each tent for overnight camping.
Note: Please ask for permission from park rangers before camping.
Visit Muong ethnic village.
Cuc Phuong is also home to the Muong community with unique cultural features such as stilt houses and terraced fields.
Try kayaking
Visiting Cuc Phuong, in addition to the above activities, you can also participate in kayaking on Mac Lake or Yen Quang Lake. The kayaking ticket price is 50,000 VND/person/hour.
Accommodations
Staying inside Cuc Phuong National Park
Cuc Phuong has three accommodation and dining areas: Park gate area, Ho Mac area, and Central area (Bong Hamlet). Each zone has accommodation or stilt houses with affordable prices and amenities.
Park gate area
This area has different types of rooms, from stilt houses, private apartments, or guesthouses. Prices start from 200,000 VND.
It's also a starting point for all activities and sightseeing programs such as tour guide service, night wildlife viewing, kayaking, and folk art show. They also rent out forest equipment and bicycles.
Ho Mac area
About 1.5 km from the garden gate, the Mac lake area is a quiet place, offering a fresh and relaxing environment. You can choose from private rooms and collective stilts. This is a suitable area for group activities, campfires, and cultural performances.
Forest center area
The forest center area (Bong Hamlet) is about 20 km from the garden gate. It has stilt houses, two-story houses, and apartments.
As this area doesn't have electricity, the accommodation here only runs a generator for about 4 hours every night. If there are too few guests, they won't run the generator.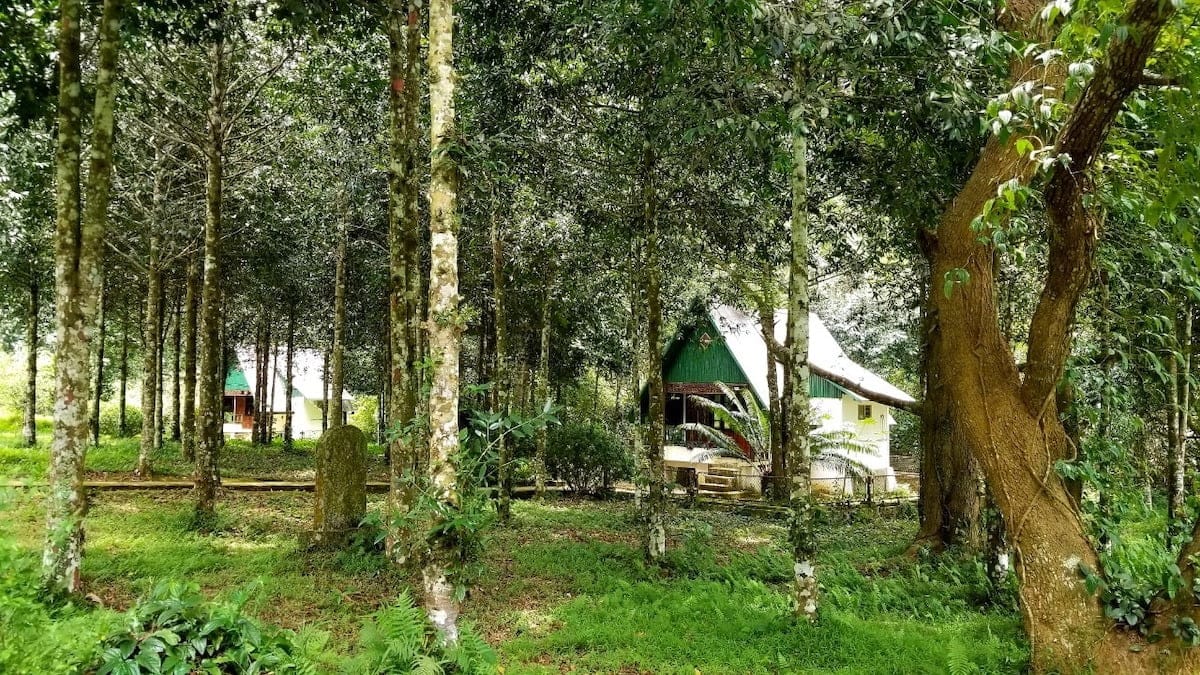 Staying outside Cuc Phuong
If you prefer to stay outside Cuc Phuong park, Cuc Phuong resort is a good choice. It has bungalow-style rooms with comfortable beds, a swimming pool, and an on-site restaurant.
Park restaurants
There is 3 restaurant inside the park as the place to stay in, they are mostly serving Vietnamese food, in the low season of tourist, they often close early, so if you decide to stay overnight in the forest, it's good to make a request for meals a head.
What to pack for Cuc Phuong National Park

Here are some essential items that you should pack for Cuc Phuong Park:
Long-sleeved clothing: if you stay overnight, you should prepare long-sleeved pajamas because there are often many insects here! Also, wear long-sleeved clothes when hiking.
A jacket
A thin sweater and raincoat to avoid cold and frost.
Personal medicine bag
Insect sprays and anti-mosquitoes
High and thick socks to avoid leeches
Hiking shoes, especially if you're planning to explore some of the forest trails.
Personal flashlight to use when traveling at night and in the caves.
Hat
Sunscreen and sunglasses
Food in the forest is not much and plentiful, so you should prepare enough food for two days, especially for a trip with young children.
Water and snacks for hiking
Binoculars to enjoy the view
A camera
Picnic camping equipment: If you plan overnight camping, you should prepare to bring a few essential items such as tents, sleeping bags, and camping equipment.
Cuc Phuong park allows personal vehicles to go directly inside. So you can drive your car, or motorbike or exercise by bicycle and enjoy the fresh air of the forest.
Park fees
Adults: 60,000 VND / person
Students: 20,000 VND / person
Children: 10,000 VND / person
What is there to see?
Within the 659 vertebrate animal species identified at Cuc Phuong, endangered and rare species include Delacour's langur (Trachipythecus delacouri), Clouded Leopard (Neofelis nebulosa), Serrow (Carpicornis sumatraensis), cá Niếc Hang (Silurus cucphuongensis) and the red-bellied squirrel (Callosciurus erythraeus cucphuongensis).
Delacour's langur was thought to be extinct 50 years ago but was rediscovered in the early 1990s. The insect populations at Cuc Phuong are also highly abundant, with the identification of 1899 species and forms belonging to 169 families in 33 orders. There are many strange species such as the walking stick insect, which look like twigs of different colors, and can only be recognized when they move
How to get to Cuc Phuong national park?
Cuc Phuong National Park is 120 km south of Hanoi and 45 km northwest of Ninh Binh.
Getting from Hanoi to Cuc Phuong Park
By bike
From Hanoi, follow National Highway 1A towards Ninh Binh, follow National Highway 1A to Gian Khau junction (Gia Vien district, 10 km from Ninh Binh city). Then, follow Highway 12 about 35km to the forest gate, and continue to the park attractions.
By bus
There are two ways to get from Hanoi to Cuc Phuong by bus. The bus travel time is about 2.5 to 3 hours.
Take the bus directly from Giap Bat bus station (Hanoi Southern bus station) to Cuc Phuong National Park. Duc Hanh bus (0912607066) departs from Giap Bat at 10 am, and Phu Duyen bus (0988118215) leaves at 3 pm. The bus goes straight to the park, so this is the most convenient option.
You can also take a bus from Giap Bat station to Nho Quan (the nearest town). Buses depart at 8 am, 9 am, noon, 1 pm, 3 pm, and 4 pm. From Nho Quan station, you can take a taxi or a motorbike taxi (Xe om). The distance from the station to the forest gate is more than ten kilometers.
| Provider | Departure | Arrival |
| --- | --- | --- |
| Duc Hanh bus | 10 am | 1 pm |
| Phu Duyen bus | 3 pm | 6 pm |
| Local bus | 8 am | 11 am |
| Local bus | 9 am | 12 pm |
| Local bus | 12 pm | 3 pm |
| Local bus | 1 pm | 4 pm |
| Local bus | 3 pm | 6 pm |
| Local bus | 4 pm | 7 pm |
| Local bus | 1 pm | 4 pm |
There's a daily bus departing from Cuc Phuong Park to Hanoi. The bus leaves Cuc Phuong National Park's headquarters at 9 am for Giap Bat station and returns from Giap Bat station back to the park at 3 pm.
How to get from Ninh Binh to Cuc Phuong Park
From Ninh Binh, you can head in the direction of Trang An and Bai Dinh pagoda (15 km). From Bai Dinh to the park (26 km), take the road behind the parking of Bai Dinh, then follow the big concrete road to the park.
Weather & climate in Cuc Phuong national park
The climate in Cuc Phuong is tropical monsoon, with an annual average temperature of 24.7°C. Topography is complex, forest in primitive form contains many mysteries, and unique landscape.
Below is detailed information on the weather and season throughout the year.
November to January is quite cold, so you pack warm clothes if you plan to visit the park.
January to April is the right season for bird-watching, such as pheasants, white magpie, pitta, and other birds.
Mid-April to early May is the butterfly season in Cuc Phuong.
From April to September, the weather is sunny and beautiful. However, it can be rainy and stormy, so check the weather before you go. If you intend to trek in the forest, avoid going on rainy days because the forest is wet and slippery.

Biodiversity of Cuc Phuong National Park
With a hundred kilometers length of limestone has various Karst terrain types: Karst overlay, half overlay Karst, Karst terrain on the top is Caren. Due to the process of Karst persistence operation through million years in the mountain that formed over hundreds of large caves, thousands of suction holes, and drainage holes.
Cuc Phuong is situated in the monsoon tropical climate region, hot and humid. At the height above sea level from 140 m to 648 m topography, especially the limestone mountains interspersed with hills and valleys running from the northwest-southeast. Due to the terrain, very intense fragmentation created several sub-climate regions, and different microclimates.
This is the premise of different vegetation formations, making Cuc Phuong's biological diversity very diverse, rich, and its own particular character. This is the ideal habitat for plants and animal species, including people from the ancient period.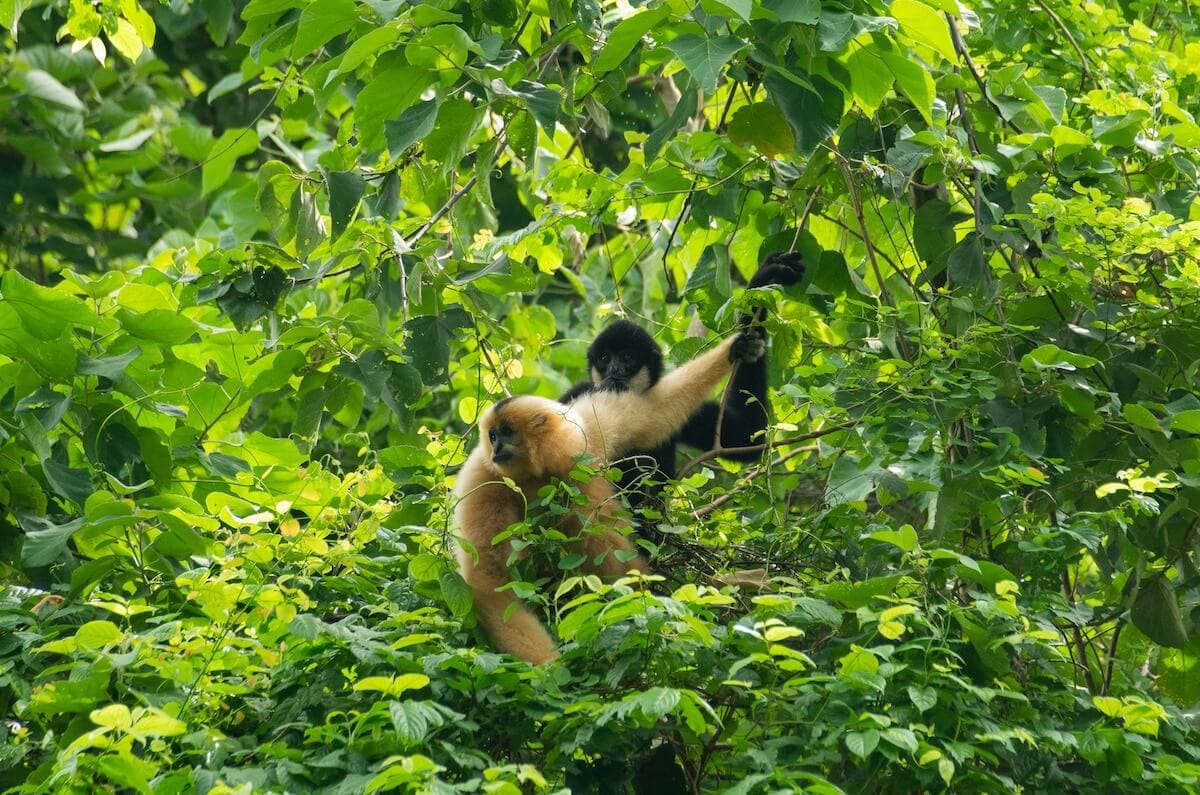 FLORA
Cuc Phuong is very diverse in flora species composition structure. With such an area equaling to 0.07 % out of the total area nationwide, it accounts for 57.93 % of flora families, 36.09 % of genetic diversity and 17.27 % of the species as compared with total figures for the country. Cuc Phuong NP has 20,473 ha of forest out of the total land area of 22,200 ha (accounting for 92.2 %).
The vegetation cover here is the type of evergreen tropical rainforest. Cuc Phuong belongs to the type of closed humid evergreen tropical rainforest. Cuc Phuong has a considerable area of primary forest, mainly focused on the limestone mountain area and at valleys in the centre of the NP. It is the special location that leads to the rich species composition structure of the park.
Cuc Phuong contains many non-indigenous plant species established with many indigenous ones. Representation of the indigenous species is those of Lauraceae, Magnoliaceae and Meliaceae families while those species of the Dipterocarpaceae family is representative of non-indigenous species from the warmer southern region. Representative of those coming from the north are those of Fagaceae species.
Survey results of recent years (2008) recorded 2,234 species of 917 genera, 231 families. Many of them are of high value: 430 medicinal plant species, 229 edible plant species, 240 species can be used as medicine, dye, 137 species can provide tannin, etc;
FAUNA
– Vertebrate fauna: Fauna in Cuc Phuong is also abundant and diverse. Research results in 1971 of Le Hien Hao and colleagues gathered the results of the study itself as well as by other authors conducted in 1963 showed that the composition of the vertebrate fauna consists of 28 orders 82 families and 251 species. Since then, Cuc Phuong National Park in conjunction with local and foreign scientists to conduct additional research on the vertebrate fauna in Cuc Phuong, was discovered: 7 orders, 38 families 408 new species in Cuc Phuong. Research results in 2008 shows that Cuc Phuong is the one of the rarely area in Vietnam with high biological diversity.
The vertebrate animal species in Cuc Phuong is rich and diverse, there are 133 species, accounting for 51.35 % of the total nationwide (259 species).
For birds, Cuc Phuong NP is assessed by Birdlife International as an Important Bird Area of Vietnam. It has recorded here now 336 species, accounting for 39.25 % of the total bird species nationwide (856 species).
For reptiles, Cuc Phuong NP has 76 species, accounting for 26.67 % of the nation's total figure (296 species).
For amphibians, Cuc Phuong NP has 46 species, accounting for 28.39% of the nation's total figure (162 species).
For fish, Cuc Phuong NP has 66 species, accounting for 10.81 % of the nation's total figure of fresh water fish species (610 species).
In total 659 vertebrate species that 85 species have recorded in Vietnam Red Book, some Cuc Phuong endemic species such as Trachipythecus francoisi delacouri, Callosciurus erythraeus cucphuongensis, Tropidophorus cucphuongensis, Rana maosonensis, Pterocryptis cucphuongensis etc.