Phu Quoc National Park
Situated in the North-East of Phu Quoc Island and the Northern and Eastern boundaries with the coastline, Phu Quoc National Park covers of 31,422 ha, accounting for 70% of the area of Phu Quoc Island, which is regarded as a precious thanks to the prosperity of natural beauty.
Phu Quoc National Park is located on an island that has a mixture of continental and coastal climates, creating a rich ecosystem of primeval, secondary, and indigo forests. Its indigo forests are distributed in the wetlands or the lowlands that are flooded in the rainy season and sloping hills…..
Why's visit Phu Quoc National Park?
The topography of the national park is hilly, despite not being particularly steep with the highest point being Mount Chua, at 603 m. Being drained by numerous, mainly seasonal, streams, the only sizeable river on the island is the Rach Cua Can river, which drains the southern part of the national park, and flows into the sea on the west coast of the island.
Covering more than 27,000 ha of forest, including 6,000 ha of buffer land and 20,000 ha of surrounding ocean area, Phu Quoc National Park has a rich ecosystem due to the co-existence of the Malaysian, Burmese and Himalayan species.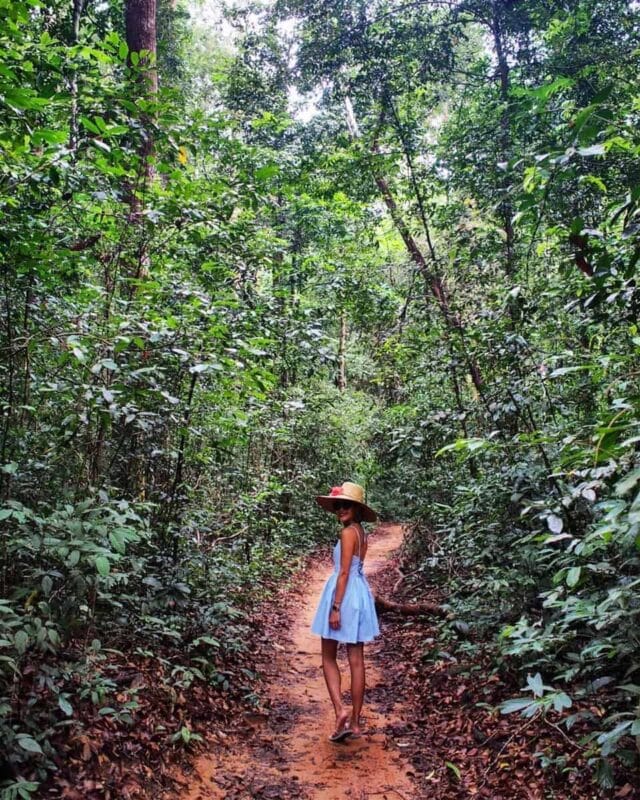 Phu Quoc National Park possesses an exceptionally diverse bio-ecological system. It provides the natural to various species of plants, animals, and marine creatures, many of which are rare and precious. To be more specific, the Park is home to 1,164 species of plants, 61 species of mammals, 134 birds, 47 reptiles, and 23 amphibians.
Phu Quoc National Park, U Minh Thuong National Park, and Kien Luong – Kien Hai Coastal Protection Forest are core areas of Kien Giang World Biosphere Reserve which has been recognized by UNESCO since 2006.
Tips
Plan to visit Phu Quoc National Park
Make a careful plan before taking a trip to Phu Quoc National Park
Bring necessary equipment with you such as water, sunscreen, protective tools and well-equipped first aid kit along your track
Go with local guide:
Do NOT feed the animals
Accommodations
Travel inside the park
Park fees
What is there to see?
With a mix of resort and wildlife areas, visitors can spend days exploring Phu Quoc National Park and not run out of things to do. Visitors to the island can mix and match their itinerary to balance intense outdoor adventures with beachside lounging. Activities on the island and in the national park include hiking, kayaking, snorkeling, and sightseeing.
Biodiversity Values – Explore the UNIQUE hotspot
PHU QUOC FLORA
In terms of flora, Phu Quoc National Park is the idea environment for more than 470 species of plants and several types of coral reefs offshore. Phu Quoc Island is lowland evergreen forest and the national park supports 12,794 ha of forest, equivalent to 86% of the total area.
To date, 929 plant species have been recorded on Phu Quoc Island. At lower elevations in some areas, the national park supports distinctive formations of Melaleuca one kind of trees that the leaves are evergreen, alternately arranged, dark green and grey-green in color.
PHU QUOC FAUNA
As regards to the fauna, a list of 43 mammal species belonging to 18 families and 6 orders was compiled in here. Among these recorded species, 6 species are listed in the Red Data Book of Vietnam (2000), 6 species in the 2005 IUCN Red list and 11 species in the Governmental Decree 32/2006/ND-CP.
Silvered langur, slow loris, pygmy loris, crab-eating macaque, stump-tailed macaque, small-clawed otter and fruit bats are species of the most conservation concern. Besides, due to the extremely plentiful coral reefs in the south of the island, there are 125 species of fish, 132 species of mollusc and 62 species of seaweed.
Interestingly enough, Phu Quoc is also one of the two places in Vietnam where the Dugong, a marine species on the brink of extinction can be found.
CONSERVATION ASPECT
In 2001, the Government decided to upgrade the park to preserve its ecology, and then the Park Management Board has coordinated with local residents and military units to implement forest protection measures, particularly fire prevention.
"The rainy season in Phu Quoc is short but the dry season is longer there. So, we have established a forest fire prevention steering board and firefighter units which are on standby," said Mr. Binh – director of the park. "Every commune and local military unit has worked out detailed fire prevention plans. We also have regular communications with local residents to raise their awareness of forest protection."
For a flat hike through giant trees, Ganh Dau trail is the most popular thanks to its photogenic ancient trees. Another gentle hike takes you to Suoi Tranh waterfall where you can go for a refreshing dip. More experienced hikers looking for a vantage viewpoint of the ocean can take on the Ham Ninh mountain trail.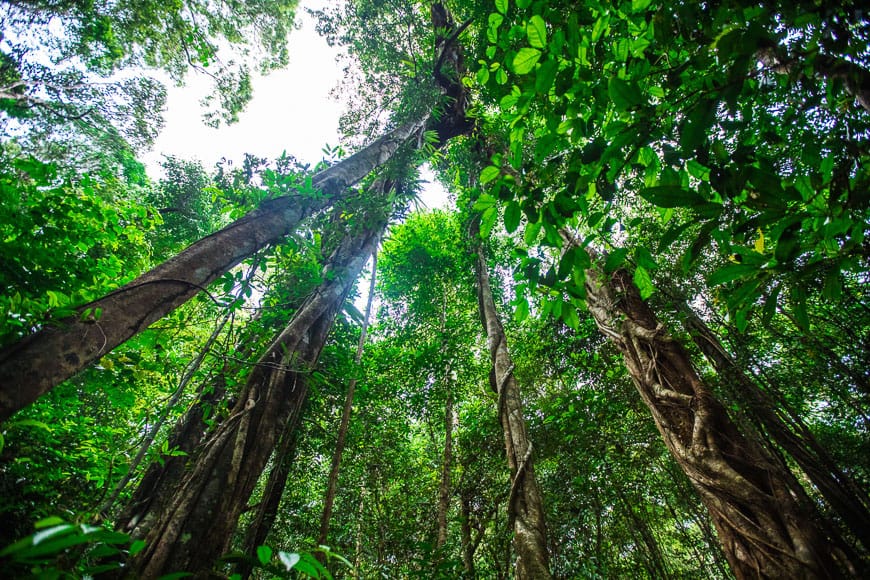 TIP: If you're looking for nature-inspired lodging, The River Mouth Phu Quoc homestay offers stilt bungalows perched over the water, and Sen Lodge sets guests up in up private treehouses.
Besides wildlife watching what are other Activities for nature explore?
Trekking
There are 2 trekking trails available for you to choose. Ganh Dau Trail is considered to be the simplest and most popular trail in Phu Quoc as the entrance is seen clearly and you can explore by motorbike or even on foot. Along the 5-km long trail, you will also have a chance to witness the beauty of Ganh Dau fishing village, which is famous for fish sauce throughout the country.
Meanwhile, Phu Quoc National Park Trail is narrower and is covered with lots of trees. It is suitable for morning trail.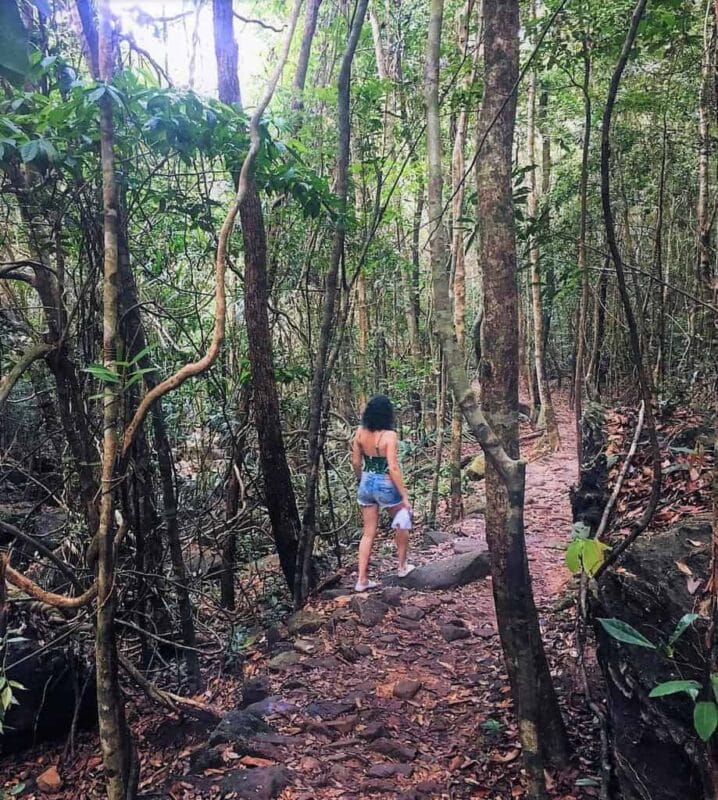 Snorkeling
One of the best things to do in Phu Quoc is snorkeling. Phu Quoc has so many beautiful beaches with gorgeous coral reefs underwater. Once taking a snorkeling tour, you will have a chance to take a boat to the snorkeling spots, swim in the clear blue water, and snorkel in it to see colorful fish and alive coral.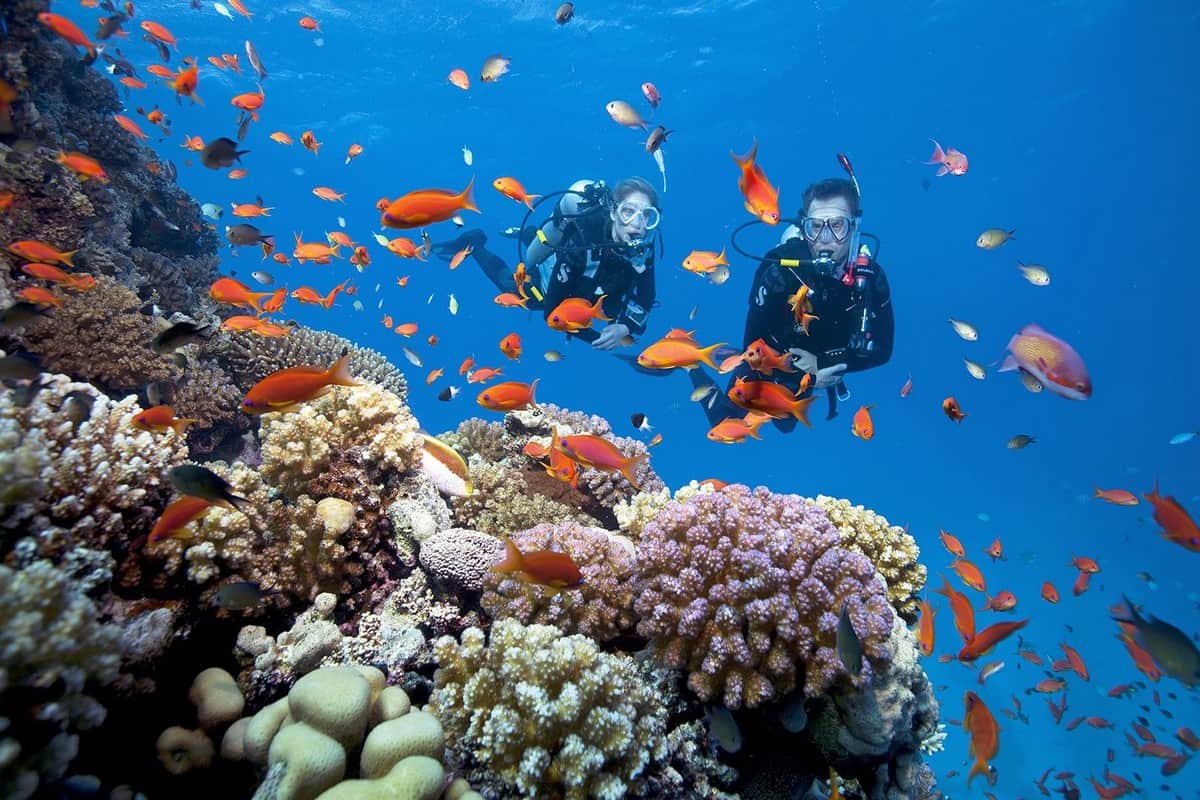 How to get to Phu Quoc national park?
It is easy to come to Phu Quoc National Park. Because 70% of the island is in the National Park, in the communes of Bai Thom, Cua Duong, and Ham Ninh. You just go to the above communes, then head east or north for less than 10 km will encounter the vast forest, immense and countless beautiful scenery waiting for you. But the most impressive to the conquest is the road through this primeval forest.
The total length of the crossroads of Phu Quoc National Park is 90 km long with 12 bridges crossed. It's divided into many sections, starting from Ham Ninh. Which is only suitable if you walk by road. The forest is difficult to access, as well as the need to conserve the limiting vehicles passing by. For those who like to ride motorbikes "over" the forest edge can go the road from Ham Ninh to Bai Thom. It's about 50 km.
From Ham Ninh to Bai Thom, it is quite difficult to travel. Especially in the rainy season, because this is a forest road, muddy and deep subsidence in the rainy season is difficult to run. When passing through streams, waterfalls are wet as well as rocky soil, causing obstacles for young drivers. Just only about 50 km long but it will take about 2 hours to see the end of this road.
When you arrive Bai Thom. It's great for rest here, as well as enjoying seafood, and scenery here. Then, the road through the forest from Bai Thom back to the Indochinese town was paved. So it is very easy to travel, spacious, you can comfortably view the two sides of the road while driving.
Weather & Climate in Phu Quoc national park
The best time to visit Phu Quoc National Park is during the dry season, which occurs every year starting in October. With less rain, visitors will be able to soak up the sun and enjoy the national parks thrilling activities. It's also safer to travel to the national park during the dry season because the ocean will be calmer without the storms.
December and January are the busiest times to visit Phu Quoc National Park because they are during both the dry and holiday season. The least busy time for the national park is during the wet season, which runs from April to September. However, even in the wet season and especially during summer holiday time, the island sees a spike in tourists.
You are encouraged to make reservations for the duration of their trip, regardless of whether they visit Phu Quoc during the wet or dry season.