Bach Ma National Park
Particularly in the South of the city, where the Bach Ma National Park, among the best natural attractions of Hue is situated.
This region is nature lover's paradise, as by coming here, you'll be surrounded with all sorts of plants, trees, and wild animals. If you wish to live with character, this is among the best Hue attractions for you.
Hue isn't just renowned for its historic structures, but additionally for its amazing nature. From above, it's easier to see Hue covered in several shades of green, from the center of the city to the suburbs.
The best time to visit Bach Ma is from February to September. It is open from 7am to 5pm.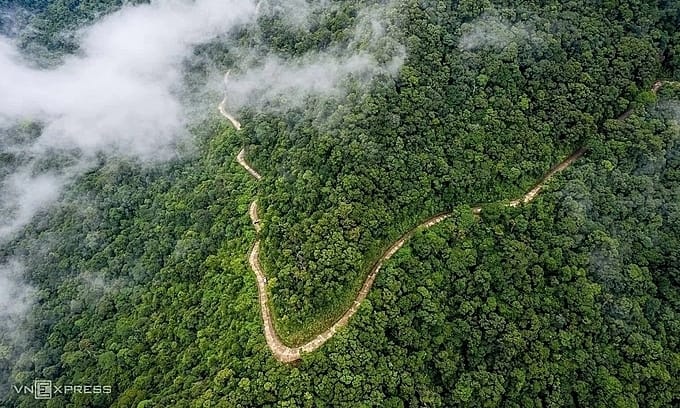 Why visit Bach Ma National Park?
At an average height of 1,450 meters and only 10 kilometers from the sea, Bach Ma has a very pleasant climate. Bach Ma stretches within an area of 37,487 hectares and comprises three zones: a strictly protected core area, an administrative area and a buffer zone.
It still retains a quite good amount of immense primeval forest with diverse flora with 2,147 species and fauna with more than 1,500 species, in which 93 species appear on the Vietnamese Red List and Global Red List. Moreover, Bach Ma National Park is located in a mountainous area exactly on the border between the former North and South Vietnam.
Here you can see a mix of both landscapes, making Bach Ma much more varied than the other national parks in Vietnam. With waterfalls, cool forests and flowering rhododendrons, this area is absolutely beautiful.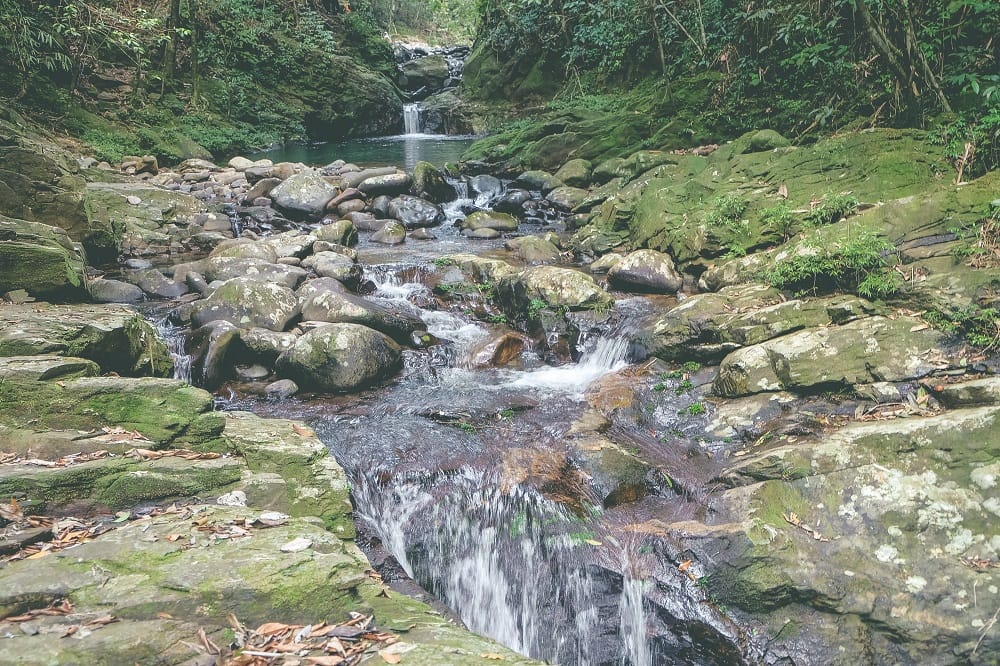 With highly-valued natural resources, Bach Ma does not only gratify thousands of visitors but also attract scientists.
Tips
Where To Eat In Bach Ma National Park?
There is a restaurant in the middle of the mountain nearby the villas, so you can have lunch and dinner here. However, when you have a full-day trek, it is better you should bring picnic foods to have on the way.
Survival Guide On Bach Ma National Park
Just remember, trekking Bach Ma National Park is not like going to any tourist attractions in Hue city. Because it is quite far from the habitat area and full of surprises from the wildlife. You should prepare for the trip carefully. You can order a local guide at Bach Ma tourism center at the foot of the mountain, especially bird watching.
Planning The Trek To Bach Ma National Park
It takes a certain time to climb to the top of Bach Ma National Park and get back. Therefore, why you will have to calculate your journey in advance or it is better to book a trip with a travel company? This is for you to know where the path to trek and discover in the forest
First, you should decide how long you will spend here. The minimum is one day, travel time included, and start from Hue or Da Nang.
Then, you will decide how many sites in Bach Ma NP you want to visit. There are some paths in Bach Ma that allow trekking a discover. This is based on the number of days you stay and visit here. And it is necessary to have a tour guide. For days to discover the park longer you also need support from the forest keeper
The next step is choosing the transportation and accommodation based on your budget and condition. There are some villas to choose as we told above. Also, you can choose camping in the forest in the camping area.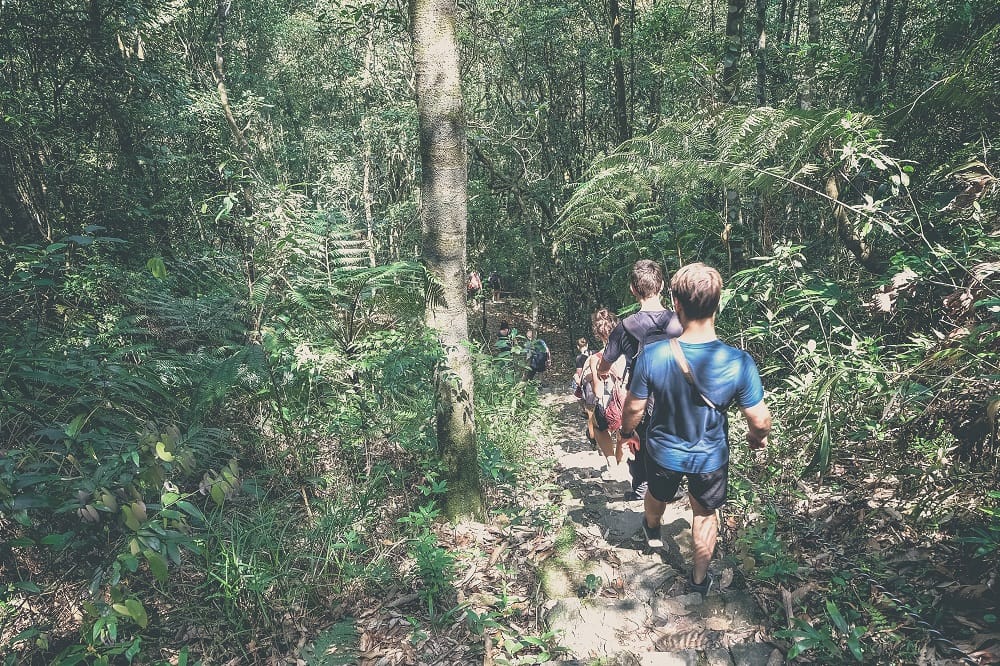 What To Bring Along?
It is a mountainous journey so make sure to keep your backpack light. You should not carry all your luggage with you. Except you are traveling from Hue to Da Nang, Hoi An, and between times visit Bach Man NP. So some necessary things for the trip are:
Mineral water & much water for cooking if you have camping
Rain coat
Sun cream
Swimming suit and towel
Map
Lighter
Anti-bug spray
Some snack
What Note Before Trekking Bach Ma National Park?
There are some important notes which you must remember while visiting the park. Firstly, there are lots of terrestrial leeches which can suck your blood. However, don't worry, if you know how to avoid it, it would be totally safe. You must wear clothes that cover your whole body, and boots, combined with anti-leech spray and you will be leech-proof. Secondly, the hiking trail could be slippery, and so do the stones near the lakes. This is just to make sure your steps are stable.
PRICES
| | | | | |
| --- | --- | --- | --- | --- |
| NO | Content | Unit | Price (VND) | Note |
| 1 | Ticket | | | |
| | Ticket for adult | Peace | 60.000 | |
| | Ticket for children, students, the old (above 60 years old) | Peace | 20.000 | Students have to bring a student card, the old have to bring an ID card |
| 2 | Guide | | | |
| | English guide | Day | 500.000 | Group/Day |
| | Vietnamese guide | Day | 500.000 | Group/Day |
| | Local guide | Day | 300.000 | Group/Day |
| | Supervisor | Day | 1.000.000 | Botanical and medicinal plant expert of Bach Ma National Park, bird watching in the forest |
| 3 | Camfire (from 7h30 p.m to 10h p.m) | Time | 500.000 | Including materials, fire fighting and prevention |
| 4 | Call the wild bird | Time | 600.000 | From 5h30 a.m to 6h30 a.m |
| 5 | Plant trees to enrich the forest | Tree | 200.000 to 500.000 | Depending on tree size |
UPDATE: 17/06/2021 01:21:20
What is there to see?
Exploring The Forest, The Mountain, And Many Other Hue Natural Attractions
Among the main natural attractions of the Bach Ma National Park are the exotic forest of the exclusive mountain. Consequently, hiking, climbing, and swimming are the most famous actions when arriving here.
Additionally, there are plenty of rare wildlife, million types of rare birds, and hundreds of monkeys in these forests, so if your hobby is bird watching. And once come to the right place scene of Hue, Lang Co beach, and several other amazing things from above.
The Breath Is Unquestionably A Lifetime Memory.
Ngu Ho (Five Lakes): With a 30-minute walk, the trail takes you to a series of beautiful poetic waterfalls next to dreamy blue lakes. The Five Lakes is a group of five lakes located close to each other but they have differing heights, in which the third lake is the most beautiful, according to several tourists' comments. It has a round shape like a full moon. Water pours from a height of six meters forming a giant water curtain that is silvery white and bright under the sunlight, creating a charming scenery.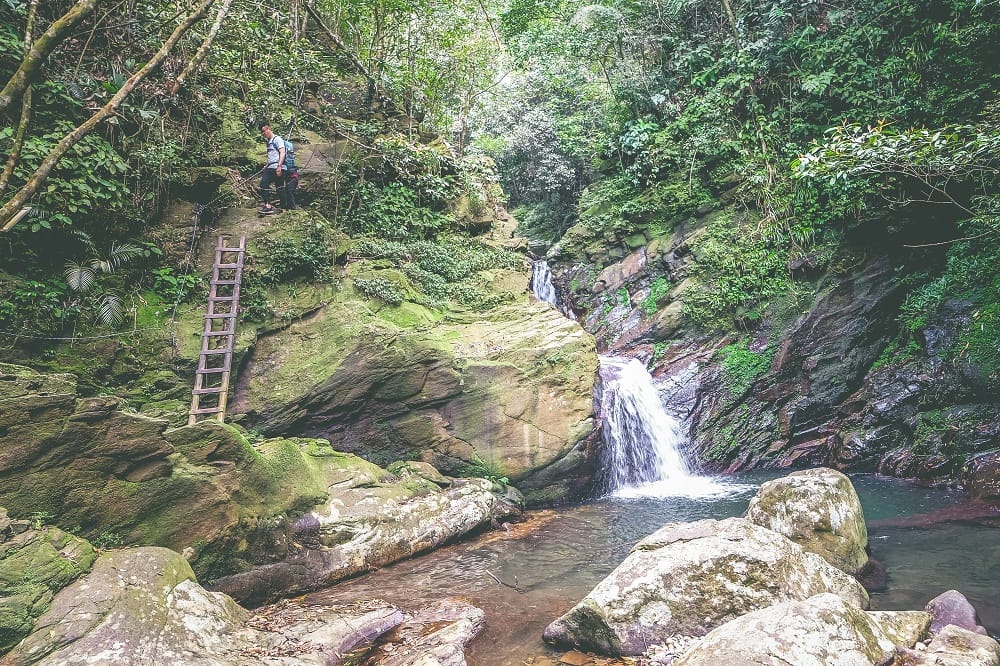 Biodiversity of Bach Ma
The fauna and flora here is extremely diverse. Among 22,031 ha natural area, Bach Ma National Park owns 16,900 ha of primitive forest. The forest is home to 1,406 species of plants including many precious woods such as Parashorea chinensis, Anisoptera scaphula, Afzelia xylocarpa… (Numerous trees remain the diameter of 80 – 100cm) and over 300 species of precious medicinal plants.
The fauna in Bach Ma is up to 931 species including 83 species of mammals with a large number of rare species such as bears, leopards, tigers, and saola…; 333 species of birds, 31 species of reptiles, 21 species of amphibians, 39 species of fish, 218 species of butterflies and 178 beetle species.
In particular, Bach Ma National Park is the habitat of rare birds such as crested argues and Edwards's pheasants. Discovering Bach Ma National Park is definitely one of the most unforgettable things to do in Hue.
How To Get To Bach Ma National Park?
Bach Ma National Park is 60 km to the South of Hue City, away from the residential area.
This is why it is the perfect place to go for nature lovers. Though it could be quite far from city center, there is various Hue's natural attractions in this region. Therefore, it's worth to go. What's more, it's easy to plan your journey and there are also several choices for your transportation. As among the best attractions Hue, Bach Ma National Park have plenty of things for Vietnam day tours from Hue.
The best Hue attraction, Bach Ma National Park has historic structures, you'll never be bored here. Here are a few suggestions if you're still wondering where to start and what to see.
Where To Stay In Bach Ma National Park?
Beside those Hue natural attractions, there is also many historical among the best Hue attractions. Make Bach Ma National Park picked this beautiful mountain as an ideal place for their leisure time. Consequently, they constructed several escape villas with exceptional French architecture. As time goes, these villas can get downgraded, however this beautiful mountain as an ideal place for their leisure time stay priceless.
Recently, the government has refurbished some villas to boost tourism. Now you can stay and relax here right in these beautiful French villas.
Here are some villas to stay: Morin villa, Do Quyen villa, Bach Ma Villa, Phong Lan villa. Base on each villa the cost is range from 25 USD to 60 USD/room/night
Weather & Climate in Bach Ma national park
The weather in Bach Ma is pleasant from March to September. The mountain's elevation promises fresh temperatures even when the cities below are simmering.
However, coming from October to January you will enjoy a peaceful and less crowded atmosphere.
You may also like to read:
11 years after the last rhino of Vietnam died at Cát Tiên National Park
Vietnam Land – Must know before going on
Phu Quoc National Park – How to Explore wild & Nature