Con Dao National Park is a natural reserve area on Côn Đảo Island, in Bà Rịa-Vũng Tàu Province in coastal southeastern Vietnam. The park includes a part of the island and the surrounding sea. The national park is characterized by a diverse ecosystem. Many species of corals as well as sea turtles, dolphins, and endangered dugongs are found here.
Con Dao is a tourist island and is ranked one of the 10 mysterious islands in the world by Lonely Planet. Besides, Con Dao National Park is the 6th Marine Ramsar in the world and the first one in Vietnam. Therefore, Con Dao is considered a heaven of rest and exploring nature with both forest and sea.
In 2006, a delegation of UNESCO Vietnam representatives surveyed the area and concluded that the park is eligible to be a natural-cultural mixture World Heritage. The Vietnamese government is preparing necessary documents to submit to UNESCO soon.
A controversial paved road project had been proposed by the local government but was finally rejected by the national government following protests from environmental activists.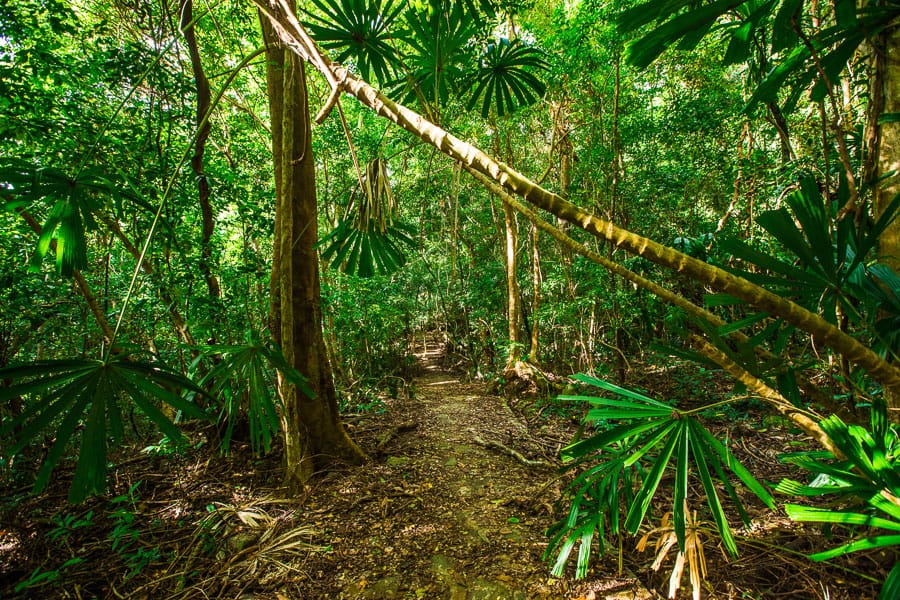 How Con Dao National Park Is Unique?
The biodiversity in Con Dao National Park has important implications for marine conservation in Vietnam. The relationship of coral reefs, sea-grass and mangrove forests create a favorable environment for reproduction, nursery and conservation of marine species in Con Dao.
Con Dao National Park is the connecting bridge for the spread of life from the diverse center of the Indo-Western Pacific to the coastal waters of Vietnam.
Why Visit Con Dao National Park?
Thanks to the favorable environment for spawning and conserving marine species including sea turtles, sea cows(dugong), dolphins, Con Dao Mangroves are recognized as Ramsar sites of the world.
The World Ramsar Convention Secretariat has recognized Con Dao National Park as one of 2,203 important international wetlands. Con Dao National Park is the 6th Ramsar in the world and the first one in Vietnam.
Furthermore, Con Dao vegetation is relatively rich and diversified. It has about 882 species of vascular plants belonging to 562 genera, and 161 families, including as many as 371 woody species, 30 species of orchids, 103 species of vines, and 202 species of herbs. Some of them, you can only see on the island.
In addition, there are 44 species of plant firstly found in this park including Chukrasia tabularis, Manikara hexandra, etc.
Thanks to this diversity; the national park attracts more and more visitors to discover.
It's a great for Eco trip in Vietnam at Con Dao National Park
Below are some specialties in Con Dao National Park to discover and experience:
Con Dao gecko has the name Pulo Condore Bow-fingered Gecko (Cyrtodactylus condorensis) belongs to gecko and is the special animal reptile in Con Dao.
What is there to see?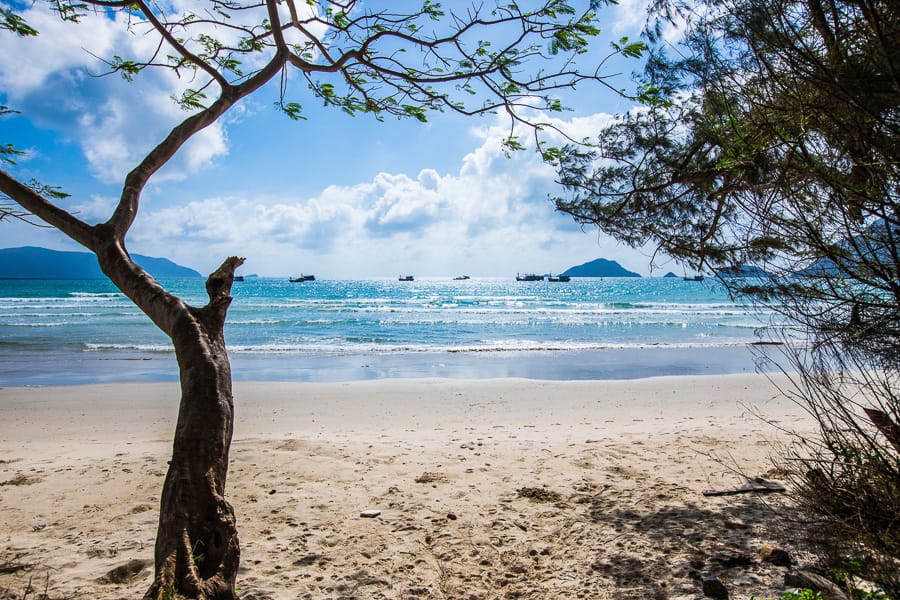 Discovery Mouse Deer In Con Dao National Park
Con Dao recently discovered the appearance of the Mouse Deer, an extremely donated deer species which is currently listed in the red book of the world. The Mouse Deer or another name Cheo Cheo has the scientific name Tragulidae is a small and very shy animal.
Discover The Amazing Marine Life World In Con Dao
Con Son Bay belongs to Con Dao Island including 14 small and big islands and islets. They are Tai, Trac, Rabbit Islets, etc which gather as the family. Beside it, there are far away Bay Canh, Bong Lan, Cau, Trung, Tre Islets, etc which stand and bring spectacular scenery among the sea.
All make the amazing scenery for Con Son Bay and the marine reservation area with coral reefs in different species.
Vich – Con Dao Sea Turtle
Vich or sea turtle Chelonia mydas in Con Dao is a rare animal in Red Book Vietnam and the world. It is protected strictly in Con Dao Island. When traveling to Con Dao, it is one of the activities you should try to enjoy the tranquil night to see the turtle get on the seaside and give eggs. Otherwise, you can see in the early morning from 4.00 am to 6.00 am.
Nicobar Dove Con Dao
Nicobar Dove Con Dao is the unique animal in Con Dao Island. This is the rare bird and also in Red Book Vietnam and the world.
Macaque Monkey In Con Dao
Macaque Monkey in Con Dao is the rare animal in Red Book Vietnam and the world. This money type is in the natural environment of Tai Islet. If your tours in Con Dao island to Tai Islet you can see this monkey with the red face
Squirrel Con Dao
Squirrel or Soc Den in Con Dao island is also one of rare animals. It has a lot on the island and lives on high trees along foot of forest or on old almond trees. This animal will find food on the land or root of trees.
Cock Con Dao
Cock Con Dao live in deep forest, they also move according to the herd. Cocks are all the forests in the island and it is easy for visitors to see them at streams or along the edge of the forest.
An Hai Lake With The Spectacular Landscape
An Hai Lake is the sweet water lake that supplies the main sweet water for habitats on the island. Furthermore, it is a famous tourist destination on the island. It is a very romantic beautiful landscapes and pure as well as poetic. Travel to this lake, the visitor will enjoy the fresh atmosphere and conquer the summit of the mountain
Ma Thien Lanh Bridge
Ma Thien Lanh is the bridge which was built by French in Con Dao Island for hundreds of years. This place is historical proof of the oppression and exploitation that Vietnamese have suffered in the war against French colonialism. Today, this bridge has become a famous historical monument, attracting a lot of tourists to visit every day.
Maria Cave
Maria Cave is also one of the famous destinations at Con Dao National Park for discovery. The cave is deep in the mountain and there is a Maria Statue with many other construction ruins left since stepping on this island. Visit the cave; it will help you to know more about the history of the island as well as French Soldier's spiritual life during the war time.
Tips
Visit Con Dao National Park
The best time to visit Con Dao is from March to September when the sea is quiet, making it safe for tourists to enjoy outdoor activities. The northeast monsoon winds visit Con Dao from October to April. At this time, it is better to travel by air since fishing vessels and speedboats cancel their services often. That said, even during the rainy season (May-October), the downpours are gentle, lasting a mere hour or so in the afternoon. In the morning, the weather remains sunny with clear skies.
STAYS
Covering 12 hectares along Dat Doc Beach, Six Senses Con Dao is the only five-star beach resort. It gained global fame after celebrity couple Brad Pitt and Angelina Jolie stayed at the resort along with their children in 2011.
Rent for a villa for two people ranges from VND 14.7-25.7 million ($637.85-1,115); with a three to four-bedroom option costing from VND 56-83 million per night.
The Secret Con Dao and Poulo Condor Boutique Resort & Spa offer luxurious stays at cheaper prices.
Budget-friendly accommodations on the island include De La Rosa Con Dao, Hotel De Condor, Nicobar Con Dao Hotel, and Uyen's House with prices starting from VND200,000 a night.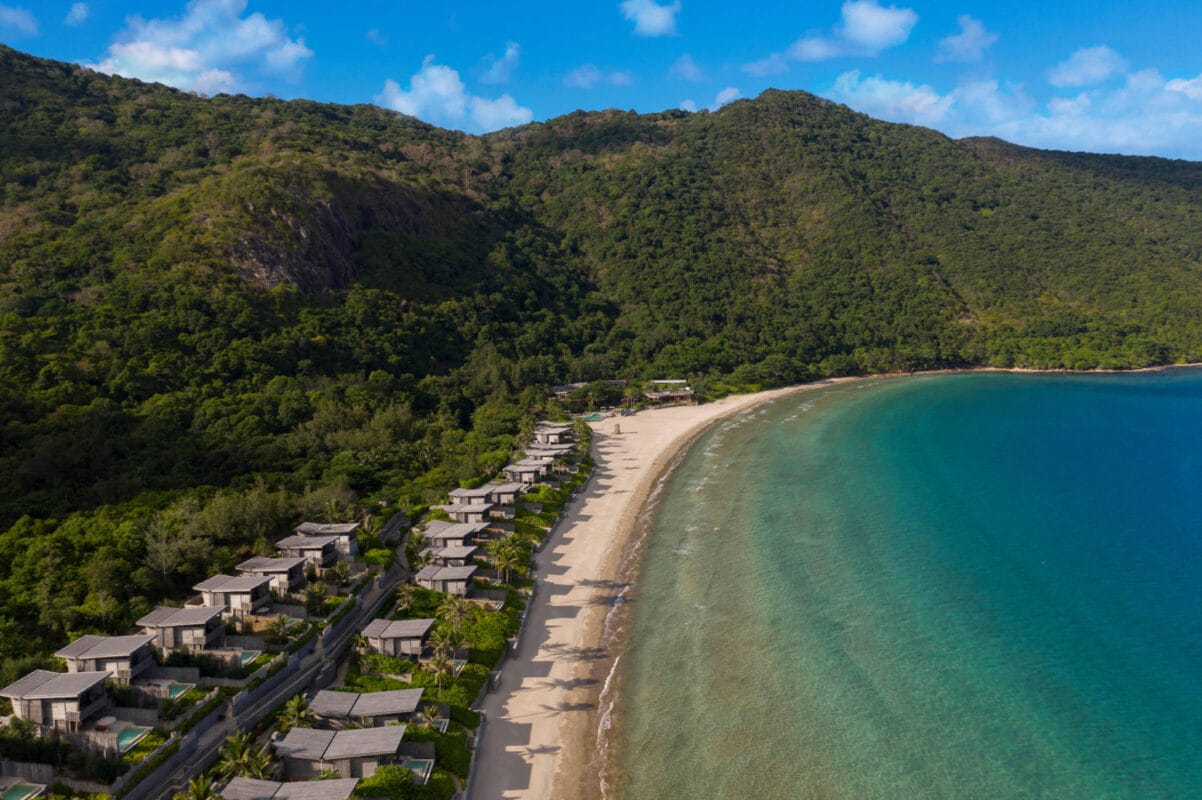 Park fees: Entrance fee to visit the national park: 60,000 VND/person
WHAT TO EAT
Banh beo (steamed rice water fern cake) is a specialty originating from Vietnam's former imperial capital of Hue.
Unlike other versions in central Vietnam, small bowls of hot water fern cakes are topped with just fried shrimp and scallion oil, served with a Vietnamese dipping sauce.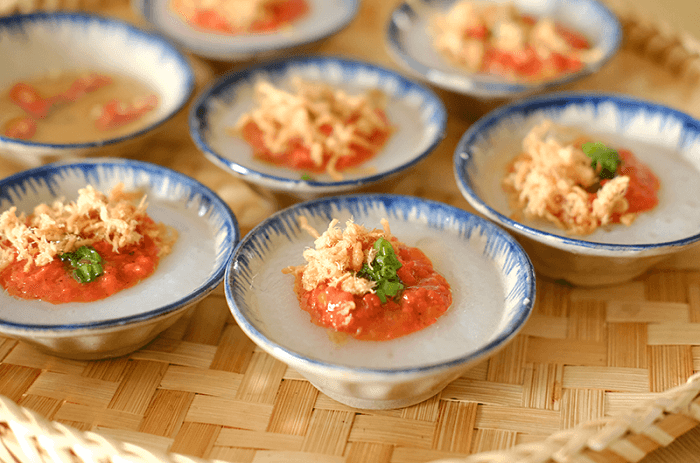 The dish is available at Co Ba's restaurant at 64 Nguyen Hue Street.
Oyster porridge is a specialty in Con Dao. After they are caught in the sea, the oysters are cleaned and marinated with spices, fried and added to a pot of hot porridge.
The Family restaurant on Tran Phu Street serves a bowl of oyster porridge for VND35,000-50,000.
Banh xeo (Vietnamese pancake) is also a popular breakfast in Con Dao. This turmeric-flavored crepe is made of rice flour and topped with shrimp, pork and onions. It is served with lettuce and other herbs along with a cup of peanut sauce or fish sauce as the dip.
Kieu Tam's restaurant on Nguyen An Ninh is famous for serving this treat at VND15,000 per serving.
Banh mi served with roast pork can be easily found. The best roasted pork sandwich is said to be served by a restaurant near the Duc Thanh hotel.
Other Con Dao specialties to try are oyster sauce, fish sauce, cone snail, giant snail, red lobster, moon crab, red grouper, shark salad, and a warge variety of fish.
These delicacies can be bought at the Con Dao Market. Tropical-almond tree seeds roasted and seasoned with sugar and salt make for a crunchy, fragrant snack.
How to get to Con Dao national park?
Since Côn Dao National Park is located off of the mainland, driving is not an option. You will have to drive to the coast and take a boat or fly from Ho Chi Minh City. Vung Tau City is located on the coast and it is about 62 miles (100 kilometers) away from Ho Chi Minh.
By waterway
From Vung Tau:
Speed boats are leaving Vung Tau, Can Tho, and Soc Trang every day to Con Dao island. From Ho Chi Minh City, it's popular to go to Vung Tau city, to catch the ship to Con Dao. The best ship is Con Dao Express 36. It is the first five-star high-speed ship in Vietnam with comfortable compartments and luxury compartments. The travel time from Vung Tau to Con Dao is roughly 03 hours and 45 minutes.
The boat from Vung Tau to Con Dao leaves at 08h00 and from Con Dao to the mainland departs at 13h30. Weekday rate is 660,000 VND per person, while the weekend rate is 880,000 VND per person.
From Can Tho – Recently CLOSE
Ships are departing from Ninh Kieu pier at 7 am, arrive at Tran De port in Soc Trang after an hour, docking at Ben Dam port (Con Dao). It takes three hours to four hours, depending on the weather conditions. The boat from Con Dao to the mainland departs at noon. The ticket price is 610,000 VND for weekday and 690,000 VND for the weekend.
From Soc Trang:
Ships are departing from Soc Trang at 8 am from Tran De port, docking at Ben Dam port (Con Dao). It takes one hour and forty-five minutes one way. The boat from Con Dao to the mainland departs at 13:00. The ticket price is 320,000 VND for weekday and 350,000 VND for the weekend.
By airplane
Another way to get Con Dao is by airplane. It will take you 45 minutes to get Con Dao. Con Dao currently has Con Son airport for domestic flights from Saigon and Can Tho. If you travel from Hanoi, you will have to transit in one of these two destinations. The airport is 12 km from town, most hotels and resorts provide free shuttle service or travel by taxi to the center of the island.
Getting around in Con Dao
Taxi, motorbike taxis are readily available on the island. The cost of renting a motorbike is 100,000 to 150,000 VND a day. Resorts such as Six Sense and Paulo Condo offer regular shuttle buses between their resorts and town.
Weather & climate in Con Dao national park
Con Dao's coolest weather arrives between September and January while its hottest months are June, July, and August. Given the island's location, Con Dao is also prone to strong winds in December and January.
The turtle-hatching season takes place from mid-August to early December.
According to the experience of visiting Con Dao National Park, you should come here in the period from April to October every year. Although this is the rainy season, the sea in Con Dao is quite mild and the weather is cool. In particular, you also have the opportunity to see turtles lay eggs that are extremely interesting for the island trip.