Welcome to our comprehensive guide on birdwatching in Vietnam! If you're planning to visit Vietnam for the first time in 2024 and want to explore its diverse birdlife, you've come to the right place. In this guide, we'll cover everything you need to know to make the most of your birdwatching trip, including the best birdwatching hotspots, unique bird species, equipment recommendations, tour options, and more. So, let's get started and discover the beauty of Vietnam's birdlife together!
Why Birdwatching in Vietnam is Worthwhile
Birdwatching in Vietnam is an experience unlike any other. Vietnam boasts a diverse range of habitats, from lush tropical forests and mangroves to open grasslands and wetlands. This diversity of habitats is home to over 900 bird species, making Vietnam a birder paradise.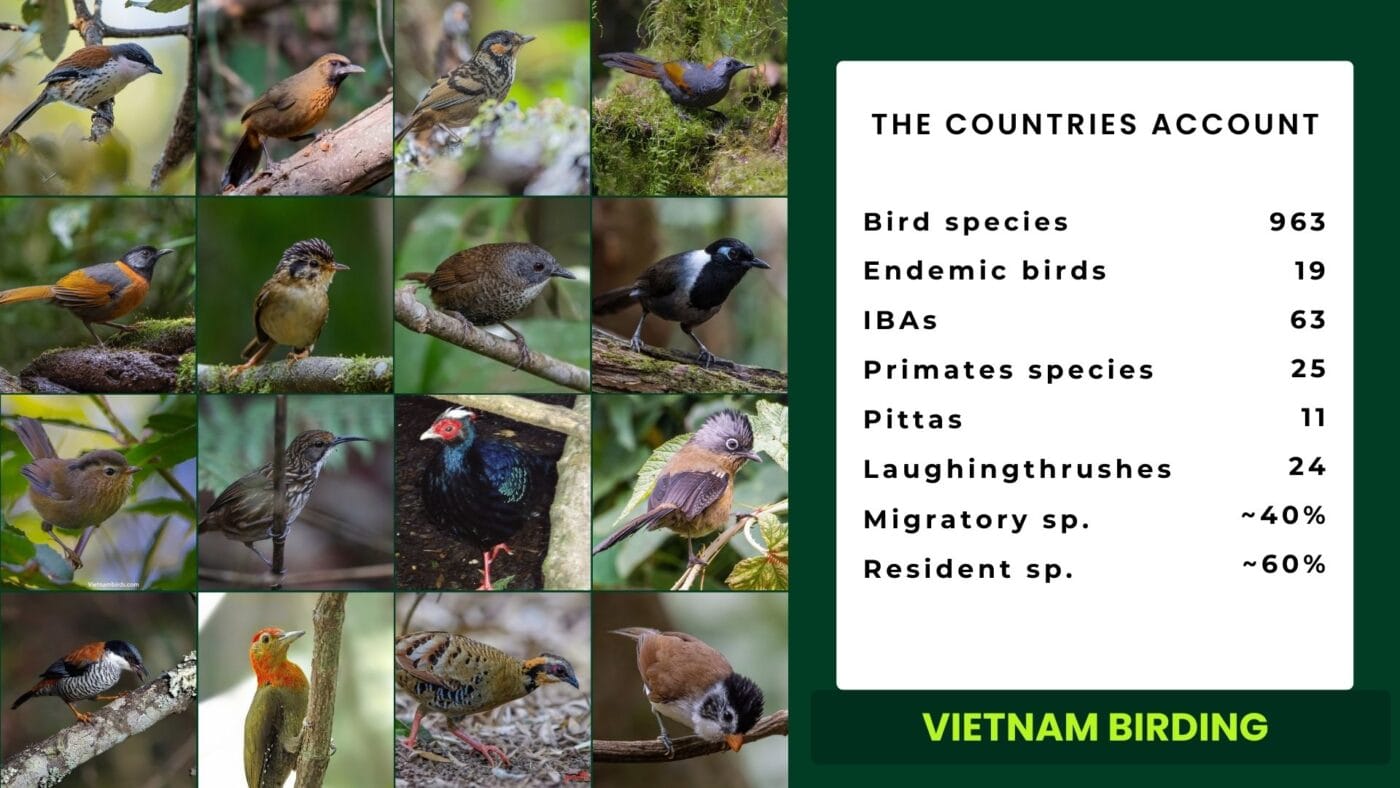 Many of these species are endemic to Vietnam, meaning they can only be found in this country. For birders looking to expand their life lists, Vietnam offers a wealth of new and exciting species to discover.
Vietnam is also a culturally rich country with a long and complex history. Birdwatching here provides the opportunity to not only observe the unique bird species but also to explore the local culture, customs, and traditions. From bustling cities to remote villages, Vietnam offers a glimpse into a fascinating and vibrant culture.
And, birdwatching in Vietnam is a unique and enriching experience that combines the love of nature with cultural exploration. It is an opportunity to discover new bird species while immersing oneself in the local culture and traditions.
Planning Your Birdwatching Trip to Vietnam
Importance thing when planning a birdwatching trip to Vietnam, there are several factors to consider to ensure a successful and enjoyable experience. One of the most important factors to consider is the best time to go birdwatching in Vietnam.
The best time for birdwatching in Vietnam is generally from November to April when the weather is dry and the birds are most active. However, the specific time can vary depending on the region of Vietnam that you plan to visit. For example, the south of Vietnam is typically best for birdwatching during the winter months, while the north is better during the summer months. It is important to do some research on the region and the species you want to see to determine the best time to plan your trip.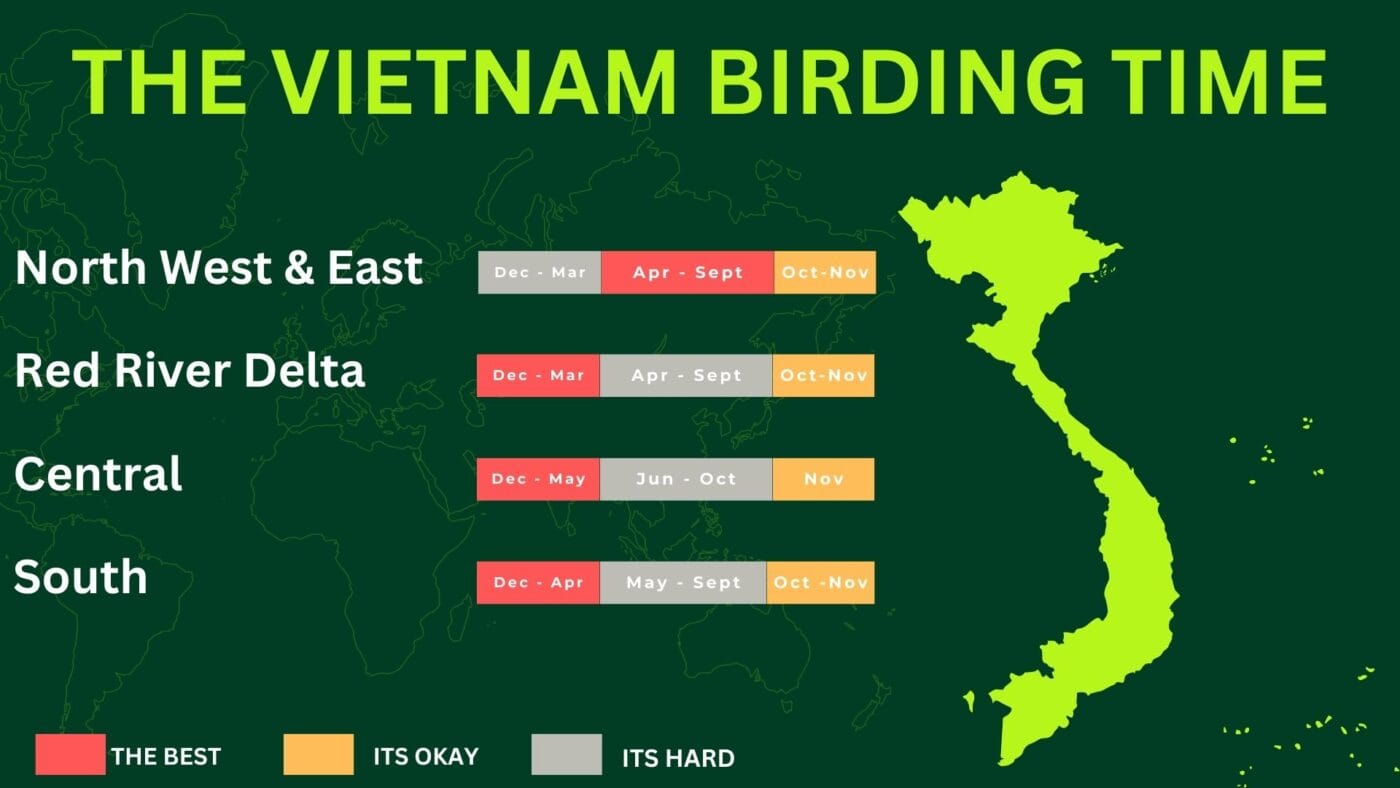 Read more about The best time to visit Vietnam for birding
Another important factor to consider when planning your birdwatching trip to Vietnam is visa requirements. Many nationalities require a visa to enter Vietnam, and it is essential to ensure that you have the proper documentation before your trip. You can check the visa requirements for your country online or consult with a travel agent or embassy to determine the necessary documentation.
Read more about Apply Vietnam Visa Online
Budget is also a crucial consideration when planning a birdwatching trip to Vietnam. The cost of travel, accommodations, and tours can add up quickly, so it is essential to establish a budget and plan accordingly. There is various birdwatching option like Private tour, park tour, fix-date tour, and guide tour, it is a good idea to research and compare different options to find the best fit for your needs.
Top 10 Birdwatching Hotspots in Vietnam and highlight bird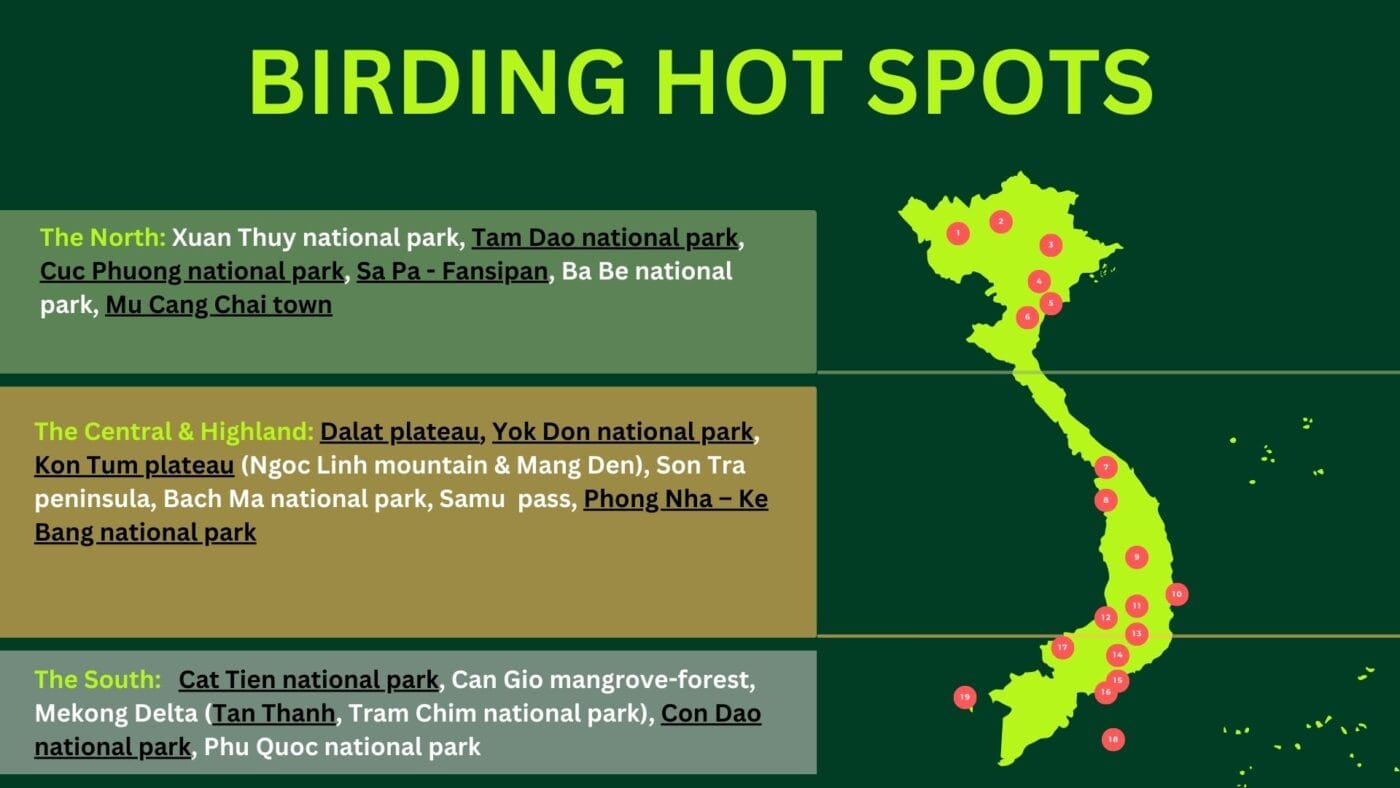 Top BIRDING hotspot IN NORTHERN Vietnam
Sapa – Fansipan mountain: Crimson-breasted, Darjeeling and Chinese Great Spotted Woodpeckers, Black-headed Shrike-babbler, Crested and Collared Finchbills, Buff-barred and Broad-billed Warblers, Tonkin and Manipur Fulvettas, Spot-breasted, Golden, Vinous-throated and Ashy-throated Parrobills, White-collared Yuhina, Bar-winged and Pale-throated Wren-babblers, Slender-billed Scimitar-babbler, Scaly, Black-faced, Red-winged and Silver-eared Laughingthrushes, White-tailed and Beautiful Nuthatches, Rufous-bellied Niltava, Gould's Shortwing, White-browed Bush-robin, Blue-fronted Redstart, Yellow-bellied Flowerpecker and Black-headed Greenfinch.
Tam Dao National Park: Grey Laughingthrush, Black-throated Laughingthrush, Green and Purpple Cochoas, and Short-tailed Parrotbill
Cuc Phuong National Park: Malay Night-heron, Red-collared Woodpecker, Pied Falconet, Greyish Limestone-babbler, Tonkin Partridge, Silver Pheasant, Austen's Brown Hornbill, Red-vented Barbet, Blue-rumped and Bar-bellied Pittas, Silver-breasted Broadbill, Ratchet-tailed Treepie, White-winged Magpie, Indochinese Green Magpie, and Rufous-throated and Black-browed Fulvettas.
Top BIRDING hotspot IN CENTRAL & HIGHLAND Vietnam
Phong Nha – Ke Bang National Park: Chestnut-necklaced Partridge, Red-collared Woodpecker, Brown Hornbill, Sooty Babbler and Short-tailed Scimitar Babbler.
Bach Ma National Park: Rufous-throated Partridge, Annam Partridge, Silver Pheasant, Crested Argus, Red-collared Woodpecker, Red-vented Barbet, Brown Hornbill, Red-headed Trogon, Blyth's Kingfisher, Coral-billed Ground-Cuckoo, Blue-rumped Pitta, Bar-bellied Pitta, Long-tailed Broadbill, Silver-breasted Broadbill, White-winged Magpie, Indochinese Green Magpie, Ratchet-tailed Treepie, Orange-headed Thrush, Siberian Thrush, Japanese Thrush, Sultan Tit, Masked Laughingthrush, White-crested Laughingthrush, Lesser-necklaced Laughingthrush, Black-throated Laughingthrush, Short-tailed Scimitar Babbler, Grey-throated Babbler, Spot-necked Babbler, Grey-faced Tit Babbler, Black-browed Fulvetta, Fork-tailed Sunbird.
Mang Den – Ngoc Linh National Park: Pale-capped Pigeon, Northern Brown Hornbill, Stripe-breasted Woodpecker, White-winged Magpie, Ratchet-tailed Treepie, Pale Blue Flycatcher, Grey-crowned Tit, Rufous-faced Warbler, Grey-headed Parrotbill, Indochinese Wren-babbler, Chestnut-eared Laughingthrush, Black-hooded Laughingthrush, Grey-crowned Crocias, Rufous-backed Sibia, Grey-faced Warbler, Golden-winged Laughingthrush, Red-tailed Laughingthrush, Black-crowned Barwing, Green-tailed Sunbird.
Yok Don National Park: Mekong Wagtail, White-rumped Falcon, Collared Falconet, Black-hooded Woodpecker and other woodpeckers, Chestnut-bellied Nuthatch, Alexandrine, Grey-headed, Blossom-headed Parrakeets, Yellow-footed Green Pigeon.
Top BIRDING hotspot IN SOUTHERN Vietnam
Bar-backed Partridge, Silver Pheasant, Red-vented Barbet, Black-browed Barbet, Red-headed Trogon, Long-tailed Broadbill, Wedge-tailed Green Pigeon, Mountain Imperial Pigeon, Black Eagle, Rufous-bellied Eagle, Jerdon's Baza, Rusty-naped Pitta, Blue Pitta, Burmese Shrike, Indochinese Green Magpie, Eurasian Jay, Slender-billed Oriole, Maroon Oriole, White-throated Rock Thrush, Green Cochoa, Rufous-browed Flycatcher, Blue-and-White Flycatcher, Mugimaki Flycatcher, Snowy-browed Flycatcher, Little Pied Flycatcher, Large Niltava, Lesser Shortwing, White-tailed Robin, Spotted Forktail, Yellow-billed Nuthatch, Yellow-cheeked Tit.
Grey-crowned Tit, Grey-bellied Tesia, White-spectacled Warbler, Chestnut-crowned Warbler, Black-hooded Laughingthrush, White-cheeked Laughingthrush, Orange-breasted Laughingthrush, Collared Laughingthrush, White-browed Scimitar Babbler, Streaked Wren-Babbler, Eyebrowed Wren-Babbler, Pygmy Wren Babbler, Rufous-capped Babbler, Vietnamese Cutia, Chestnut-fronted Shrike-Babbler, Blue-winged Minla, Black-crowned Fulvetta, Indochinese Fulvetta, Grey-crowned Crocias, Rufous-backed Sibia, Black-headed Sibia, Black-headed Parrotbill, Mrs Gould's Sunbird, Streaked Spiderhunter, Vietnamese Greenfinch, Red Crossbill, Brown Bullfinch.
Cat Tien National Park: Orange-necked Partridge, Germain's Peacock Pheasant, Siamese Fireback, Green Peafowl, Wreathed Hornbill, Lesser Adjutant, Woolly-necked Stork, Blue-rumped and Bar-bellied Pittas, Pale-headed and Black-and-buff Woodpeckers, Black-and-red, Banded, Dusky Broadbill, Blyth's Frogmouth, Grey-faced Tit Babbler.
Mekong Delta: About 350 species of birds have been recorded in the area, which is mainly waterbirds. Which, many species are endangered or threatened such as Sarus Crane, and Lesser Adjutant. Egrets and herons are the most common in reserved areas and bird sanctuaries. Waterfowl, cormorants, kingfishers, and bee-eaters can be found almost everywhere. To the river mouths or muddy beaches, waders including Spoon-billed Sandpiper, Plovers, and Greenshanks.
Unique Bird Species Found Only in Vietnam
Boasting the highest number of endemic species on the Southeast Asian mainland, including 19 Endemic species and 39 nearly exclusive species, Vietnam is a treasure trove of bird diversity. It's also home to several distinct subspecies, adding to the country's allure for birdwatchers.
ENDEMIC BIRDS OF VIETNAM
Tonkin Partridge – Arborophila tonkinesis
Edward's Pheasant (Lophura edwardsi) – CR
Black-crowned Fulvetta (Alcippe klossi) – LC
White-throated Wren-Babbler (Rimator pasquieri) – EN
Orange-breasted Laughingthrush (Garrulax annamensis) – LC
Chestnut-eared Laughingthrush (Garrulax konkakinhensis) – VU
Golden-winged Laughingthrush (Garrulax ngoclinhensis) – VU
Collared Laughingthrush (Garrulax yersini) – EN
Grey-crowned Crocias (Crocias langbianis) – EN
Vietnamese Greenfinch (Carduelis monguilloti) – LC
Vietnamese Cutia – Cutia legalleni
Dalat Shrike‑babbler – Pteruthius annamensis
Yellow-crowned Green Magpie
Langbian Tit
Annam Grasshopper-warbler
Annam Golden-breasted Fulvetta
Tonkin Fulvetta
Annam Streaked Wren-babbler
Langbian Sunbird
Near-ENDEMIC BIRDS OF VIETNAM
Updating…
Read more about Vietnam Birds |A Naturalist online field guide [update 2023]
Essential Equipment for First-Time Birdwatchers in Vietnam
When preparing for birdwatching in Vietnam, it is important to have the right equipment to make the most of your experience. Here are some essential equipment items for first-time birdwatchers in Vietnam
Binoculars: A good pair of binoculars is crucial for spotting and observing birds in their natural habitat. Look for binoculars with a magnification of at least 8x or 10x and a wide field of view.
Bird-books: A field guidebook can help you identify the birds you see on your trip. These two birds books will help you to easily id Vietnam birds:
Bird apps: In addition to a field guidebook, there are also many birding apps available for your smartphone that can help you identify birds by their appearance, behavior, and call. Two recommendations for you are:
Camera: A camera with a telephoto lens can help you capture high-quality photos of the birds you see. You could find the fit camera for you via this post if you do not have a camera yet: The best camera for birding
Clothing: Birding in Vietnam will reach many diverse weather conditions from Hot and Humid to really cool, depending on your destination on the schedule to prepare.
Read more about Vietnam's weather condition
Insect-repellent: Insect repellent is essential in Vietnam to protect yourself from mosquitoes and other biting insects. Look for a product with at least 20% DEET for maximum protection.
Best Birdwatching Tours in Vietnam Based on Your Schedule
Short birding tours are perfect for travelers with limited time. These tours usually focus on one or two specific birdwatching hotspots and can range from half-day tours to multi-day trips.
If you have more time to spare, a longer birdwatching tour is an excellent way to fully immerse yourself in Vietnam's birdwatching scene. These tours usually cover multiple birdwatching hotspots and offer a more comprehensive birding experience.
For those who want to experience both the natural beauty of Vietnam and its rich cultural heritage, a birding and cultural tour is an ideal option. These tours offer a unique blend of birdwatching and cultural experiences, allowing you to explore Vietnam's fascinating history and culture while spotting some of its rarest bird species.
Types of Birdwatching Tours in Vietnam
General Private Birding & Bird Photography Tours are the most popular option for birders in Vietnam. These tours are private and all-inclusive, so you can simply book a tour and enjoy your birding experience without any worries.
If you have a specific list of birds you want to see in Vietnam or if you want to combine birding with other activities, then a custom tour is the best option. You can work with a tour operator to create a customized itinerary that meets your specific needs and preferences.
Guide Birding Tours are another great option, providing you with an expert bird guide and a private car for a more personalized and cost-effective experience. This option is ideal for those who prefer a more private and customized birding tour, while still having the guidance of an expert.
For a more immersive and local experience, you can opt for Local Birding Tours. These tours provide you with a local bird guide and bird hide services at popular National Parks in Vietnam. This is a great option for those who want to explore birding spots that are less known to the general public.
Finally, Fit-dated Tours are perfect for those who want to join an open tour with an expert guide and other birders. These tours are designed to fit specific dates and provide the best chance to see the birds during the optimal season. By sharing the tour with a small group of 3-6 people, you can save on costs while still enjoying a great birding experience.
Find out about the Vietnam Birding Fit-date tour on 2023-2024 here
Bird Conservation Efforts in Vietnam and How to Contribute
Bird conservation efforts in Vietnam are crucial to protect the unique bird species found only in this region. Some of the key organizations that work towards bird conservation in Vietnam include the Vietnam Birdwatching Club, BirdLife International, and the World Wildlife Fund (WWF).
To contribute to bird conservation efforts in Vietnam, you can donate to these organizations or participate in their programs and projects. You can also support sustainable tourism and birdwatching practices that do not harm bird habitats and populations.
In addition, you can educate yourself and others about the importance of bird conservation and the threats facing birds in Vietnam. By spreading awareness and encouraging others to take action, you can help protect these beautiful and unique species for future generations.
Why Vietnam Should Be Your Next Birdwatching Destination
Of its diverse bird species and breathtaking landscapes, Vietnam offers a unique cultural experience that sets it apart from other birdwatching destinations. You can immerse yourself in the local culture, savor authentic Vietnamese cuisine, and visit historical sites while taking breaks from birdwatching.
Our knowledgeable guides will ensure that you have the best possible experience and maximize your chances of spotting as many bird species as possible. We offer tours for all levels of birdwatchers, from beginners to experts, so don't hesitate to book your tour today.
Vietnam's birdlife is waiting to be discovered, and with our expert guides and top-notch equipment, you can make your birdwatching dream a reality. So why wait? Book your birdwatching tour now and get ready for an unforgettable adventure in one of the most beautiful countries in the world.