Birds of Cuc Phuong National Park [update 2023] which covers 239 species over time, Endemics, near-endemic, and highlight – Review by Thang Nguyen.
Overview Birds of Cuc Phuong National park – last update Feb/2023
Number of species: 239
Number of globally threatened species: 1
Number of introduced species: 1
The highlight for Birds of Cuc Phuong National Park
The vegetation of Cuc Phuong National Park is dominated by limestone forest. In some places, the forest is stratified into as many as five layers, including an emergent layer up to 40 m in height. Due to the steep topography, however, the canopy is often broken and stratification is unclear. Many individual trees show well developed buttress roots in response to the generally shallow soils (Anon. 1991).
Endemic & Near-Endemics birds of Cuc Phuong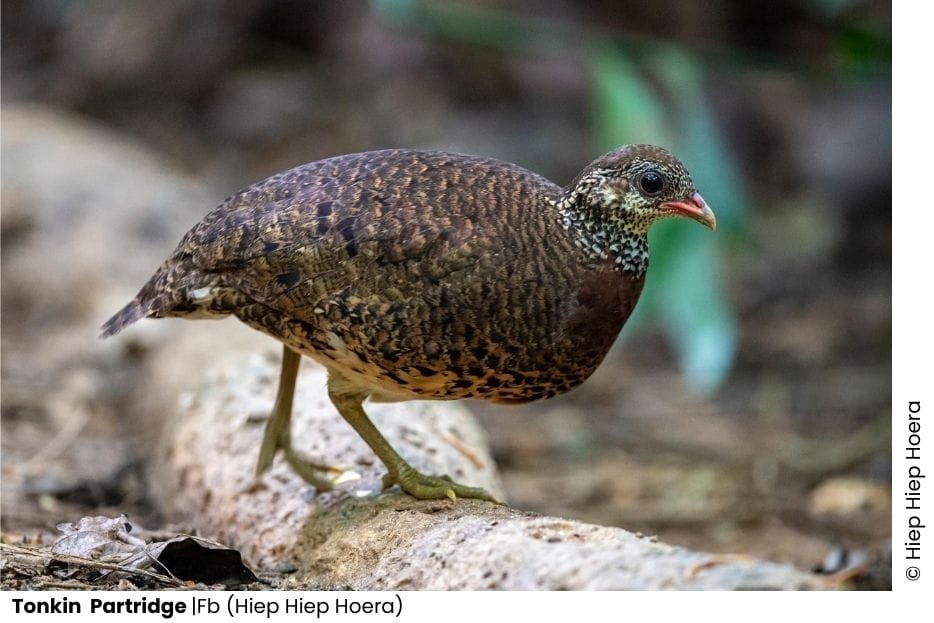 The most wanted birds for the birder
Several species that are difficult to see elsewhere in Vietnam can be found at Cuc Phuong such as Malay Night-heron (present during the summer months), Red-collared Woodpecker, Pied Falconet, Eared Pitta and Greyish Limestone-babbler.
Other species of interest include Tonkin Partridge, Silver Pheasant, Austen's Brown Hornbill, Red-vented Barbet, Blue-rumped and Bar-bellied Pittas, Silver-breasted Broadbill, Ratchet-tailed Treepie, White-winged Magpie, Indochinese Green Magpie, Limestone Leaf-warbler and Rufous-throated and Black-browed Fulvettas.
During the winter months thrushes, flycatchers, and robins of several species are common here.
FAQs about birds of Cuc Phuong National park
When is the best time for birding & bird photography in Cuc Phuong Np.?
"The best time for birding in Cuc Phuong is from Nov to Mar when it is not much rain and migratory time"
Where to birdwatching in Cuc Phu in
Cat Tien National Park Overtime

ong National Park?

Bongs: easy walk around
Mac Lake: easy walk around
Botanic Garden: easy walk around
Main Trail:
Nguoi Xua Cave: Good place for Limestone wren babbler
Get there
About 140 kilometers from the center of Hanoi, Cuc Phuong National Park has become an attractive destination for tourists from all four directions, so it is not difficult for you to move there. There are 2 ways for your choice: by public transport and by private transport.
By public transports
From Hanoi, you can take a bus from Giap Bat bus station to the national park. There are 2 bus owners for your reference: Duc Hanh and Phu Duyen. The buses run directly to Cuc Phuong National Park, so it is very convenient for you because you do not have to stop at any intermediate places.
If you cannot catch the bus of the two vehicles above in time, you can take the bus to Nho Quan from Giap Bat bus station, then continue for another 10 kilometers by taxi or bus, "xe om".
By private transports
Using a private vehicle such as a car or motorbike is the most convenient way for you to get to the park with flexibility in time and schedule. Starting from Hanoi, visitors can follow the Trang An – Hoa Lu – Bai Dinh – Dong Chuong – Cuc Phuong National Park route or follow the 1A highway – Gian Khau crossroad – Nho Quan – Cuc Phuong National Park.
Accommodation
Entrance Area
As a starting point for activities at the national park, this area offers a full range of rooms from 200,000 VND and useful services such as jungle equipment rental, bike rental, sightseeing guide, chapter ethnic performances, etc.
Mac Lake Area
About 1.5 kilometers from the gate of the national park, Mac Lake Area provides visitors a quiet and fresh relaxing space with all kinds of rooms and communal stilt houses. This is also a suitable area for large groups of people to organize campfires and cultural exchanges as well as holding parties.
Park Center
As the final point in the trekking route across the national park, Park Center with separate stilt houses and apartments is always ready to offer guests a full range of services and accommodations. You should note that there is no electricity in this place, the generator – which runs for only 4 hours per night – is used instead.
Accommodation beyond the national park
Due to a number of reasons such as insects, mosquitoes, and the solitude that prevent you from staying in the forest, homestays, hotels, and resorts outside the national park are the right choice for you. Some accommodation suggestions for your reference are Cuc Phuong Resort, Emeralda Resort Ninh Binh, Hoa Lu Shack Homestay, Ninh Binh Family Homestay, etc.
Cuc Phuong National Park Bird list
List of birds in Cuc Phuong National Park Overtime
| | | | |
| --- | --- | --- | --- |
| No. | English Name | Latin Name | Status |
| | GALLIFORMES: Phasianidae | | |
| 1 | Bar-backed Partridge | Arborophila brunneopectus | |
| 2 | Scaly-breasted Partridge | Tropicoperdix chloropus | Tonkin Partridge (EN) |
| 3 | Red Junglefowl | Gallus gallus | |
| | PODICIPEDIFORMES: Podicipedidae | | |
| 4 | Little Grebe | Tachybaptus ruficollis | |
| | COLUMBIFORMES: Columbidae | | |
| 5 | Oriental Turtle-Dove | Streptopelia orientalis | |
| 6 | Spotted Dove | Spilopelia chinensis | |
| 7 | Asian Emerald Dove | Chalcophaps indica | |
| 8 | Thick-billed Green-Pigeon | Treron curvirostra | |
| 9 | Pin-tailed Green-Pigeon | Treron apicauda | |
| 10 | White-bellied Green-Pigeon | Treron sieboldii | |
| | CUCULIFORMES: Cuculidae | | |
| 11 | Greater Coucal | Centropus sinensis | |
| 12 | Lesser Coucal | Centropus bengalensis | |
| 13 | Green-billed Malkoha | Phaenicophaeus tristis | |
| 14 | Asian Koel | Eudynamys scolopaceus | |
| 15 | Asian Emerald Cuckoo | Chrysococcyx maculatus | |
| 16 | Banded Bay Cuckoo | Cacomantis sonneratii | |
| 17 | Plaintive Cuckoo | Cacomantis merulinus | |
| 18 | Square-tailed Drongo-Cuckoo | Surniculus lugubris | |
| 19 | Large Hawk-Cuckoo | Hierococcyx sparverioides | |
| 20 | Indian Cuckoo | Cuculus micropterus | |
| | CAPRIMULGIFORMES: Apodidae | | |
| 21 | Silver-backed Needletail | Hirundapus cochinchinensis | |
| 22 | Brown-backed Needletail | Hirundapus giganteus | |
| 23 | Germain's Swiftlet | Aerodramus germani | |
| 24 | House Swift | Apus nipalensis | |
| 25 | Asian Palm Swift | Cypsiurus balasiensis | |
| | CHARADRIIFORMES: Scolopacidae | | |
| 26 | Eurasian Woodcock | Scolopax rusticola | |
| 27 | Common Sandpiper | Actitis hypoleucos | |
| | CHARADRIIFORMES: Turnicidae | | |
| 28 | Barred Buttonquail | Turnix suscitator | |
| | PELECANIFORMES: Ardeidae | | |
| 29 | Cinnamon Bittern | Ixobrychus cinnamomeus | |
| 30 | Great Egret | Ardea alba | |
| 31 | Intermediate Egret | Ardea intermedia | |
| 32 | Little Egret | Egretta garzetta | |
| 33 | Cattle Egret | Bubulcus ibis | |
| 34 | Chinese Pond-Heron | Ardeola bacchus | |
| 35 | Striated Heron | Butorides striata | |
| 36 | Black-crowned Night-Heron | Nycticorax nycticorax | |
| 37 | Malayan Night-Heron | Gorsachius melanolophus | |
| | ACCIPITRIFORMES: Accipitridae | | |
| 38 | Oriental Honey-buzzard | Pernis ptilorhynchus | |
| 39 | Black Baza | Aviceda leuphotes | |
| 40 | Crested Serpent-Eagle | Spilornis cheela | |
| 41 | Mountain Hawk-Eagle | Nisaetus nipalensis | |
| 42 | Changeable Hawk-Eagle | Nisaetus cirrhatus | |
| 43 | Rufous-bellied Eagle | Lophotriorchis kienerii | Near-threatened |
| 44 | Black Eagle | Ictinaetus malaiensis | |
| 45 | Gray-faced Buzzard | Butastur indicus | |
| 46 | Crested Goshawk | Accipiter trivirgatus | |
| 47 | Shikra | Accipiter badius | |
| 48 | Black Kite | Milvus migrans | |
| | STRIGIFORMES: Tytonidae | | |
| 49 | Barn Owl | Tyto alba | |
| | STRIGIFORMES: Strigidae | | |
| 50 | Mountain Scops-Owl | Otus spilocephalus | |
| 51 | Collared Scops-Owl | Otus lettia | |
| 52 | Asian Barred Owlet | Glaucidium cuculoides | |
| 53 | Collared Owlet | Taenioptynx brodiei | |
| 54 | Brown Wood-Owl | Strix leptogrammica | |
| 55 | Brown Boobook | Ninox scutulata | |
| | TROGONIFORMES: Trogonidae | | |
| 56 | Red-headed Trogon | Harpactes erythrocephalus | |
| | BUCEROTIFORMES: Upupidae | | |
| 57 | Eurasian Hoopoe | Upupa epops | |
| | BUCEROTIFORMES: Bucerotidae | | |
| 58 | Brown Hornbill | Anorrhinus austeni | Near-threatened |
| 59 | Oriental Pied-Hornbill | Anthracoceros albirostris | |
| | CORACIIFORMES: Alcedinidae | | |
| 60 | Common Kingfisher | Alcedo atthis | |
| 61 | White-throated Kingfisher | Halcyon smyrnensis | |
| 62 | Black-capped Kingfisher | Halcyon pileata | Vulnerable |
| | CORACIIFORMES: Coraciidae | | |
| 63 | Dollarbird | Eurystomus orientalis | |
| | PICIFORMES: Megalaimidae | | |
| 64 | Coppersmith Barbet | Psilopogon haemacephalus | |
| 65 | Great Barbet | Psilopogon virens | |
| 66 | Red-vented Barbet | Psilopogon lagrandieri | |
| 67 | Green-eared Barbet | Psilopogon faiostrictus | |
| 68 | Blue-throated Barbet | Psilopogon asiaticus | |
| | PICIFORMES: Picidae | | |
| 69 | Speckled Piculet | Picumnus innominatus | |
| 70 | White-browed Piculet | Sasia ochracea | |
| 71 | Gray-capped Pygmy Woodpecker | Yungipicus canicapillus | |
| 72 | Bay Woodpecker | Blythipicus pyrrhotis | |
| 73 | Greater Flameback | Chrysocolaptes guttacristatus | |
| 74 | Rufous Woodpecker | Micropternus brachyurus | |
| 75 | Common Flameback | Dinopium javanense | |
| 76 | Lesser Yellownape | Picus chlorolophus | |
| 77 | Red-collared Woodpecker | Picus rabieri | Near-threatened |
| 78 | Greater Yellownape | Chrysophlegma flavinucha | |
| | FALCONIFORMES: Falconidae | | |
| 79 | Pied Falconet | Microhierax melanoleucos | |
| | PASSERIFORMES: Eurylaimidae | | |
| 80 | Long-tailed Broadbill | Psarisomus dalhousiae | |
| 81 | Silver-breasted Broadbill | Serilophus lunatus | |
| | PASSERIFORMES: Pittidae | | |
| 82 | Blue-rumped Pitta | Hydrornis soror | |
| 83 | Bar-bellied Pitta | Hydrornis elliotii | |
| | PASSERIFORMES: Campephagidae | | |
| 84 | Short-billed Minivet | Pericrocotus brevirostris | |
| 85 | Long-tailed Minivet | Pericrocotus ethologus | |
| 86 | Scarlet Minivet | Pericrocotus speciosus | |
| 87 | Black-winged Cuckooshrike | Lalage melaschistos | |
| | PASSERIFORMES: Vireonidae | | |
| 88 | Clicking Shrike-Babbler | Pteruthius intermedius | |
| 89 | White-bellied Erpornis | Erpornis zantholeuca | |
| | PASSERIFORMES: Oriolidae | | |
| 90 | Black-naped Oriole | Oriolus chinensis | |
| 91 | Maroon Oriole | Oriolus traillii | |
| | PASSERIFORMES: Vangidae | | |
| 92 | Large Woodshrike | Tephrodornis virgatus | |
| 93 | Bar-winged Flycatcher-shrike | Hemipus picatus | |
| | PASSERIFORMES: Aegithinidae | | |
| 94 | Common Iora | Aegithina tiphia | |
| 95 | Great Iora | Aegithina lafresnayei | |
| | PASSERIFORMES: Rhipiduridae | | |
| 96 | White-throated Fantail | Rhipidura albicollis | |
| | PASSERIFORMES: Dicruridae | | |
| 97 | Black Drongo | Dicrurus macrocercus | |
| 98 | Ashy Drongo | Dicrurus leucophaeus | |
| 99 | Bronzed Drongo | Dicrurus aeneus | |
| 100 | Lesser Racket-tailed Drongo | Dicrurus remifer | |
| 102 | Hair-crested Drongo | Dicrurus hottentottus | |
| 104 | Greater Racket-tailed Drongo | Dicrurus paradiseus | |
| | PASSERIFORMES: Monarchidae | | |
| 105 | Black-naped Monarch | Hypothymis azurea | |
| 106 | Blyth's Paradise-Flycatcher | Terpsiphone affinis | |
| | PASSERIFORMES: Laniidae | | |
| 107 | Brown Shrike | Lanius cristatus | |
| 108 | Long-tailed Shrike | Lanius schach | |
| 109 | Gray-backed Shrike | Lanius tephronotus | |
| | PASSERIFORMES: Corvidae | | |
| 110 | Red-billed Blue-Magpie | Urocissa erythroryncha | |
| 111 | White-winged Magpie | Urocissa whiteheadi | |
| 112 | Common Green-Magpie | Cissa chinensis | |
| 113 | Racket-tailed Treepie | Crypsirina temia | |
| 114 | Ratchet-tailed Treepie | Temnurus temnurus | |
| | PASSERIFORMES: Stenostiridae | | |
| 115 | Gray-headed Canary-Flycatcher | Culicicapa ceylonensis | |
| | PASSERIFORMES: Paridae | | |
| 116 | Sultan Tit | Melanochlora sultanea | |
| 117 | Japanese Tit | Parus minor | |
| | PASSERIFORMES: Alaudidae | | |
| 118 | Indochinese Bushlark | Mirafra erythrocephala | |
| | PASSERIFORMES: Cisticolidae | | |
| 119 | Common Tailorbird | Orthotomus sutorius | |
| 120 | Dark-necked Tailorbird | Orthotomus atrogularis | |
| 121 | Rufescent Prinia | Prinia rufescens | |
| 122 | Yellow-bellied Prinia | Prinia flaviventris | |
| 123 | Plain Prinia | Prinia inornata | |
| 124 | Zitting Cisticola | Cisticola juncidis | |
| | PASSERIFORMES: Locustellidae | | |
| 125 | Russet Bush Warbler | Locustella mandelli | |
| | PASSERIFORMES: Hirundinidae | | |
| 126 | Barn Swallow | Hirundo rustica | |
| 127 | Red-rumped Swallow | Cecropis daurica | |
| | PASSERIFORMES: Pycnonotidae | | |
| 128 | Black-crested Bulbul | Rubigula flaviventris | |
| 129 | Red-whiskered Bulbul | Pycnonotus jocosus | |
| 130 | Light-vented Bulbul | Pycnonotus sinensis | |
| 131 | Sooty-headed Bulbul | Pycnonotus aurigaster | |
| 132 | Stripe-throated Bulbul | Pycnonotus finlaysoni | |
| 133 | Puff-throated Bulbul | Alophoixus pallidus | |
| 134 | Gray-eyed Bulbul | Iole propinqua | |
| 135 | Black Bulbul | Hypsipetes leucocephalus | |
| 136 | Ashy Bulbul | Hemixos flavala | |
| 137 | Chestnut Bulbul | Hemixos castanonotus | |
| | PASSERIFORMES: Phylloscopidae | | |
| 138 | Yellow-browed Warbler | Phylloscopus inornatus | |
| 139 | Hume's Warbler | Phylloscopus humei | |
| 140 | Pallas's Leaf Warbler | Phylloscopus proregulus | |
| 141 | Radde's Warbler | Phylloscopus schwarzi | |
| 142 | Dusky Warbler | Phylloscopus fuscatus | |
| 143 | Eastern Crowned Warbler | Phylloscopus coronatus | |
| 144 | Gray-crowned Warbler | Phylloscopus tephrocephalus | |
| 145 | Bianchi's Warbler | Phylloscopus valentini | |
| 146 | Arctic Warbler | Phylloscopus borealis | |
| 147 | Chestnut-crowned Warbler | Phylloscopus castaniceps | |
| 148 | Limestone Leaf Warbler | Phylloscopus calciatilis | |
| 149 | Sulphur-breasted Warbler | Phylloscopus ricketti | |
| | PASSERIFORMES: Scotocercidae | | |
| 150 | Asian Stubtail | Urosphena squameiceps | |
| 151 | Yellow-bellied Warbler | Abroscopus superciliaris | |
| 152 | Manchurian Bush Warbler | Horornis canturians | |
| | PASSERIFORMES: Zosteropidae | | |
| 153 | Swinhoe's White-eye | Zosterops simplex | |
| 154 | Indian White-eye | Zosterops palpebrosus | |
| | PASSERIFORMES: Timaliidae | | |
| 155 | Pin-striped Tit-Babbler | Mixornis gularis | |
| 156 | Golden Babbler | Cyanoderma chrysaeum | |
| 157 | Rufous-capped Babbler | Cyanoderma ruficeps | |
| 158 | White-browed Scimitar-Babbler | Pomatorhinus schisticeps | |
| 159 | Large Scimitar-Babbler | Erythrogenys hypoleucos | |
| 160 | Black-streaked Scimitar-Babbler | Erythrogenys gravivox | |
| 161 | Gray-throated Babbler | Stachyris nigriceps | |
| 162 | Spot-necked Babbler | Stachyris strialata | |
| | PASSERIFORMES: Pellorneidae | | |
| 163 | Scaly-crowned Babbler | Malacopteron cinereum | |
| 164 | Rufous-throated Fulvetta | Schoeniparus rufogularis | |
| 165 | Puff-throated Babbler | Pellorneum ruficeps | |
| 166 | Spot-throated Babbler | Pellorneum albiventre | |
| 167 | Buff-breasted Babbler | Pellorneum tickelli | |
| 168 | Abbott's Babbler | Malacocincla abbotti | |
| 169 | Streaked Wren-Babbler | Gypsophila brevicaudata | |
| 170 | Annam Limestone Babbler | Gypsophila annamensis | |
| 171 | Eyebrowed Wren-Babbler | Napothera epilepidota | |
| 172 | Short-tailed Scimitar-Babbler | Napothera danjoui | Near-threatened |
| | PASSERIFORMES: Leiothrichidae | | |
| 173 | Black-browed Fulvetta | Alcippe grotei | |
| 174 | David's Fulvetta | Alcippe davidi | |
| 175 | Lesser Necklaced Laughingthrush | Garrulax monileger | |
| 176 | White-crested Laughingthrush | Garrulax leucolophus | |
| 177 | Black-throated Laughingthrush | Pterorhinus chinensis | |
| | PASSERIFORMES: Sittidae | | |
| 178 | Velvet-fronted Nuthatch | Sitta frontalis | |
| | PASSERIFORMES: Sturnidae | | |
| 179 | Golden-crested Myna | Ampeliceps coronatus | |
| 180 | Common Hill Myna | Gracula religiosa | |
| 181 | White-shouldered Starling | Sturnia sinensis | |
| | PASSERIFORMES: Turdidae | | |
| 182 | White's Thrush | Zoothera aurea | |
| 183 | Scaly Thrush | Zoothera dauma | |
| 184 | Purple Cochoa | Cochoa purpurea | |
| 185 | Green Cochoa | Cochoa viridis | |
| 186 | Siberian Thrush | Geokichla sibirica | |
| 187 | Orange-headed Thrush | Geokichla citrina | |
| 188 | Chinese Blackbird | Turdus mandarinus | |
| 189 | Japanese Thrush | Turdus cardis | |
| 190 | Gray-backed Thrush | Turdus hortulorum | |
| 191 | Black-breasted Thrush | Turdus dissimilis | |
| 192 | Eyebrowed Thrush | Turdus obscurus | |
| | PASSERIFORMES: Muscicapidae | | |
| 193 | Dark-sided Flycatcher | Muscicapa sibirica | |
| 194 | Oriental Magpie-Robin | Copsychus saularis | |
| 195 | White-rumped Shama | Copsychus malabaricus | |
| 196 | White-tailed Flycatcher | Cyornis concretus | |
| 197 | Hainan Blue Flycatcher | Cyornis hainanus | |
| 198 | Hill Blue Flycatcher | Cyornis whitei | |
| 199 | Fujian Niltava | Niltava davidi | |
| 200 | Himalayan Shortwing | Brachypteryx cruralis | |
| 201 | Rufous-tailed Robin | Larvivora sibilans | |
| 202 | Bluethroat | Luscinia svecica | |
| 203 | Blue Whistling-Thrush | Myophonus caeruleus | |
| 204 | White-crowned Forktail | Enicurus leschenaulti | |
| 205 | White-tailed Robin | Myiomela leucura | |
| 206 | Red-flanked Bluetail | Tarsiger cyanurus | |
| 207 | Mugimaki Flycatcher | Ficedula mugimaki | |
| 208 | Snowy-browed Flycatcher | Ficedula hyperythra | |
| 209 | Little Pied Flycatcher | Ficedula westermanni | |
| 210 | Taiga Flycatcher | Ficedula albicilla | |
| 211 | Blue Rock-Thrush | Monticola solitarius | |
| 212 | Amur Stonechat | Saxicola stejnegeri | |
| 213 | Pied Bushchat | Saxicola caprata | |
| 214 | Gray Bushchat | Saxicola ferreus | |
| | PASSERIFORMES: Dicaeidae | | |
| 215 | Plain Flowerpecker | Dicaeum minullum | |
| 216 | Scarlet-backed Flowerpecker | Dicaeum cruentatum | |
| | PASSERIFORMES: Nectariniidae | | |
| 217 | Ruby-cheeked Sunbird | Chalcoparia singalensis | |
| 218 | Purple Sunbird | Cinnyris asiaticus | |
| 219 | Olive-backed Sunbird | Cinnyris jugularis | |
| 220 | Crimson Sunbird | Aethopyga siparaja | |
| 221 | Fork-tailed Sunbird | Aethopyga christinae | |
| 222 | Purple-naped Spiderhunter | Kurochkinegramma hypogrammicum | |
| 223 | Little Spiderhunter | Arachnothera longirostra | |
| 224 | Streaked Spiderhunter | Arachnothera magna | |
| | PASSERIFORMES: Irenidae | | |
| 225 | Asian Fairy-bluebird | Irena puella | |
| | PASSERIFORMES: Chloropseidae | | |
| 226 | Blue-winged Leafbird | Chloropsis cochinchinensis | |
| 227 | Orange-bellied Leafbird | Chloropsis hardwickii | |
| | PASSERIFORMES: Passeridae | | |
| 228 | House Sparrow | Passer domesticus | Introduced species |
| 229 | Eurasian Tree Sparrow | Passer montanus | |
| | PASSERIFORMES: Motacillidae | | |
| 230 | Forest Wagtail | Dendronanthus indicus | |
| 231 | Gray Wagtail | Motacilla cinerea | |
| 232 | Eastern Yellow Wagtail | Motacilla tschutschensis | |
| 233 | White Wagtail | Motacilla alba | |
| 234 | Richard's Pipit | Anthus richardi | |
| 235 | Paddyfield Pipit | Anthus rufulus | |
| 236 | Olive-backed Pipit | Anthus hodgsoni | |
| 237 | Red-throated Pipit | Anthus cervinus | |
| | PASSERIFORMES: Emberizidae | | |
| 238 | Little Bunting | Emberiza pusilla | |
| 239 | Tristram's Bunting | Emberiza tristrami | |
References