Birds of Central Highland Vietnam [update 2023] which covers 682 species over time, Endemics, near-endemic, and highlight – Review by Thang Nguyen.
Overview Birds of Central Highland Vietnam – last update Feb/2023
Number of species: 682
Number of globally threatened species: 30
Number of introduced species: 4
The highlight of Birds of Central Highland Vietnam
Endemic & Near-Endemics birds of Central Highland Vietnam
text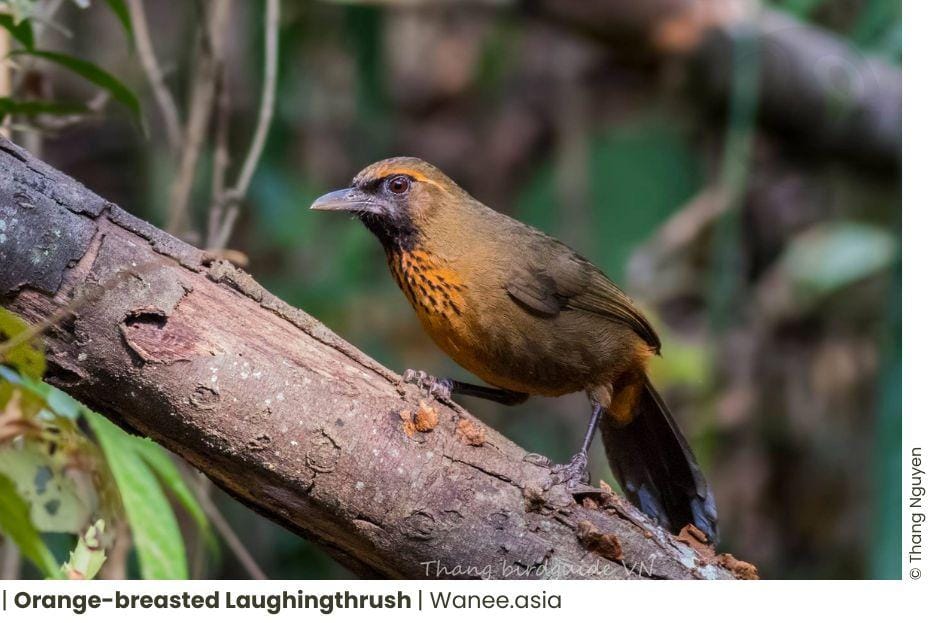 Orange-breasted Laughingthrush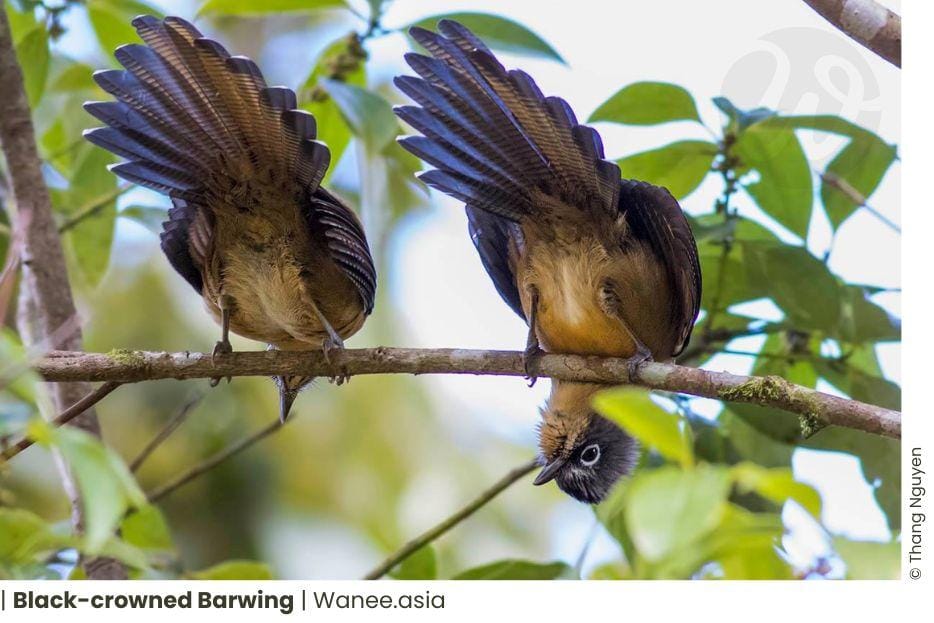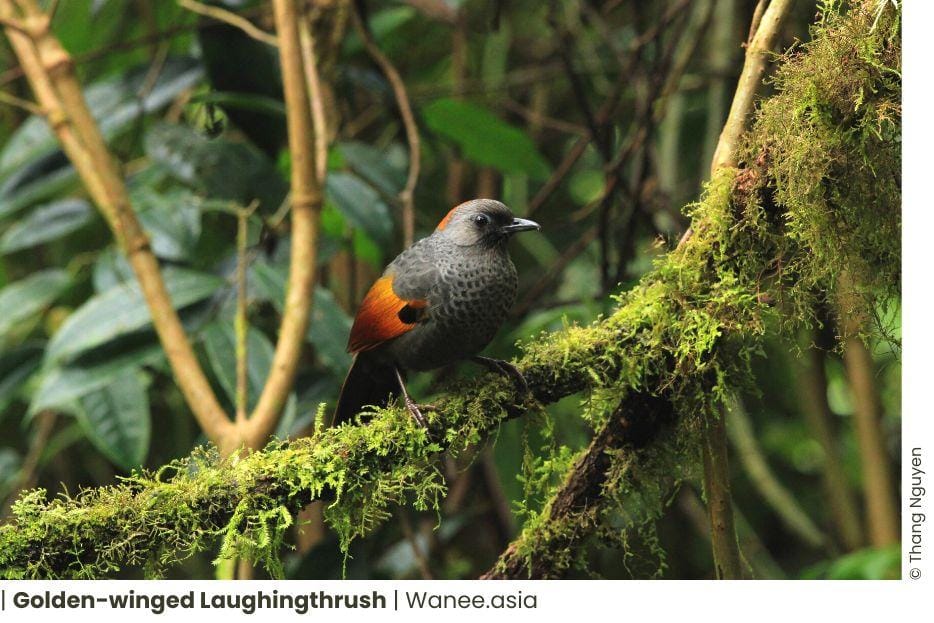 Golden-winged Laughingthrush
The most wanted birds for the birder
White-winged Duck, Orange-necked Partridge, Germain's Peacock-Pheasant, Yellow-footed Green-Pigeon, Yellow-vented Green-Pigeon, Hodgson's Frogmouth , Yellow-legged Buttonquail, White-shouldered Ibis, Giant Ibis, Jerdon's Baza, Mountain Scops-Owl, Spot-bellied Eagle-Owl, Brown Hornbill, Wreathed Hornbill, Blyth's Kingfisher, Indochinese Barbet, Rufous-bellied Woodpecker, Black-and-buff Woodpecker, Great Slaty Woodpecker, White-bellied Woodpecker, White-rumped Falcon, Collared Falconet, Rusty-naped Pitta, Blue-rumped Pitta, Blue Pitta, Bar-bellied Pitta, Green Shrike-Babbler, Clicking Shrike-Babbler, White-winged Magpie, Ratchet-tailed Treepie, Sultan Tit, Lanceolated Warbler, White-spectacled Warbler, Kloss's Leaf Warbler, Asian Stubtail, Manchurian Bush Warbler, Golden-breasted Fulvetta, Black-throated Parrotbill, Black-headed Parrotbill, Collared Babbler, Black-crowned Barwing, Golden-winged Laughingthrush, Collared Laughingthrush, Red-tailed Laughingthrush, Gray-crowned Crocias, Vietnamese Cutia, Orange-breasted Laughingthrush, Chestnut-eared Laughingthrush, Yellow-billed Nuthatch, Purple Cochoa, Green Cochoa, Small Niltava, Rufous-tailed Robin, Green-tailed Sunbird, Black-throated Sunbird.
FAQs about birds of Central Highland Vietnam
When is the best time for birding & bird photography in Central Highland?
With temperatures remaining constant year round the climate of the south is split into two simple seasons, wet and dry. The dry season begins in November and ends in April/early May with late February to May being slightly hotter and with higher humidity. The wet season lasts from May to early November with the months from June to August receiving the highest rainfall of the year. Throughout much of the wet season rainfall is generally heavy but short lasting, often occurring in a mid-afternoon heavy down-pour!
The average temperatures in the south range between 25 – 35°C year round.
Where to birdwatching in Central Highland Vietnam?
YokDon National Park
Kon Ka Kinh National Park
Chu Mom Ray National Park
Ngoc Linh National Park
Mang Den town
Bidoup-NuiBa National Park
Chu Yang Sin National Park
Dalat Plateau
Di Linh
How to Birding in Central Highland Vietnam?
Read more: Vietnam Birds – A Naturalist Online Field Guide Ver 1.0, WANEE 2023
List of birds of Central Highland Vietnam
No.
English Name
Latin Name
Status
ANSERIFORMES: Anatidae
1
Lesser Whistling-Duck
Dendrocygna javanica
2
Ruddy Shelduck
Tadorna ferruginea
3
Cotton Pygmy-Goose
Nettapus coromandelianus
4
Garganey
Spatula querquedula
5
Northern Shoveler
Spatula clypeata
6
Indian Spot-billed Duck
Anas poecilorhyncha
7
Eastern Spot-billed Duck
Anas zonorhyncha
8
Mallard
Anas platyrhynchos
Rare/Accidental
9
Northern Pintail
Anas acuta
10
Green-winged Teal
Anas crecca
11
White-winged Duck
Asarcornis scutulata
Endangered
GALLIFORMES: Phasianidae
12
Hill Partridge
Arborophila torqueola
13
Rufous-throated Partridge
Arborophila rufogularis
14
Bar-backed Partridge
Arborophila brunneopectus
15
Orange-necked Partridge
Arborophila davidi
Endemic (country/region)
Near-threatened
16
Silver Pheasant
Lophura nycthemera
17
Siamese Fireback
Lophura diardi
18
Vietnamese Crested Argus
Rheinardia ocellata
Endemic (country/region)
Critically endangered
19
Green Peafowl
Pavo muticus
Endangered
20
Scaly-breasted Partridge
Tropicoperdix chloropus
21
Germain's Peacock-Pheasant
Polyplectron germaini
Endemic (country/region)
Near-threatened
22
Gray Peacock-Pheasant
Polyplectron bicalcaratum
23
Mountain Bamboo-Partridge
Bambusicola fytchii
24
Red Junglefowl
Gallus gallus
25
Chinese Francolin
Francolinus pintadeanus
26
Blue-breasted Quail
Synoicus chinensis
27
Rain Quail
Coturnix coromandelica
PODICIPEDIFORMES: Podicipedidae
29
Little Grebe
Tachybaptus ruficollis
COLUMBIFORMES: Columbidae
30
Rock Pigeon
Columba livia
Introduced species
31
Ashy Wood-Pigeon
Columba pulchricollis
Rare/Accidental
32
Pale-capped Pigeon
Columba punicea
Vulnerable
33
Oriental Turtle-Dove
Streptopelia orientalis
34
Red Collared-Dove
Streptopelia tranquebarica
35
Spotted Dove
Spilopelia chinensis
36
Barred Cuckoo-Dove
Macropygia unchall
37
Little Cuckoo-Dove
Macropygia ruficeps
38
Asian Emerald Dove
Chalcophaps indica
39
Zebra Dove
Geopelia striata
40
Pink-necked Green-Pigeon
Treron vernans
41
Orange-breasted Green-Pigeon
Treron bicinctus
42
Ashy-headed Green-Pigeon
Treron phayrei
Near-threatened
43
Thick-billed Green-Pigeon
Treron curvirostra
44
Yellow-footed Green-Pigeon
Treron phoenicopterus
45
Yellow-vented Green-Pigeon
Treron seimundi
46
Pin-tailed Green-Pigeon
Treron apicauda
47
Wedge-tailed Green-Pigeon
Treron sphenurus
48
White-bellied Green-Pigeon
Treron sieboldii
49
Green Imperial-Pigeon
Ducula aenea
Near-threatened
50
Mountain Imperial-Pigeon
Ducula badia
51
Pied Imperial-Pigeon
Ducula bicolor
CUCULIFORMES: Cuculidae
52
Coral-billed Ground-Cuckoo
Carpococcyx renauldi
Vulnerable
53
Greater Coucal
Centropus sinensis
54
Lesser Coucal
Centropus bengalensis
55
Black-bellied Malkoha
Phaenicophaeus diardi
Near-threatened
56
Green-billed Malkoha
Phaenicophaeus tristis
57
Chestnut-winged Cuckoo
Clamator coromandus
58
Asian Koel
Eudynamys scolopaceus
59
Asian Emerald Cuckoo
Chrysococcyx maculatus
60
Violet Cuckoo
Chrysococcyx xanthorhynchus
61
Banded Bay Cuckoo
Cacomantis sonneratii
62
Plaintive Cuckoo
Cacomantis merulinus
63
Square-tailed Drongo-Cuckoo
Surniculus lugubris
64
Large Hawk-Cuckoo
Hierococcyx sparverioides
65
Northern Hawk-Cuckoo
Hierococcyx hyperythrus
Rare/Accidental
66
Hodgson's Hawk-Cuckoo
Hierococcyx nisicolor
67
Indian Cuckoo
Cuculus micropterus
68
Himalayan Cuckoo
Cuculus saturatus
69
Common Cuckoo
Cuculus canorus
70
Oriental Cuckoo
Cuculus optatus
CAPRIMULGIFORMES: Podargidae
71
Hodgson's Frogmouth
Batrachostomus hodgsoni
72
Blyth's Frogmouth
Batrachostomus affinis
CAPRIMULGIFORMES: Caprimulgidae
73
Great Eared-Nightjar
Lyncornis macrotis
74
Gray Nightjar
Caprimulgus jotaka
75
Large-tailed Nightjar
Caprimulgus macrurus
76
Indian Nightjar
Caprimulgus asiaticus
77
Savanna Nightjar
Caprimulgus affinis
CAPRIMULGIFORMES: Apodidae
78
White-throated Needletail
Hirundapus caudacutus
79
Silver-backed Needletail
Hirundapus cochinchinensis
80
Brown-backed Needletail
Hirundapus giganteus
81
Himalayan Swiftlet
Aerodramus brevirostris
82
Black-nest Swiftlet
Aerodramus maximus
83
White-nest Swiftlet
Aerodramus fuciphagus
84
Germain's Swiftlet
Aerodramus germani
85
Pacific Swift
Apus pacificus
86
Cook's Swift
Apus cooki
87
House Swift
Apus nipalensis
88
Asian Palm Swift
Cypsiurus balasiensis
CAPRIMULGIFORMES: Hemiprocnidae
89
Crested Treeswift
Hemiprocne coronata
GRUIFORMES: Rallidae
90
Slaty-breasted Rail
Lewinia striata
91
Eurasian Moorhen
Gallinula chloropus
92
Eurasian Coot
Fulica atra
93
Gray-headed Swamphen
Porphyrio poliocephalus
94
White-browed Crake
Poliolimnas cinereus
95
Watercock
Gallicrex cinerea
96
White-breasted Waterhen
Amaurornis phoenicurus
97
Slaty-legged Crake
Rallina eurizonoides
98
Ruddy-breasted Crake
Zapornia fusca
99
Band-bellied Crake
Zapornia paykullii
Near-threatened
100
Baillon's Crake
Zapornia pusilla
GRUIFORMES: Heliornithidae
101
Masked Finfoot
Heliopais personatus
Critically endangered
GRUIFORMES: Gruidae
102
Sarus Crane
Antigone antigone
Vulnerable
CHARADRIIFORMES: Burhinidae
103
Indian Thick-knee
Burhinus indicus
104
Great Thick-knee
Esacus recurvirostris
Near-threatened
CHARADRIIFORMES: Recurvirostridae
105
Black-winged Stilt
Himantopus himantopus
CHARADRIIFORMES: Charadriidae
106
Black-bellied Plover
Pluvialis squatarola
107
Pacific Golden-Plover
Pluvialis fulva
108
River Lapwing
Vanellus duvaucelii
Near-threatened
109
Gray-headed Lapwing
Vanellus cinereus
110
Red-wattled Lapwing
Vanellus indicus
111
Lesser Sand-Plover
Charadrius mongolus
112
Greater Sand-Plover
Charadrius leschenaultii
113
Kentish Plover
Charadrius alexandrinus
114
White-faced Plover
Charadrius dealbatus
Data deficient
115
Long-billed Plover
Charadrius placidus
116
Little Ringed Plover
Charadrius dubius
117
Oriental Plover
Charadrius veredus
CHARADRIIFORMES: Rostratulidae
118
Greater Painted-Snipe
Rostratula benghalensis
CHARADRIIFORMES: Jacanidae
119
Pheasant-tailed Jacana
Hydrophasianus chirurgus
120
Bronze-winged Jacana
Metopidius indicus
CHARADRIIFORMES: Scolopacidae
121
Whimbrel
Numenius phaeopus
122
Eurasian Curlew
Numenius arquata
Near-threatened
123
Bar-tailed Godwit
Limosa lapponica
Near-threatened
124
Ruddy Turnstone
Arenaria interpres
125
Curlew Sandpiper
Calidris ferruginea
Near-threatened
126
Temminck's Stint
Calidris temminckii
127
Long-toed Stint
Calidris subminuta
128
Spoon-billed Sandpiper
Calidris pygmaea
Introduced species
Critically endangered
129
Red-necked Stint
Calidris ruficollis
Near-threatened
130
Jack Snipe
Lymnocryptes minimus
131
Eurasian Woodcock
Scolopax rusticola
132
Common Snipe
Gallinago gallinago
133
Pin-tailed Snipe
Gallinago stenura
134
Terek Sandpiper
Xenus cinereus
135
Red-necked Phalarope
Phalaropus lobatus
136
Common Sandpiper
Actitis hypoleucos
137
Green Sandpiper
Tringa ochropus
138
Spotted Redshank
Tringa erythropus
139
Common Greenshank
Tringa nebularia
140
Marsh Sandpiper
Tringa stagnatilis
141
Wood Sandpiper
Tringa glareola
142
Common Redshank
Tringa totanus
CHARADRIIFORMES: Turnicidae
143
Small Buttonquail
Turnix sylvaticus
144
Yellow-legged Buttonquail
Turnix tanki
145
Barred Buttonquail
Turnix suscitator
CHARADRIIFORMES: Glareolidae
146
Oriental Pratincole
Glareola maldivarum
CHARADRIIFORMES: Laridae
147
Black-headed Gull
Chroicocephalus ridibundus
148
Brown-headed Gull
Chroicocephalus brunnicephalus
149
Gull-billed Tern
Gelochelidon nilotica
150
White-winged Tern
Chlidonias leucopterus
151
Whiskered Tern
Chlidonias hybrida
152
Black-bellied Tern
Sterna acuticauda
Rare/Accidental Endangered
153
River Tern
Sterna aurantia
Vulnerable
154
Great Crested Tern
Thalasseus bergii
CICONIIFORMES: Ciconiidae
155
Asian Openbill
Anastomus oscitans
156
Asian Woolly-necked Stork
Ciconia episcopus
Near-threatened
157
Black-necked Stork
Ephippiorhynchus asiaticus
Rare/Accidental Near-threatened
158
Lesser Adjutant
Leptoptilos javanicus
Vulnerable
159
Greater Adjutant
Leptoptilos dubius
Introduced species Endangered
160
Painted Stork
Mycteria leucocephala
Near-threatened
SULIFORMES: Sulidae
161
Brown Booby
Sula leucogaster
SULIFORMES: Anhingidae
162
Oriental Darter
Anhinga melanogaster
Near-threatened
SULIFORMES: Phalacrocoracidae
163
Little Cormorant
Microcarbo niger
164
Great Cormorant
Phalacrocorax carbo
165
Indian Cormorant
Phalacrocorax fuscicollis
PELECANIFORMES: Ardeidae
166
Yellow Bittern
Ixobrychus sinensis
167
Schrenck's Bittern
Ixobrychus eurhythmus
168
Cinnamon Bittern
Ixobrychus cinnamomeus
169
Black Bittern
Ixobrychus flavicollis
170
Gray Heron
Ardea cinerea
171
Purple Heron
Ardea purpurea
172
Great Egret
Ardea alba
173
Intermediate Egret
Ardea intermedia
174
Chinese Egret
Egretta eulophotes
Vulnerable
175
Little Egret
Egretta garzetta
176
Pacific Reef-Heron
Egretta sacra
177
Cattle Egret
Bubulcus ibis
178
Chinese Pond-Heron
Ardeola bacchus
179
Javan Pond-Heron
Ardeola speciosa
180
Striated Heron
Butorides striata
181
Black-crowned Night-Heron
Nycticorax nycticorax
182
Malayan Night-Heron
Gorsachius melanolophus
PELECANIFORMES: Threskiornithidae
183
Glossy Ibis
Plegadis falcinellus
184
Black-headed Ibis
Threskiornis melanocephalus
Near-threatened
185
White-shouldered Ibis
Pseudibis davisoni
Critically endangered
186
Giant Ibis
Pseudibis gigantea
Extirpated Critically endangered
ACCIPITRIFORMES: Pandionidae
187
Osprey
Pandion haliaetus
ACCIPITRIFORMES: Accipitridae
188
Black-winged Kite
Elanus caeruleus
189
Oriental Honey-buzzard
Pernis ptilorhynchus
190
Jerdon's Baza
Aviceda jerdoni
191
Black Baza
Aviceda leuphotes
192
Red-headed Vulture
Sarcogyps calvus
Rare/Accidental
Critically endangered
193
White-rumped Vulture
Gyps bengalensis
Rare/Accidental
Critically endangered
194
Crested Serpent-Eagle
Spilornis cheela
195
Mountain Hawk-Eagle
Nisaetus nipalensis
196
Changeable Hawk-Eagle
Nisaetus cirrhatus
197
Rufous-bellied Eagle
Lophotriorchis kienerii
Near-threatened
198
Black Eagle
Ictinaetus malaiensis
199
Greater Spotted Eagle
Clanga clanga
Vulnerable
200
Bonelli's Eagle
Aquila fasciata
201
Rufous-winged Buzzard
Butastur liventer
202
Gray-faced Buzzard
Butastur indicus
203
Eastern Marsh-Harrier
Circus spilonotus
204
Pied Harrier
Circus melanoleucos
205
Crested Goshawk
Accipiter trivirgatus
206
Shikra
Accipiter badius
207
Chinese Sparrowhawk
Accipiter soloensis
208
Japanese Sparrowhawk
Accipiter gularis
209
Besra
Accipiter virgatus
210
Eurasian Sparrowhawk
Accipiter nisus
211
Black Kite
Milvus migrans
212
Brahminy Kite
Haliastur indus
213
White-bellied Sea-Eagle
Haliaeetus leucogaster
214
Lesser Fish-Eagle
Haliaeetus humilis
Near-threatened
215
Gray-headed Fish-Eagle
Haliaeetus ichthyaetus
Near-threatened
216
Common Buzzard
Buteo buteo
217
Himalayan Buzzard
Buteo refectus
Rare/Accidental
218
Eastern Buzzard
Buteo japonicus
STRIGIFORMES: Tytonidae
219
Australasian Grass-Owl
Tyto longimembris
220
Barn Owl
Tyto alba
221
Oriental Bay-Owl
Phodilus badius
STRIGIFORMES: Strigidae
222
Mountain Scops-Owl
Otus spilocephalus
223
Collared Scops-Owl
Otus lettia
224
Oriental Scops-Owl
Otus sunia
225
Buffy Fish-Owl
Ketupa ketupu
226
Brown Fish-Owl
Ketupa zeylonensis
227
Tawny Fish-Owl
Ketupa flavipes
228
Spot-bellied Eagle-Owl
Ketupa nipalensis
229
Asian Barred Owlet
Glaucidium cuculoides
230
Collared Owlet
Taenioptynx brodiei
231
Spotted Owlet
Athene brama
232
Brown Wood-Owl
Strix leptogrammica
233
Brown Boobook
Ninox scutulata
TROGONIFORMES: Trogonidae
234
Red-headed Trogon
Harpactes erythrocephalus
235
Orange-breasted Trogon
Harpactes oreskios
BUCEROTIFORMES: Upupidae
236
Eurasian Hoopoe
Upupa epops
BUCEROTIFORMES: Bucerotidae
237
Great Hornbill
Buceros bicornis
Vulnerable
238
Brown Hornbill
Anorrhinus austeni
Near-threatened
239
Black Hornbill
Anthracoceros malayanus
Vulnerable
240
Oriental Pied-Hornbill
Anthracoceros albirostris
241
Wreathed Hornbill
Rhyticeros undulatus
Vulnerable
CORACIIFORMES: Alcedinidae
242
Blyth's Kingfisher
Alcedo hercules
Near-threatened
243
Common Kingfisher
Alcedo atthis
244
Blue-eared Kingfisher
Alcedo meninting
245
Black-backed Dwarf-Kingfisher
Ceyx erithaca
246
Banded Kingfisher
Lacedo pulchella
247
Stork-billed Kingfisher
Pelargopsis capensis
248
Ruddy Kingfisher
Halcyon coromanda
249
White-throated Kingfisher
Halcyon smyrnensis
250
Black-capped Kingfisher
Halcyon pileata
Vulnerable
251
Collared Kingfisher
Todiramphus chloris
252
Crested Kingfisher
Megaceryle lugubris
253
Pied Kingfisher
Ceryle rudis
CORACIIFORMES: Meropidae
254
Blue-bearded Bee-eater
Nyctyornis athertoni
255
Asian Green Bee-eater
Merops orientalis
256
Blue-throated Bee-eater
Merops viridis
257
Blue-tailed Bee-eater
Merops philippinus
258
Chestnut-headed Bee-eater
Merops leschenaulti
CORACIIFORMES: Coraciidae
259
Indochinese Roller
Coracias affinis
260
Dollarbird
Eurystomus orientalis
PICIFORMES: Megalaimidae
261
Coppersmith Barbet
Psilopogon haemacephalus
262
Blue-eared Barbet
Psilopogon duvaucelii
263
Red-vented Barbet
Psilopogon lagrandieri
264
Green-eared Barbet
Psilopogon faiostrictus
265
Lineated Barbet
Psilopogon lineatus
266
Golden-throated Barbet
Psilopogon franklinii
267
Necklaced Barbet
Psilopogon auricularis
268
Moustached Barbet
Psilopogon incognitus
269
Blue-throated Barbet
Psilopogon asiaticus
270
Indochinese Barbet
Psilopogon annamensis
PICIFORMES: Picidae
271
Eurasian Wryneck
Jynx torquilla
272
Speckled Piculet
Picumnus innominatus
273
White-browed Piculet
Sasia ochracea
274
Heart-spotted Woodpecker
Hemicircus canente
275
Gray-capped Pygmy Woodpecker
Yungipicus canicapillus
276
Yellow-crowned Woodpecker
Leiopicus mahrattensis
277
Rufous-bellied Woodpecker
Dendrocopos hyperythrus
278
Freckle-breasted Woodpecker
Dendrocopos analis
279
Stripe-breasted Woodpecker
Dendrocopos atratus
280
Bay Woodpecker
Blythipicus pyrrhotis
281
Greater Flameback
Chrysocolaptes guttacristatus
282
Rufous Woodpecker
Micropternus brachyurus
283
Black-and-buff Woodpecker
Meiglyptes jugularis
284
Pale-headed Woodpecker
Gecinulus grantia
285
Common Flameback
Dinopium javanense
286
Lesser Yellownape
Picus chlorolophus
287
Streak-throated Woodpecker
Picus xanthopygaeus
288
Red-collared Woodpecker
Picus rabieri
Near-threatened
289
Laced Woodpecker
Picus vittatus
290
Gray-headed Woodpecker
Picus canus
291
Black-headed Woodpecker
Picus erythropygius
292
Greater Yellownape
Chrysophlegma flavinucha
293
Great Slaty Woodpecker
Mulleripicus pulverulentus
Vulnerable
294
White-bellied Woodpecker
Dryocopus javensis
FALCONIFORMES: Falconidae
295
Collared Falconet
Microhierax caerulescens
296
White-rumped Falcon
Neohierax insignis
Near-threatened
297
Eurasian Kestrel
Falco tinnunculus
298
Oriental Hobby
Falco severus
299
Peregrine Falcon
Falco peregrinus
PSITTACIFORMES: Psittaculidae
300
Alexandrine Parakeet
Psittacula eupatria
Near-threatened
301
Gray-headed Parakeet
Psittacula finschii
Near-threatened
302
Blossom-headed Parakeet
Psittacula roseata
Near-threatened
303
Red-breasted Parakeet
Psittacula alexandri
Near-threatened
304
Vernal Hanging-Parrot
Loriculus vernalis
PASSERIFORMES: Eurylaimidae
305
Long-tailed Broadbill
Psarisomus dalhousiae
306
Dusky Broadbill
Corydon sumatranus
307
Silver-breasted Broadbill
Serilophus lunatus
308
Black-and-red Broadbill
Cymbirhynchus macrorhynchos
309
Banded Broadbill
Eurylaimus javanicus
PASSERIFORMES: Pittidae
310
Eared Pitta
Hydrornis phayrei
311
Rusty-naped Pitta
Hydrornis oatesi
312
Blue-rumped Pitta
Hydrornis soror
313
Blue Pitta
Hydrornis cyaneus
314
Bar-bellied Pitta
Hydrornis elliotii
315
Blue-winged Pitta
Pitta moluccensis
PASSERIFORMES: Acanthizidae
316
Golden-bellied Gerygone
Gerygone sulphurea
PASSERIFORMES: Campephagidae
317
Small Minivet
Pericrocotus cinnamomeus
318
Gray-chinned Minivet
Pericrocotus solaris
319
Short-billed Minivet
Pericrocotus brevirostris
320
Long-tailed Minivet
Pericrocotus ethologus
321
Scarlet Minivet
Pericrocotus speciosus
322
Ashy Minivet
Pericrocotus divaricatus
323
Brown-rumped Minivet
Pericrocotus cantonensis
324
Rosy Minivet
Pericrocotus roseus
325
Large Cuckooshrike
Coracina macei
326
Black-winged Cuckooshrike
Lalage melaschistos
327
Indochinese Cuckooshrike
Lalage polioptera
PASSERIFORMES: Vireonidae
328
White-browed Shrike-Babbler
Pteruthius aeralatus
329
Green Shrike-Babbler
Pteruthius xanthochlorus
Rare/Accidental
330
Black-eared Shrike-Babbler
Pteruthius melanotis
331
Clicking Shrike-Babbler
Pteruthius intermedius
332
White-bellied Erpornis
Erpornis zantholeuca
PASSERIFORMES: Pachycephalidae
333
Mangrove Whistler
Pachycephala cinerea
PASSERIFORMES: Oriolidae
334
Black-naped Oriole
Oriolus chinensis
335
Slender-billed Oriole
Oriolus tenuirostris
336
Black-hooded Oriole
Oriolus xanthornus
337
Maroon Oriole
Oriolus traillii
PASSERIFORMES: Artamidae
338
Ashy Woodswallow
Artamus fuscus
PASSERIFORMES: Vangidae
339
Large Woodshrike
Tephrodornis virgatus
340
Common Woodshrike
Tephrodornis pondicerianus
341
Bar-winged Flycatcher-shrike
Hemipus picatus
PASSERIFORMES: Aegithinidae
342
Common Iora
Aegithina tiphia
343
Great Iora
Aegithina lafresnayei
PASSERIFORMES: Rhipiduridae
344
Malaysian Pied-Fantail
Rhipidura javanica
345
White-throated Fantail
Rhipidura albicollis
346
White-browed Fantail
Rhipidura aureola
PASSERIFORMES: Dicruridae
347
Black Drongo
Dicrurus macrocercus
348
Ashy Drongo
Dicrurus leucophaeus
349
Crow-billed Drongo
Dicrurus annectens
350
Bronzed Drongo
Dicrurus aeneus
351
Lesser Racket-tailed Drongo
Dicrurus remifer
352
Hair-crested Drongo
Dicrurus hottentottus
353
Greater Racket-tailed Drongo
Dicrurus paradiseus
PASSERIFORMES: Monarchidae
354
Black-naped Monarch
Hypothymis azurea
355
Japanese Paradise-Flycatcher
Terpsiphone atrocaudata
Near-threatened
356
Amur Paradise-Flycatcher
Terpsiphone incei
357
Blyth's Paradise-Flycatcher
Terpsiphone affinis
PASSERIFORMES: Laniidae
358
Brown Shrike
Lanius cristatus
359
Burmese Shrike
Lanius collurioides
360
Long-tailed Shrike
Lanius schach
361
Gray-backed Shrike
Lanius tephronotus
PASSERIFORMES: Corvidae
362
Eurasian Jay
Garrulus glandarius
363
Yellow-billed Blue-Magpie
Urocissa flavirostris
364
Red-billed Blue-Magpie
Urocissa erythroryncha
365
White-winged Magpie
Urocissa whiteheadi
366
Common Green-Magpie
Cissa chinensis
367
Indochinese Green-Magpie
Cissa hypoleuca
368
Rufous Treepie
Dendrocitta vagabunda
369
Racket-tailed Treepie
Crypsirina temia
370
Ratchet-tailed Treepie
Temnurus temnurus
371
Oriental Magpie
Pica serica
372
Carrion Crow
Corvus corone
373
Large-billed Crow
Corvus macrorhynchos
PASSERIFORMES: Stenostiridae
374
Gray-headed Canary-Flycatcher
Culicicapa ceylonensis
PASSERIFORMES: Paridae
375
Yellow-browed Tit
Sylviparus modestus
376
Sultan Tit
Melanochlora sultanea
377
Green-backed Tit
Parus monticolus
378
Cinereous Tit
Parus cinereus
379
Japanese Tit
Parus minor
380
Yellow-cheeked Tit
Machlolophus spilonotus
PASSERIFORMES: Alaudidae
381
Horsfield's Bushlark
Mirafra javanica
382
Indochinese Bushlark
Mirafra erythrocephala
383
Oriental Skylark
Alauda gulgula
PASSERIFORMES: Cisticolidae
384
Common Tailorbird
Orthotomus sutorius
385
Dark-necked Tailorbird
Orthotomus atrogularis
386
Ashy Tailorbird
Orthotomus ruficeps
387
Annam Prinia
Prinia rocki
388
Brown Prinia
Prinia polychroa
389
Hill Prinia
Prinia superciliaris
390
Rufescent Prinia
Prinia rufescens
391
Gray-breasted Prinia
Prinia hodgsonii
392
Yellow-bellied Prinia
Prinia flaviventris
393
Plain Prinia
Prinia inornata
394
Zitting Cisticola
Cisticola juncidis
395
Golden-headed Cisticola
Cisticola exilis
PASSERIFORMES: Acrocephalidae
396
Thick-billed Warbler
Arundinax aedon
397
Black-browed Reed Warbler
Acrocephalus bistrigiceps
398
Oriental Reed Warbler
Acrocephalus orientalis
PASSERIFORMES: Locustellidae
399
Pallas's Grasshopper Warbler
Helopsaltes certhiola
400
Lanceolated Warbler
Locustella lanceolata
401
Chinese Bush Warbler
Locustella tacsanowskia
402
Dalat Bush Warbler
Locustella idonea
Endemic (country/region)
403
Striated Grassbird
Cincloramphus palustris
PASSERIFORMES: Pnoepygidae
404
Pygmy Cupwing
Pnoepyga pusilla
PASSERIFORMES: Hirundinidae
405
Gray-throated Martin
Riparia chinensis
406
Bank Swallow
Riparia riparia
407
Dusky Crag-Martin
Ptyonoprogne concolor
408
Barn Swallow
Hirundo rustica
409
Wire-tailed Swallow
Hirundo smithii
410
Pacific Swallow
Hirundo tahitica
411
Red-rumped Swallow
Cecropis daurica
412
Striated Swallow
Cecropis striolata
413
Rufous-bellied Swallow
Cecropis badia
414
Common House-Martin
Delichon urbicum
415
Asian House-Martin
Delichon dasypus
PASSERIFORMES: Pycnonotidae
416
Black-headed Bulbul
Brachypodius melanocephalos
417
Black-crested Bulbul
Rubigula flaviventris
418
Striated Bulbul
Pycnonotus striatus
419
Red-whiskered Bulbul
Pycnonotus jocosus
420
Brown-breasted Bulbul
Pycnonotus xanthorrhous
421
Light-vented Bulbul
Pycnonotus sinensis
422
Sooty-headed Bulbul
Pycnonotus aurigaster
423
Stripe-throated Bulbul
Pycnonotus finlaysoni
424
Flavescent Bulbul
Pycnonotus flavescens
425
Yellow-vented Bulbul
Pycnonotus goiavier
426
Streak-eared Bulbul
Pycnonotus conradi
427
Ochraceous Bulbul
Alophoixus ochraceus
428
Puff-throated Bulbul
Alophoixus pallidus
429
Gray-eyed Bulbul
Iole propinqua
430
Black Bulbul
Hypsipetes leucocephalus
431
Ashy Bulbul
Hemixos flavala
432
Chestnut Bulbul
Hemixos castanonotus
433
Mountain Bulbul
Ixos mcclellandii
PASSERIFORMES: Phylloscopidae
434
Ashy-throated Warbler
Phylloscopus maculipennis
435
Buff-barred Warbler
Phylloscopus pulcher
436
Yellow-browed Warbler
Phylloscopus inornatus
437
Hume's Warbler
Phylloscopus humei
438
Pallas's Leaf Warbler
Phylloscopus proregulus
439
Radde's Warbler
Phylloscopus schwarzi
440
Dusky Warbler
Phylloscopus fuscatus
441
Buff-throated Warbler
Phylloscopus subaffinis
442
Eastern Crowned Warbler
Phylloscopus coronatus
443
White-spectacled Warbler
Phylloscopus intermedius
444
Gray-cheeked Warbler
Phylloscopus poliogenys
445
Gray-crowned Warbler
Phylloscopus tephrocephalus
446
Bianchi's Warbler
Phylloscopus valentini
447
Alström's Warbler
Phylloscopus soror
448
Greenish Warbler
Phylloscopus trochiloides
449
Two-barred Warbler
Phylloscopus plumbeitarsus
450
Pale-legged Leaf Warbler
Phylloscopus tenellipes
451
Arctic Warbler
Phylloscopus borealis
452
Chestnut-crowned Warbler
Phylloscopus castaniceps
453
Sulphur-breasted Warbler
Phylloscopus ricketti
454
Blyth's Leaf Warbler
Phylloscopus reguloides
455
Claudia's Leaf Warbler
Phylloscopus claudiae
456
Davison's Leaf Warbler
Phylloscopus intensior
457
Kloss's Leaf Warbler
Phylloscopus ogilviegranti
PASSERIFORMES: Scotocercidae
458
Pale-footed Bush Warbler
Urosphena pallidipes
459
Asian Stubtail
Urosphena squameiceps
460
Gray-bellied Tesia
Tesia cyaniventer
461
Slaty-bellied Tesia
Tesia olivea
462
Yellow-bellied Warbler
Abroscopus superciliaris
463
Rufous-faced Warbler
Abroscopus albogularis
464
Black-faced Warbler
Abroscopus schisticeps
465
Mountain Tailorbird
Phyllergates cucullatus
466
Broad-billed Warbler
Tickellia hodgsoni
467
Manchurian Bush Warbler
Horornis canturians
PASSERIFORMES: Aegithalidae
468
Black-throated Tit
Aegithalos concinnus
PASSERIFORMES: Sylviidae
469
Golden-breasted Fulvetta
Lioparus chrysotis
470
Yellow-eyed Babbler
Chrysomma sinense
471
Indochinese Fulvetta
Fulvetta danisi
472
Gray-headed Parrotbill
Psittiparus gularis
473
Black-headed Parrotbill
Psittiparus margaritae
Endemic (country/region) Vulnerable
474
Black-throated Parrotbill
Suthora nipalensis
PASSERIFORMES: Zosteropidae
475
Indochinese Yuhina
Staphida torqueola
476
Black-chinned Yuhina
Yuhina nigrimenta
477
Stripe-throated Yuhina
Yuhina gularis
478
Chestnut-flanked White-eye
Zosterops erythropleurus
479
Swinhoe's White-eye
Zosterops simplex
480
Indian White-eye
Zosterops palpebrosus
PASSERIFORMES: Timaliidae
481
Chestnut-capped Babbler
Timalia pileata
482
Gray-faced Tit-Babbler
Mixornis kelleyi
483
Pin-striped Tit-Babbler
Mixornis gularis
484
Golden Babbler
Cyanoderma chrysaeum
485
Rufous-capped Babbler
Cyanoderma ruficeps
486
Buff-chested Babbler
Cyanoderma ambiguum
487
Brown-crowned Scimitar-Babbler
Pomatorhinus phayrei
488
Red-billed Scimitar-Babbler
Pomatorhinus ochraceiceps
489
Streak-breasted Scimitar-Babbler
Pomatorhinus ruficollis
490
White-browed Scimitar-Babbler
Pomatorhinus schisticeps
491
Large Scimitar-Babbler
Erythrogenys hypoleucos
492
Gray-throated Babbler
Stachyris nigriceps
493
Spot-necked Babbler
Stachyris strialata
PASSERIFORMES: Pellorneidae
494
Scaly-crowned Babbler
Malacopteron cinereum
495
Collared Babbler
Gampsorhynchus torquatus
496
Rufous-winged Fulvetta
Schoeniparus castaneceps
497
Black-crowned Fulvetta
Schoeniparus klossi
Endemic (country/region)
498
Rufous-throated Fulvetta
Schoeniparus rufogularis
499
Rusty-capped Fulvetta
Schoeniparus dubius
500
Puff-throated Babbler
Pellorneum ruficeps
501
Spot-throated Babbler
Pellorneum albiventre
502
Buff-breasted Babbler
Pellorneum tickelli
503
Abbott's Babbler
Malacocincla abbotti
504
Streaked Wren-Babbler
Gypsophila brevicaudata
505
Annam Limestone Babbler
Gypsophila annamensis
506
Eyebrowed Wren-Babbler
Napothera epilepidota
507
Short-tailed Scimitar-Babbler
Napothera danjoui
Near-threatened
PASSERIFORMES: Leiothrichidae
508
Brown-cheeked Fulvetta
Alcippe poioicephala
509
Black-browed Fulvetta
Alcippe grotei
510
Yunnan Fulvetta
Alcippe fratercula
511
Mountain Fulvetta
Alcippe peracensis
512
Himalayan Cutia
Cutia nipalensis
513
Vietnamese Cutia
Cutia legalleni
Endemic (country/region)
Near-threatened
514
Gray-crowned Crocias
Laniellus langbianis
Endemic (country/region) Endangered
515
Red-tailed Laughingthrush
Trochalopteron milnei
516
Collared Laughingthrush
Trochalopteron yersini
Endemic (country/region) Endangered
517
Golden-winged Laughingthrush
Trochalopteron ngoclinhense
Endemic (country/region) Endangered
518
Long-tailed Sibia
Heterophasia picaoides
519
Black-headed Sibia
Heterophasia desgodinsi
520
Blue-winged Minla
Actinodura cyanouroptera
521
Black-crowned Barwing
Actinodura sodangorum
Endemic (country/region)
Near-threatened
522
Silver-eared Mesia
Leiothrix argentauris
523
Red-tailed Minla
Minla ignotincta
524
Rufous-backed Sibia
Leioptila annectens
525
Spot-breasted Laughingthrush
Garrulax merulinus
526
Orange-breasted Laughingthrush
Garrulax annamensis
Endemic (country/region)
527
Chinese Hwamei
Garrulax canorus
528
Lesser Necklaced Laughingthrush
Garrulax monileger
529
White-crested Laughingthrush
Garrulax leucolophus
530
Black-hooded Laughingthrush
Garrulax milleti
Endemic (country/region)
531
Gray Laughingthrush
Garrulax maesi
532
Rufous-cheeked Laughingthrush
Garrulax castanotis
533
Chestnut-eared Laughingthrush
Ianthocincla konkakinhensis
Endemic (country/region) Vulnerable
534
White-cheeked Laughingthrush
Pterorhinus vassali
535
Black-throated Laughingthrush
Pterorhinus chinensis
536
Masked Laughingthrush
Pterorhinus perspicillatus
537
Greater Necklaced Laughingthrush
Pterorhinus pectoralis
538
White-throated Laughingthrush
Pterorhinus albogularis
PASSERIFORMES: Sittidae
539
Chestnut-bellied Nuthatch
Sitta cinnamoventris
540
Burmese Nuthatch
Sitta neglecta
541
Chestnut-vented Nuthatch
Sitta nagaensis
542
White-tailed Nuthatch
Sitta himalayensis
543
Velvet-fronted Nuthatch
Sitta frontalis
544
Yellow-billed Nuthatch
Sitta solangiae
Near-threatened
PASSERIFORMES: Certhiidae
545
Hume's Treecreeper
Certhia manipurensis
PASSERIFORMES: Sturnidae
546
Golden-crested Myna
Ampeliceps coronatus
547
Common Hill Myna
Gracula religiosa
548
Daurian Starling
Agropsar sturninus
549
Black-collared Starling
Gracupica nigricollis
550
White-shouldered Starling
Sturnia sinensis
551
Chestnut-tailed Starling
Sturnia malabarica
552
Red-billed Starling
Spodiopsar sericeus
553
Common Myna
Acridotheres tristis
554
Vinous-breasted Myna
Acridotheres leucocephalus
555
Great Myna
Acridotheres grandis
556
Crested Myna
Acridotheres cristatellus
PASSERIFORMES: Turdidae
557
Dark-sided Thrush
Zoothera marginata
558
Long-billed Thrush
Zoothera monticola
559
White's Thrush
Zoothera aurea
560
Scaly Thrush
Zoothera dauma
561
Purple Cochoa
Cochoa purpurea
562
Green Cochoa
Cochoa viridis
563
Siberian Thrush
Geokichla sibirica
564
Orange-headed Thrush
Geokichla citrina
565
Chinese Blackbird
Turdus mandarinus
566
Gray-winged Blackbird
Turdus boulboul
567
Japanese Thrush
Turdus cardis
568
Gray-backed Thrush
Turdus hortulorum
569
Black-breasted Thrush
Turdus dissimilis
570
Eyebrowed Thrush
Turdus obscurus
PASSERIFORMES: Muscicapidae
571
Gray-streaked Flycatcher
Muscicapa griseisticta
572
Dark-sided Flycatcher
Muscicapa sibirica
573
Ferruginous Flycatcher
Muscicapa ferruginea
574
Asian Brown Flycatcher
Muscicapa dauurica
575
Brown-breasted Flycatcher
Muscicapa muttui
576
Brown-streaked Flycatcher
Muscicapa williamsoni
577
Oriental Magpie-Robin
Copsychus saularis
578
White-rumped Shama
Copsychus malabaricus
579
White-gorgeted Flycatcher
Anthipes monileger
580
Rufous-browed Flycatcher
Anthipes solitaris
581
White-tailed Flycatcher
Cyornis concretus
582
Hainan Blue Flycatcher
Cyornis hainanus
583
Pale Blue Flycatcher
Cyornis unicolor
584
Chinese Blue Flycatcher
Cyornis glaucicomans
585
Hill Blue Flycatcher
Cyornis whitei
586
Indochinese Blue Flycatcher
Cyornis sumatrensis
587
Brown-chested Jungle Flycatcher
Cyornis brunneatus
Vulnerable
588
Large Niltava
Niltava grandis
589
Small Niltava
Niltava macgrigoriae
590
Fujian Niltava
Niltava davidi
591
Blue-and-white Flycatcher
Cyanoptila cyanomelana
592
Zappey's Flycatcher
Cyanoptila cumatilis
Rare/Accidental Near-threatened
593
Verditer Flycatcher
Eumyias thalassinus
594
Lesser Shortwing
Brachypteryx leucophris
595
Himalayan Shortwing
Brachypteryx cruralis
596
Rufous-tailed Robin
Larvivora sibilans
597
Japanese Robin
Larvivora akahige
598
Siberian Blue Robin
Larvivora cyane
599
Bluethroat
Luscinia svecica
600
Blue Whistling-Thrush
Myophonus caeruleus
601
Little Forktail
Enicurus scouleri
602
White-crowned Forktail
Enicurus leschenaulti
603
Spotted Forktail
Enicurus maculatus
604
Slaty-backed Forktail
Enicurus schistaceus
605
Siberian Rubythroat
Calliope calliope
606
White-tailed Robin
Myiomela leucura
607
Red-flanked Bluetail
Tarsiger cyanurus
608
Himalayan Bluetail
Tarsiger rufilatus
609
Yellow-rumped Flycatcher
Ficedula zanthopygia
610
Narcissus Flycatcher
Ficedula narcissina
Rare/Accidental
611
Mugimaki Flycatcher
Ficedula mugimaki
612
Slaty-blue Flycatcher
Ficedula tricolor
613
Snowy-browed Flycatcher
Ficedula hyperythra
614
Pygmy Flycatcher
Ficedula hodgsoni
615
Rufous-gorgeted Flycatcher
Ficedula strophiata
616
Little Pied Flycatcher
Ficedula westermanni
617
Taiga Flycatcher
Ficedula albicilla
618
Red-breasted Flycatcher
Ficedula parva
619
Plumbeous Redstart
Phoenicurus fuliginosus
620
White-capped Redstart
Phoenicurus leucocephalus
621
Daurian Redstart
Phoenicurus auroreus
622
Chestnut-bellied Rock-Thrush
Monticola rufiventris
623
White-throated Rock-Thrush
Monticola gularis
624
Blue Rock-Thrush
Monticola solitarius
625
Amur Stonechat
Saxicola stejnegeri
626
Pied Bushchat
Saxicola caprata
627
Jerdon's Bushchat
Saxicola jerdoni
628
Gray Bushchat
Saxicola ferreus
PASSERIFORMES: Dicaeidae
629
Scarlet-breasted Flowerpecker
Prionochilus thoracicus
Near-threatened
630
Thick-billed Flowerpecker
Dicaeum agile
631
Yellow-vented Flowerpecker
Dicaeum chrysorrheum
632
Orange-bellied Flowerpecker
Dicaeum trigonostigma
Rare/Accidental
633
Plain Flowerpecker
Dicaeum minullum
634
Fire-breasted Flowerpecker
Dicaeum ignipectus
635
Scarlet-backed Flowerpecker
Dicaeum cruentatum
PASSERIFORMES: Nectariniidae
636
Ruby-cheeked Sunbird
Chalcoparia singalensis
637
Brown-throated Sunbird
Anthreptes malacensis
638
Van Hasselt's Sunbird
Leptocoma brasiliana
639
Copper-throated Sunbird
Leptocoma calcostetha
640
Purple Sunbird
Cinnyris asiaticus
641
Olive-backed Sunbird
Cinnyris jugularis
642
Black-throated Sunbird
Aethopyga saturata
643
Mrs. Gould's Sunbird
Aethopyga gouldiae
644
Green-tailed Sunbird
Aethopyga nipalensis
645
Crimson Sunbird
Aethopyga siparaja
646
Fork-tailed Sunbird
Aethopyga christinae
647
Purple-naped Spiderhunter
Kurochkinegramma hypogrammicum
648
Little Spiderhunter
Arachnothera longirostra
649
Streaked Spiderhunter
Arachnothera magna
PASSERIFORMES: Irenidae
650
Asian Fairy-bluebird
Irena puella
PASSERIFORMES: Chloropseidae
651
Blue-winged Leafbird
Chloropsis cochinchinensis
652
Golden-fronted Leafbird
Chloropsis aurifrons
653
Orange-bellied Leafbird
Chloropsis hardwickii
PASSERIFORMES: Ploceidae
654
Streaked Weaver
Ploceus manyar
655
Baya Weaver
Ploceus philippinus
656
Asian Golden Weaver
Ploceus hypoxanthus
Near-threatened
PASSERIFORMES: Estrildidae
657
Scaly-breasted Munia
Lonchura punctulata
658
White-rumped Munia
Lonchura striata
659
White-bellied Munia
Lonchura leucogastra
660
Chestnut Munia
Lonchura atricapilla
661
White-headed Munia
Lonchura maja
662
Pin-tailed Parrotfinch
Erythrura prasina
PASSERIFORMES: Passeridae
663
House Sparrow
Passer domesticus
Introduced species
664
Plain-backed Sparrow
Passer flaveolus
665
Eurasian Tree Sparrow
Passer montanus
PASSERIFORMES: Motacillidae
666
Forest Wagtail
Dendronanthus indicus
667
Gray Wagtail
Motacilla cinerea
668
Eastern Yellow Wagtail
Motacilla tschutschensis
669
Mekong Wagtail
Motacilla samveasnae
Near-threatened
670
White Wagtail
Motacilla alba
671
Richard's Pipit
Anthus richardi
672
Paddyfield Pipit
Anthus rufulus
673
Olive-backed Pipit
Anthus hodgsoni
674
Red-throated Pipit
Anthus cervinus
PASSERIFORMES: Fringillidae
675
Brown Bullfinch
Pyrrhula nipalensis
676
Oriental Greenfinch
Chloris sinica
677
Vietnamese Greenfinch
Chloris monguilloti
Endemic (country/region)
678
Black-headed Greenfinch
Chloris ambigua
679
Red Crossbill
Loxia curvirostra
PASSERIFORMES: Emberizidae
680
Chestnut-eared Bunting
Emberiza fucata
681
Yellow-breasted Bunting
Emberiza aureola
Critically endangered
682
Little Bunting
Emberiza pusilla
683
Chestnut Bunting
Emberiza rutila
References