The Central Highlands of Vietnam is one of the most fascinating areas in the country. Covering provinces of Dak Lak, Dak Nong, Gia Lai, Kon Tum and Lam Dong, the Central Highlands is an area of stunning natural beauty.
Overview of Central Highlands
Vietnam's Central Highlands region has slowly opened up to tourists over the past decade after years of government enforced travel restrictions and today foreigners can explore the main centres of this region with relative ease. Occasionally regulations will require you to use a guide when visiting the hinterland but for most places you will be fine just on your own.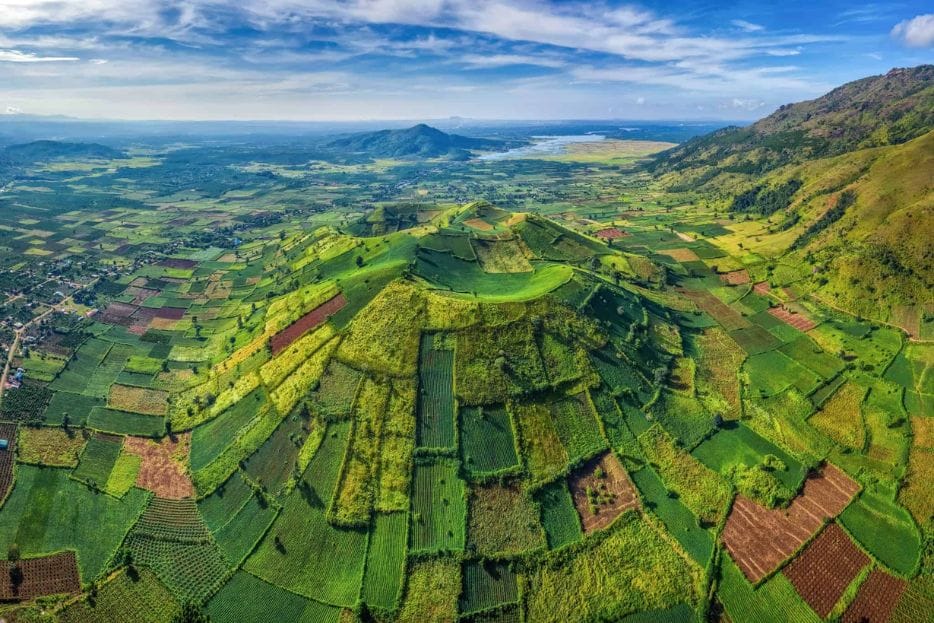 Travelling through Vietnam via the magnificent Central Highlands is a fabulous alternative to the much trodden coastal route. The Central Highlands boast beautiful natural features such as relatively untouched forests, waterfalls and spectacular scenery, which contrast with areas still bearing the savage scars of war.
People
A large number of ethnic minority groups still live traditionally in the Central Highlands, particularly around Kon Tum, Pleiku, Buon Ma Thuot and Da Lat. During the summer season, Da Lat becomes a popular destination as its high altitude offers a slightly cooler temperature than the almost unbearable heat of the southern plains. This, combined with its proximity to Ho Chi Minh City and some great animal-shaped paddle boats plying its main lake, has made it the epicentre of domestic tourism.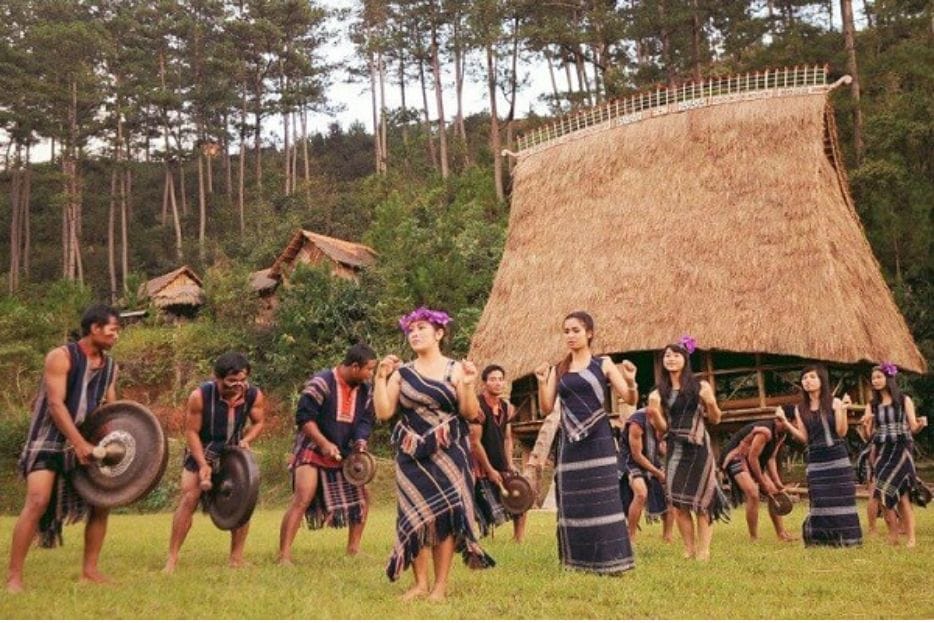 Geography
Location
The Central Highlands is a plateau bordering the lower part of Laos and northeastern Cambodia. Kon Tum Province shares a border with both Laos and Cambodia but Gia Lai Province and Dak Lak Province only share borders with Laos. Lam Dong Province is landlocked, and thus has no international border with any other nation.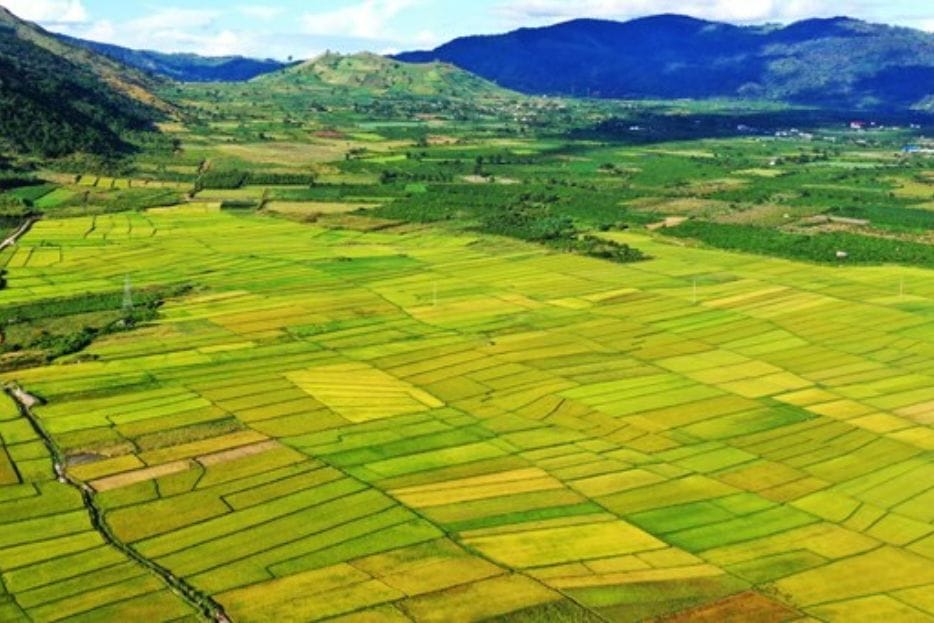 Actually, the Central Highlands is not situated on a unique plateau, instead it lays on series of contiguous plateaus, namely Kon Tum at the height of 500 m, Kon Plong Plateau, Kon Ha Nung Plateau, Pleiku with the height of around 800m, Mdrak Plateau of approximately 500 m, Dak Lak of around 800m, Mơo Nong with the height of about 800–1000 m, Lam Vien Plateau of approximately 1500 m and Di Linh Plateau of about 900–1000 m. All of these plateau are surrounded by the high mountain ranges and mounts (South Anamite Range).
Structure
The Central Highlands can be divided into 3 subregions according to its deviation in topography and climate, namely: North Central Highlands (Bắc Tây Nguyên) (inclusive of Kon Tum and Gia Lai Provinces), Middle Central Highlands (Trung Tây Nguyên) (including provinces of Dak Lak and Dak Nong), South Central Highlands (Nam Tây Nguyên) (covering Lam Dong Province). Middle Central Highlands has lower altitude and therefore has a higher temperature from other two subregions.
Nature
The Central Highlands has an average altitude of 500–600 m with basalt soil, suitable for planting coffee tree, cacao, pepper, and white mulberry. Cashew and rubber plants are also planted here. Coffee is the most important product of the Central Highlands. It contains in it many primitive forests and is protected in its national parks, such as Cat Tien National Park, Yok Don National Park, Kon Ka Kinh National Park.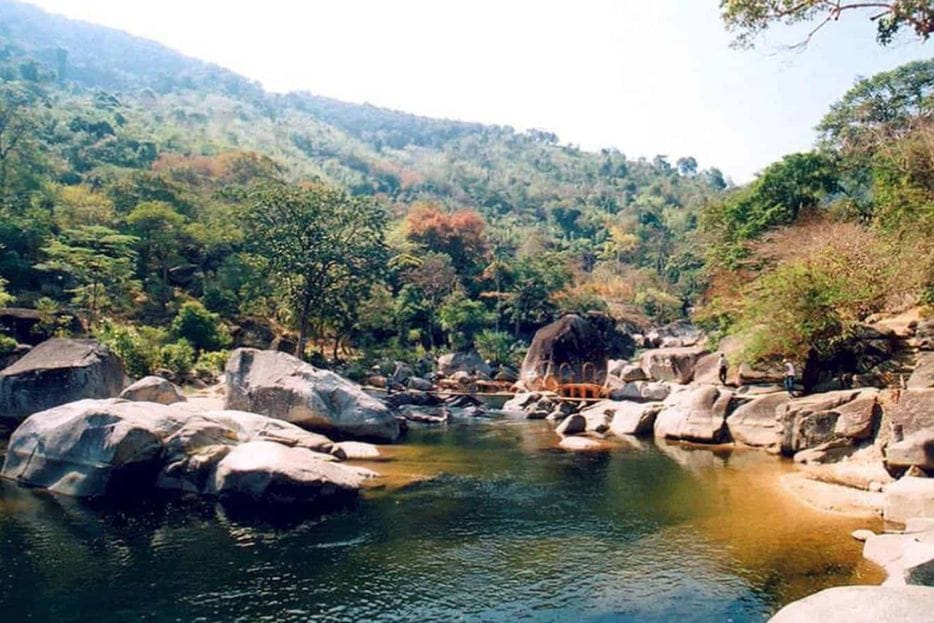 Weather of Central Highlands
Vietnam's Central Highlands are a distinct contrast from the tropical south, with an arid climate, rolling hills, and blue skies. The cool season in the Highlands runs between November and January, with temperatures averaging around 12 to 15 degress Celsius.
In February, March and April the mercury surges into the 30s. Come late April, early May, the rains begin and the temperatures begin to drop a little, with the monsoon ending in October. July and August are the wettest months.
Due to the Highland's elevated altitude, year-round the weather is cooler than on Vietnam's coast. Even in the hot season, mornings and evenings can be chilly and downright cold late at night. If you are planning on travelling by motorbike, keep these conditions in mind when packing as those morning chills will slice through a T-shirt with ease at 60km/h.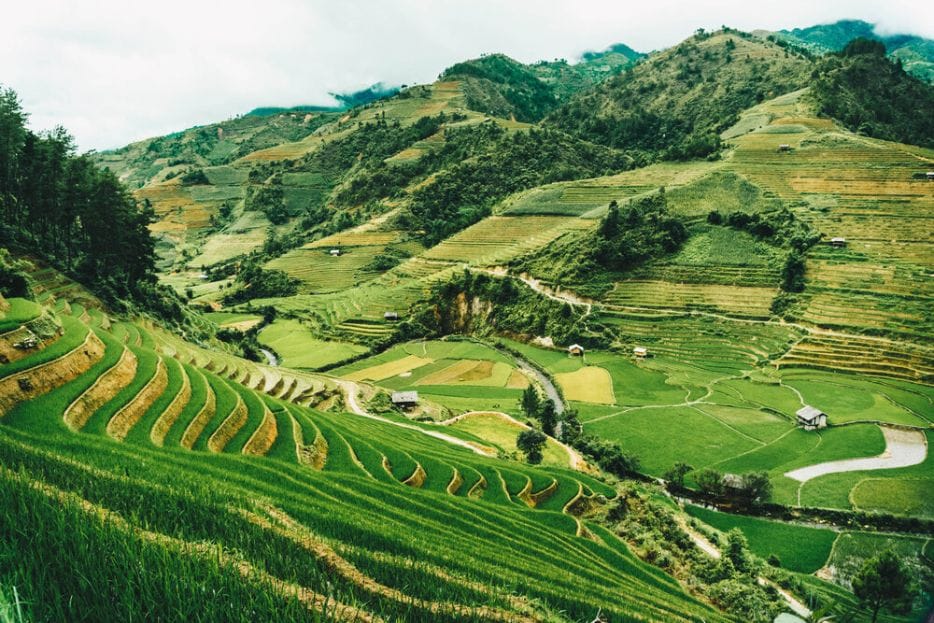 During the warming, dry months of February through April, the area can be parched and not particularly pleasant to travel in. By April, dust and haze are major issues, as can be bushfires (both intentional and natural). The rivers are low and the scenery is not as scenic, as the remainder of the year.
Across wet season, torrential rains can cause flash flooding. The dust turns to mud and getting around, particularly on the minor roads, slows down considerably. Through July and early August the rain can seem to be almost continual. If the rain and mud do not deter you, this is a good time of year to see the region at its lushest.
Best attractions of Central Highlands
Da Lat is the most popular centre in the Central Highlands, followed by Buon Ma Thuot, Kon Tum and Pleiku. Most travellers, especially those on the Open Tour system, visit just Da Lat, but some opt for all four of the main destinations Da Lat, Buon Ma Thuot, Pleiku and Kon Tum. The scenery is stunning. Forests, waterfalls, lakes and rivers are accessible for hiking and trekking, and there is plenty to see. To the south, Nam Cat Tien National Park is one of the most biologically diverse locations in Indochina.
Đa Lat Plateau
Wedged towards the southern end of the Central Highlands, the rolling hills and lush landscape of Lam Dong province have attracted domestic and international visitors ever since the founding of the provincial capital, Da Lat, in 1897. Da Lat is one of Vietnam's premiere destinations for kitsch-hardened domestic tourists. If you are planning on just visiting Da Lat, two to three days should be plenty of time to take in all the province has to offer.
Add another day if you want to overnight in Cat Tien National Park. The province boasts a comfortably temperate climate and tremendously fertile soil — both of which have helped it develop as a tourist retreat (the original intention) and as an agricultural centre producing some of the finest fresh produce in the region.
Taking in the sights and scenery surrounding Da Lat, with the longer trips heading out to Cat Tien National Park, many people opt to pick up a trip with the Easy Riders, an informal motorcycle tour group. The province of Lam Dong was once rich in wildlife and Da Lat was for a while the epicentre of Vietnam's hunting "scene". Unabashedly kitsch, Da Lat tends to either charm or repulse. The town's penchant for Disneylandesque attractions leaves many scratching their head.
For others however, the stunning rural scenery, cool climate and somewhat avant-garde student scene more than compensate for the undeniably appalling taste displayed across Da Lat.
Buon Me Thuot
Buon Ma Thuot is the second most popular centre in the Central Highlands and the trips here tend to be done by pre-organised groups and are focused on city tours, some villages in the immediate surrounds and Yok Don National Park.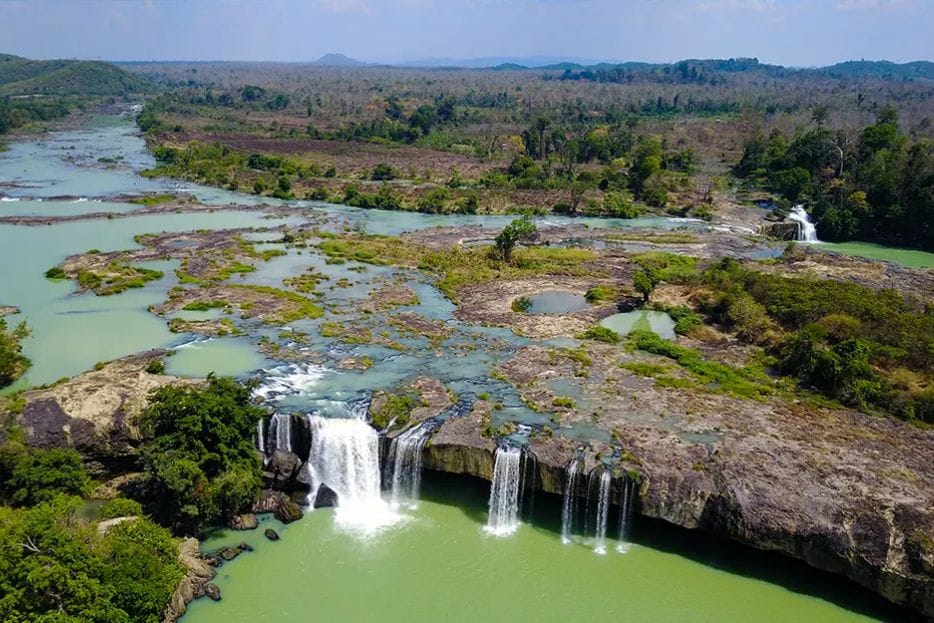 Pleiku
In Pleiku, you can visit Banhar and Jarai minority villages, including a day-long trek that takes you through four Banhar villages. We found the city tour over-hyped and the veteran tours would really only be of interest to those with an active interest in the war. Tours into the surrounds take in waterfalls, elephant rides and folk-shows, but it is suggested that Buon Ma Thuot being a better base for this type of trip.
Kon Tum
Kon Tum offers the best potential as a true trekking destination, with a selection of possibilities including multi-day trips involving sleeping rough and visiting very remote villages. The per-person price for groups drops, so try to rustle up more people to lower the cost. You would be well advised to find like-minded travellers on Vietnam's coast and then head to Kon Tum together, as the chances of just showing up in Kon Tum and joining a group about to go trekking are as good as finding a hamburger with the works there.
For those who enjoy getting off the common tourist trail, the highlands are a great destination. It is quite easy to include a detour to this historically significant region as a circuit from the coast, leaving and returning from either Quy Nhon or Nha Trang, with a separate excursion required to reach Da Lat from Phan Rang or Ho Chi Minh City. Two weeks would allow ample time to explore, while in one week you would see the basics.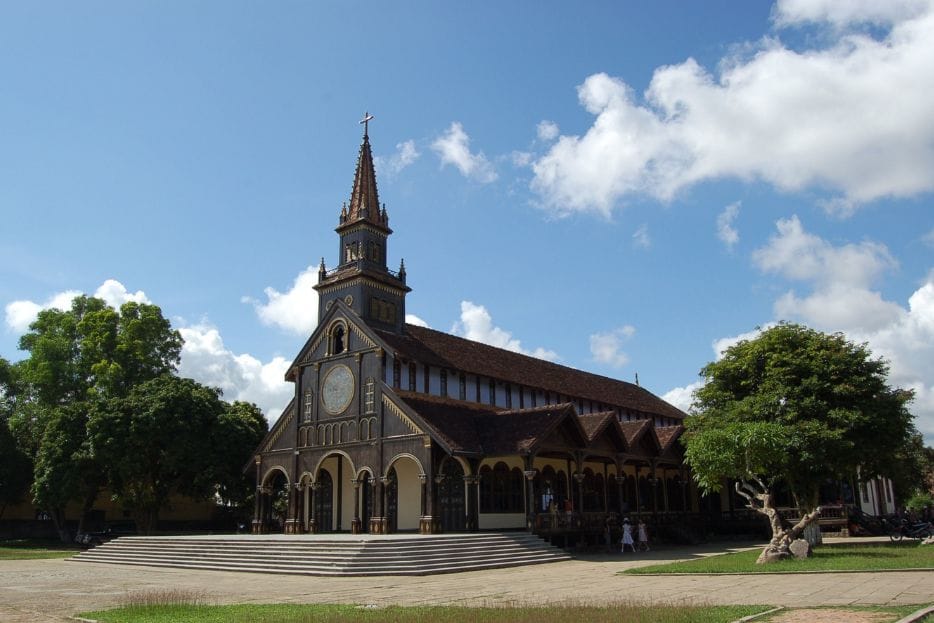 The best time of year to visit the Highlands is between November and January, when the landscape is lush, the rain minimal and the weather temperate.
Summary
Vietnam's Central Highlands really attracts tourists for its cool climate, mountain scenery, numerous of stream, lakes and water falls, the pine-forest hills, cultivated vegetable, flower valleys and many other sites. Besides, the Central Highland is high biodiversity with lots of endemic bird species so you can attend and experience bird-watching here.