Birdwatching is important for many personal, societal and conservation reasons. Birdwatching provides huge amounts of data to conservation researchers, it is good for one's physical and mental health, it has a massive positive economic impact, it helps connect people with nature and addresses the problem of 'Nature Deficit Disorder' in children.
Conservation research
Birdwatcher's contribution to bird research cannot be underestimated. The amount of high-quality research grade data that they generate is truly astounding. For example, in March 2018, eBird received its 500 millionth bird record. In South Africa, around 800 birders supporting the Southern African Bird Atlas Project (SABAP) have collected over 5 million records as of March 2018. In the United Kingdom, almost half-a-million Big Garden Birdwatch participants counted a staggering 7.67 million birds in only three days in 2019.
All of this data enables conservation researchers to generate statistically significant species-by-species snapshots over time. In the UK, the Big Garden Birdwatch has been running for over 40 years and this has enabled their researchers to track changes in species populations. For example, it has been found that starlings have showed a steady decline in their numbers and have dropped a cumulative 81 per cent since the Big Garden Birdwatch began in 1979.
A 2018 study by Joshua Horns showed that eBird data was able to produce population trends that differ on average by only 0.4% per year from formal surveys! So, armed with the species level data, researchers are better equipped to understand where vulnerable species exist and what may be causing their decline. Most importantly, the volume of data they have to work with enables them to produce statistically rigorous evidence, the sort of evidence required to compel authorities to take action.
Birds are apex species – so by conserving them, you inadvertently conserve a whole host of other species that are just as important as birds but may not have the same affinity with the public.
Connection with the outdoors and wildlife
Birdwatching is important because it provides an intimate connection between people and their natural environment. People who share a connection with nature and spend time observing wildlife have a stake in ensuring its preservation. A 2015 study in the US showed that wildlife recreationists were 4–5 times more likely to engage in conservation behaviours compared to non‐recreationists. These behaviours include, donating to support local conservation efforts, enhancing wildlife habitat on public lands, advocating for wildlife recreation and participating in local environmental groups. So ultimately, more wildlife recreationists such as birdwatchers will lead to better protection of the world's wildlife and wilderness spaces.
How is birdwatching important for children?
Research by Gallup has shown that children in the US, between the ages of 2 and 10 years old, are spending almost 19 hours a week involved in screen-based play, almost 15 hours a week involved in indoor screen-free play and only around 11 hours a week involved in outside play. With so little time being spent outside, are our children getting the opportunity to engage with nature? Richard Louv, journalist and advocate for children in the natural world, describes problem as 'Nature Deficit Disorder'.
He believes that this is a serious problem that can only be addressed by getting children outdoors and connected to nature. Birdwatching is a perfect solution to this problem because it is an inexpensive hobby that is accessible to most children around the world. It is also something that can be done with family and friends or as part of an educational school excursion.
Birdwatching is good for your physical and mental health
Birdwatching is an active hobby that involves getting out of the house and exploring. This could be the physical benefit of getting off your sofa and venturing out into your garden, a walk to a nearby park or even a birding vacation to another country.
The physical and mental benefits of being active and spending time outdoors are well documented. Being physically active reduces one's risk of developing diabetes, heart disease or having a stroke. From a mental health perspective, research shows that exercise helps boost memory and cognitive skills and it has even been shown that regular aerobic exercise increases the size of the brains hippocampus, a section of the brain that is critical in memory and learning.
The economic impact of the birdwatching industry
Birdwatching is one of the top 10 hobbies globally, with birders having a significant economic impact through their spending on a variety of trip-related and equipment related purchases. Their trip-related expenditure includes accommodation, transport, catering related spending and equipment-related expenditure includes binoculars, cameras, clothing, books etc. According to a 2011 birding survey conducted by the U.S. Fish and Wildlife Service, birdwatchers in the US spent $14.8bn on trip-related expenditure and $26.1bn on equipment-related expenditure.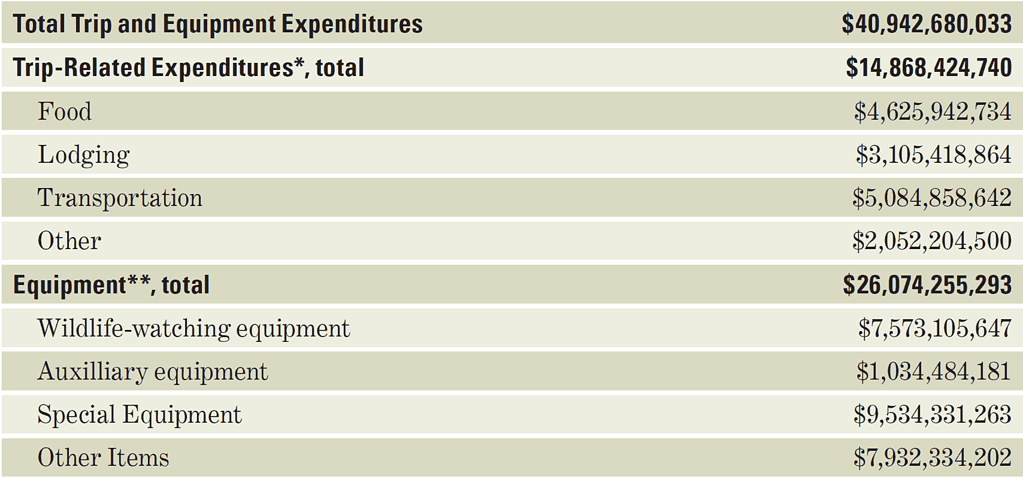 One can only imagine the size of the global birdwatching industry and its contribution towards sustainable jobs and indirectly towards protecting the world's wildest places.

Passing on to the next generation
On a personal level, birdwatching is enormously important to me. As someone who has grown up in a family of birdwatchers, I've always felt the benefits of a strong connection with nature and the outdoors. Over the years I've lived in many different places but Africa's magnetism has always pulled me back and I'm at my happiest when I'm immersed in it's wilderness.
And now, the experience I had as a child I'm trying to pass on to my two girls. We birdwatch in our garden on a daily basis and the pleasure I get from listening to my two year old identifying a Southern Boubou just by its call is amazing! If we can all pass just a little of this passion on to the next generation then the conservation of our world's birds has the best possible chance.
Source: https://birda.org/