One of the questions we get asked most frequently by our readers involves how to choose a responsible tour operator, eco-hotel, eco lodge, or eco-resort.  
Research shows that global interest in ecotourism (which was defined by The International Ecotourism Society as "responsible travel to natural areas that conserves the environment and improves the welfare of local people") has grown rapidly in recent years.
According to the Center For Responsible Travel's Travel Trends & Statistics report, around one in five consumers (21%) say they would be willing to pay more for a trip with a company that has a better environmental and social record.
A report by The Travel Foundation found that 66% of travelers surveyed would like to be able to identify a "greener" holiday more easily. And 84% of those working in travel PR/marketing see "green" credentials becoming increasingly important in the near future.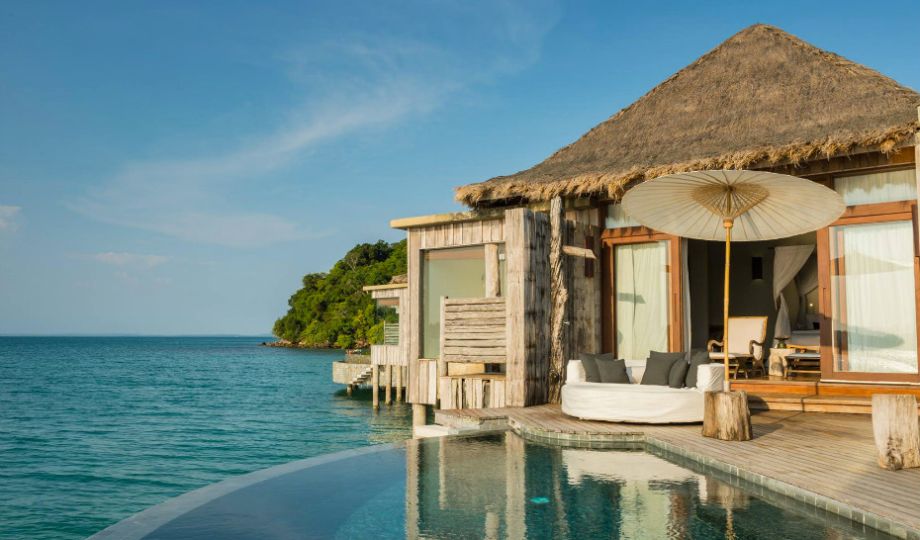 Unfortunately, these sorts of stats attract a good bit of greenwashing from profit-driven people looking to cash in on the eco-friendly movement. So how do you find a responsibly managed eco resort when you travel? And what's the difference between an eco resort, eco lodge, and an eco hotel?
Read on for the answers to these questions and many others, as well as our guide to some of the most acclaimed eco hotels, eco lodges, eco resorts around the world…
ECO RESORT, ECO LODGE, OR ECO HOTEL?
The primary difference between an eco resort and an eco lodge is generally the amount of services that are provided on site.
In general, eco resorts tend to be located on larger properties than eco lodges, and may offer more amenities, such as spas, a choice of restaurants, and/or a variety of local tours. However, in our personal experiences, the terms eco lodge and eco resort are used somewhat interchangeably.
The biggest difference between an eco resort or eco lodge and an eco hotel is the setting in which you'll find them.
Eco resorts and eco lodges tend to be more remote, located in relatively pristine natural environments such as exotic islands, forests, and mountains. Eco hotels, on the other hand, are more often associated with cities and towns.
One thing all three of these "green" accommodation options have in common is that they emphasize elements such as environmental responsibility and minimizing negative impact.
The best ones also offer renewable energy sources, recycling services, eco-friendly toiletries, energy efficient lighting, locally sourced food, organic linens, non-toxic cleaning supplies, non-disposable dishes, water conservation methods, and various other sustainability-focused initiatives.
But most eco resorts tend to be more dependent on the natural environment than eco hotels.
They're also generally more active in nature and wildlife conservation, more focused on educating visitors about the flora and fauna of local ecosystems, and more deeply connected with the area's indigenous culture (whose influence is often incorporated into the eco resort's decor and restaurant menu).
The best eco resorts and eco lodges also work to ensure positive relationships with the local people. They train and employ them at fair wages, take part in community development initiatives, offer activities that help visitors conserve and appreciate local customs, and contribute to the local economy.
In this way, they reinforce the notion of ecotourism as a more sustainable long-term business model than altering or destroying habitats for quick financial gains.
CHOOSING AN ECO HOTEL/ECO LODGE/ECO RESORT
One of the biggest challenges that eco-friendly hotels and resorts face is the lack of a universal definition. Exactly how environmentally friendly does an eco lodge need to be in order to qualify? And who determines which accommodations will pass muster?
Unfortunately, some of the world's most well-known and respected "green" certification programs are cost-prohibitive for many eco lodges, which are often relatively small and owned and operated by independent entrepreneurs rather than corporations.
But there are numerous reputable certification programs that responsible travelers can look for before they book their stay at a given eco hotel, eco lodge, or eco resort.
Many– including Green Seal in the U.S.– are part of the Global Ecolabelling Network, a non-profit group comprised of 25 third-party organizations throughout the world. They're all devoted to improving, promoting and developing labelling systems for eco-friendly products and services.
Sponsored in part by the United Nations World Tourism Organization, the Global Sustainable Tourism Council Criteria are widely considered the gold standard in "green" certification.
These criteria involve effective sustainability planning, maximizing social and economic benefits for the local community, enhancing cultural heritage, and reducing negative impacts to the environment.
Where the GSTC has guidelines for destinations, hotels/resorts, and tour operators, Green Key Global is designed specifically for the lodging industry. Its flagship Eco-Rating Program, which evaluates properties on an environmental, social, and economic level, has certified around 2,370 eco hotels and eco lodges in 52 countries over the past 15 years.
Green Globe is another popular certification program, offering training and education for hotels/resorts, attractions, organizations, cruise ships, and various tourism industry suppliers.
Their global network of independent auditors provide third-party inspection and an internationally recognized seal of approval that's become increasingly popular over the past 25 years.
BEST ECO LODGES IN ASIA
1. DAINTREE WILDERNESS LODGE (AUSTRALIA)
Named one of the Top 50 Lodges In the World by National Geographic, Daintree is run in partnership with the local Kuku Yalanji tribe, allowing guests a rare chance to immerse themselves in the culture of Australian Aborigines.
The lodge is set in the Daintree Rainforest, the world's oldest, which is part of the Wet Tropics of Queensland (a UNESCO World Heritage Site) on Australia's northeast coast.
The landscape looks like something out of Jurassic Park, surrounded by sandy beaches, rugged mountains, waterfalls and pristine forests. The area contains around 65% of Australia's bat and butterfly species; 30% of the frog, reptile and marsupial species; and 18% of the bird species.
The lodge's Advanced Eco Certification ensures your stay in their elevated treehouse-style villas makes a minimal impact on the pristine environment.
Activities include painting workshops using ocher from a nearby waterfall and hiking tours to explore the ancient, otherworldly plants of the forest. And the Great Barrier Reef Marine Park, of the world's best places to Scuba dive, is less than an hour away.
2. FEYNAN ECOLODGE (JORDAN)
After a 14-kilometer hike through the mountainous terrain of Jordan's Dana Biosphere Reserve, Feynan seems like a mirage rising out of the desert.
Named one of the Top 50 Ecolodges in the World by National Geographic, Feynan is part of a unique partnership between EcoHotels (a private company) and Jordan's Royal Society for the Conservation of Nature (RSCN).
Feynan Ecolodge is a pioneer of sustainability, not just in Jordan but the entire Middle East region. It is fully solar-powered via photovoltaic panels mounted on the roof, with natural ventilation, and all water coming from a local spring.
A substantial portion of Feynan's revenue helps fund conservation efforts in Dana, which covers 320 square kilometers and contains the highest level of biodiversity in Jordan.
Activities at Feynan range from hiking and biking in the reserve to spending the day with a shepherd, learning about Bedouin culture from a local family in their goat-hair tented home, and taking a cooking class and making a 3-course Jordanian meal.
But our favorite was spending the night sleeping on a bed under the stars on the eco lodge's roof.
3. THREE CAMEL LODGE (MONGOLIA)
If Mongolia isn't on your travel bucket list, this ultra-traditional eco lodge (which National Geographic Traveler named one of the World's Best Ecolodges in 2013) should be.
Set against the dramatic backdrop of the Gobi Altai mountains, the lodge offers 35 authentic gers– the yurt-style tents favored by Mongolia's nomads– made from circular wooden frames covered in thick felts and canvas.
The interior features hand-carved furniture, wool carpets, camel-hair blankets and wood-burning stoves. The main building, from its wooden peg construction to its hand-molded roofing tiles, was designed like an ancient Buddhist temple.
With a focus on environmental and cultural preservation, the lodge is a reflection of its unspoiled natural surroundings on the Mongolian steppes.
Available activities include helping paleontologists excavate the Flaming Cliffs, home visits with local nomads, and throat-singing performances at the lodge. Or you can just immerse yourself in the beauty of your surroundings, watching spectacular sunsets over the great Gobi Desert.
4. TOPAS ECOLODGE (VIETNAM)
Located in the Sapa Valley of north Vietnam, Topas Ecolodge (another of National Geographic's certified Unique Lodges) has sustainability as the core foundation upon which its reputation was built.
The remote Sapa eco lodge is set high in the hills, overlooking the valleys of Hoang Lien National Park. The 33 chalet-style granite bungalows don't have TV or Wifi. But with your own expansive balcony overlooking stunning mountain tops and pastoral rice-terraced valleys, you won't miss technology one bit.
The lodge's blissful infinity pool is heated by an eco-friendly system which uses 85% less energy than regular pools. If you're looking for further relaxation, be sure to check out their spa, which specializes in traditional Red Dao herbal baths.
This Vietnam eco lodge has also preserved traditional Tay stilt houses, which now contain a restaurant and lounge that serves locally produced, pesticide-free products. In addition, Topas Ecolodge has its own chicken farm and grows organic vegetables behind the restaurant.
To reduce waste, all food leftovers are given to local farmers to feed their livestock, and cans and boxes are given to the local people to reuse in their households.
5. TWO SEASONS CORON ISLAND RESORT & SPA (PHILIPPINES)
This 5-star luxury Coron eco resort is a sanctuary for Giant Clams and Sea Turtles. Located on the Malaroyroy Peninsula of Bulalacao Island in northern Palawan, Two Seasons Coron Island Resort & Spa has 42 beautiful bungalows between two beaches (one for sunrise and one for sunset).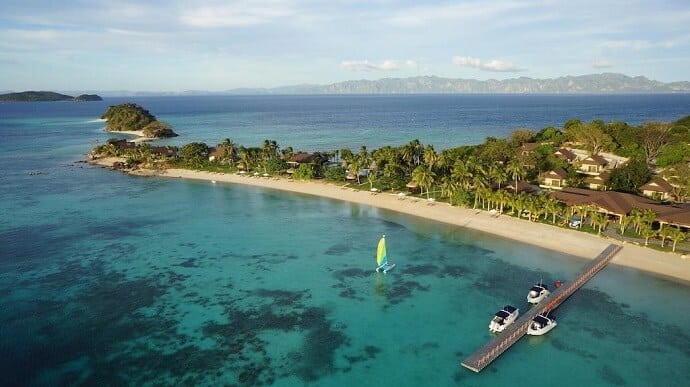 The resort's amenities include a world-class spa with panoramic views of the sea and mangrove forest, a house reef bustling with marine life, lush tropical gardens, transparent kayaks, HydroBOB submersible scooters, Scuba diving courses, and much more.
Since this tropical paradise is far removed from the nearest town, the resort must be 100% self-sustaining. To that end, they use solar panels to heat water and have a desalination plant which can produce over 21,oo0 gallons of fresh water in a day.
Two Seasons' other sustainable initiatives include a sewage treatment plant that produces grey water to be used in the bathrooms for flushing, and a separate system wherein solid waste is discharged on a drying bed and used as fertilizer.
It's a 100% zero waste resort: You'll be hard pressed to find a more sustainable eco lodge in Coron, or any other part of Palawan.
6. THE GREEN HOTEL (INDIA)
Located in southwest India outside the city of Mysore, you'll find a Chittaranjan Palace that was saved from demolition and restored as a lovely eco hotel. The beautiful gardens that surround the palace have won first prize in the Mysore Horticultural Society's Best Garden category for over ten years running.
In addition to the 31 uniquely themed (Writer's Room, Bollywood Suite, Princess Room, etc) rooms, guests can choose to relax in several drawing rooms decorated with antique furniture, one of many libraries, or sit outside on one of the lovely verandas.
The Green Hotel restaurant serves vegetarian and non-vegetarian food. Be sure to save room for the baked goods by a French-trained chef, which you'll find at the women-run Malgudi Coffee Shop.
The hotel's sustainability initiatives include using solar energy and recycled water for the garden. The work of award-winning local craftsmen decorate the hotel, and all profits are distributed to charitable and environmental projects in India