Quảng Nam is seeking sustainable solutions for the conservation of critically endangered primates living in a primary forest while creating stable livelihoods for farmers in Tam Mỹ Tây Commune – which is home to 50 endangered grey-shanked douc langurs.
A 120 ha-area of acacia log farms provide significant income for 40 households living in the commune, but the development of log farms has pushed the endangered primates to the brink of extinction.
A plan to transform the livelihoods of farmers while promoting eco-tour development, reforestation and gardening has been developed by the local authorities as a measure to restrict human activities around the habitat of the endangered primates. This means that acacia farms will be gradually replaced by native trees or timber that provide food and shelter for the animals. Acacia log farms provide major incomes for villagers living near the mountains of Hòn Dồ, Hòn Ông, Dương Bông and Dương Bản Lầu. The langurs – which were found living in the natural forest area in 1997 – are safe living with the community.
Mr Võ Ngọc Danh, from Đồng Cố village, said: "We support the local conservation plan for the endangered species, but we need to adapt to other trades to make a living".
Vice chairman of Việt Nam Zoological Association, professor Đặng Vũ Khôi said small primary forests must be expanded to offer food and safe habitat for the langurs. The species will die out soon due to the rapid development of log farms and harmful human activities in the area. The urgent conservation of the grey-shanked douc langurs and expansion of forests would help Quảng Nam Province set up a unique eco-tour and ecological education and research centre in Việt Nam.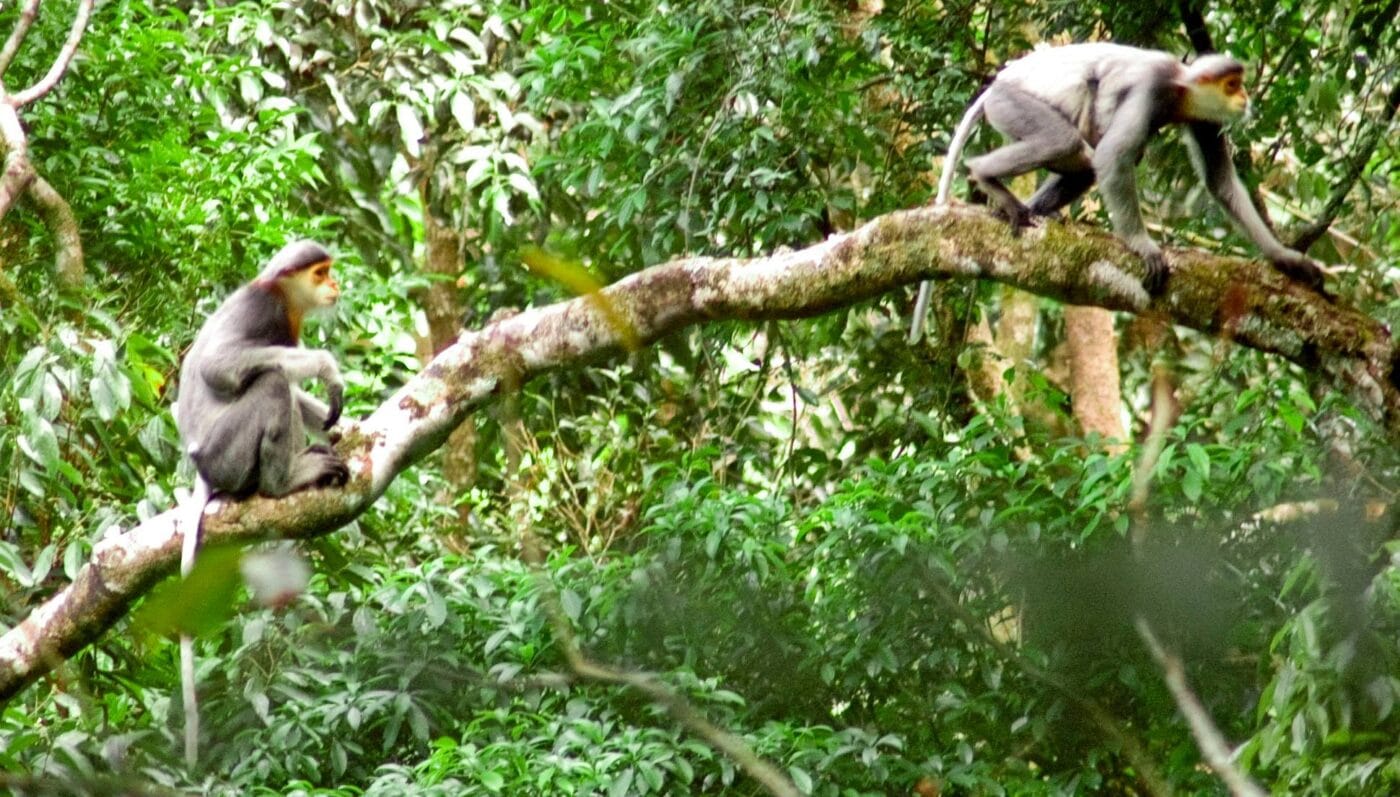 Director of GreenViet Trần Hữu Vỹ said the grey-shanked douc langur species was isolated by surrounding acacia log farms. Log farms separated the green corridor for the langur families for moving for food in the natural forest – which supplies 75 per cent of food for the primates. The langurs could only live in their 'small houses' (natural forest from 50m to 150m wide) on the top of mountains.
Dr Hà Thăng Long, Head of the representative office of the Frankfurt Zoological Society in Việt Nam, who is an authority on grey-shanked douc langur studies, suggested the 25ha area of the natural forest should be expanded from Tam Mỹ Tây Commune to the Riverhead forest of Phú Ninh and Trà Bồng in neighbouring Quảng Ngãi Province to create a safe corridor for langurs. He said it naturally helps build up a larger conservation zone for the endangered primates and forest in combination with a rich biodiversity and research centre of langurs.
Around 1.000 grey-shanked doucs were recorded living in forests of five provinces, including Quảng Nam, Quảng Ngãi, Bình Định, Kon Tum and Gia Lai. Gia Lai's National Kon Ka Kinh Park preserves the largest number of langurs. The grey-shanked douc langur – which is listed on the International Union for Conservation of Nature red list as one of the world's 25 critically endangered primates – could be seen in Việt Nam. An area of 150ha on forest restoration in the area would help establish a conservation site of the langur population.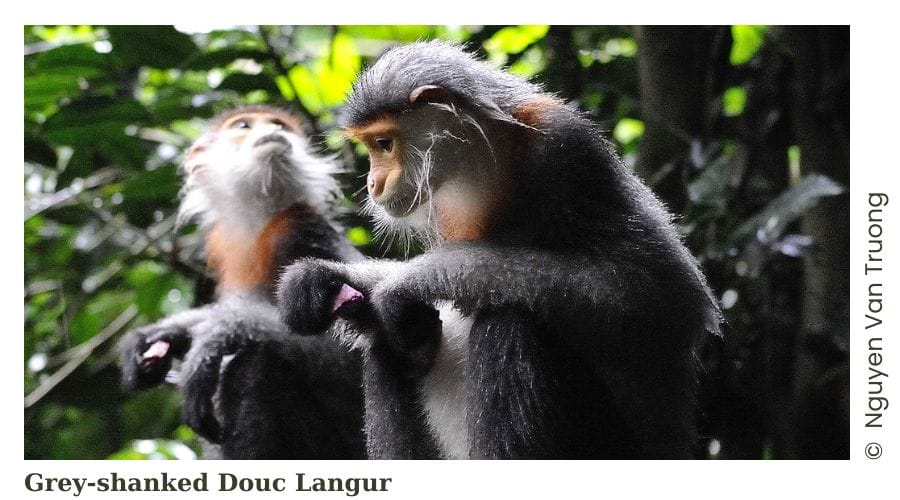 "The community and the responsible government administrations should come to an agreement where the acacia plantations in the core zone are 'given back' to nature in order to restore the douc habitat. So, the legal owners should be compensated in a good way and the government administration should ensure long-term conservation of this area", he said.
He also said local authorities could apply 'rainforestation farming' models in planting different native valuable timber trees, fruit and medicinal plants instead of acacia. Restoration of native trees is needed for feeding langur doucs and human activities and approaching endangered primates should be restricted.
Vice Chairman of Quảng Nam Province Lê Trí Thanh agreed with plans of restoration for a 150 ha forest as a habitat for herds of grey-shanked douc langurs from 2019 – 2028, and the area would be built as a habitat and species conservation area. The Province also plans to include the forest restoration as part of the United States Agency for International Development (USAID)-funded Green Annamites Project.
Source: Mai Hương (VNS) | Link here