Vietnam is one of the countries with high biodiversity, characterized by significant climate variations, ranging from near-equatorial regions to adjacent subtropical areas. The diverse topography contributes to the richness of various ecosystems, particularly the iconic forest ecosystems in the region.
Up to now, Vietnam has established, maintained, and strengthened a system of policies and legal frameworks for forest protection and biodiversity conservation. Simultaneously, a network of special-use forests has been developed to preserve biodiversity in natural ecosystems. Notably, among them is Cat Tien National Park.
Read more: Exploring the Richness: Biodiversity Wonders of Cat Tien National Park in Viet Nam
Due to the richness of biodiversity, the conservation significance of nature is highly valued globally. The importance of natural ecosystems and the unique cultural values of the local community for socio-economic development in the region are recognized.
Cat Tien National Park (NP) has been acknowledged by international conservation organizations with prestigious titles such as a UNESCO Biosphere Reserve, Ramsar Wetland of International Importance, and designated as a Special National Monument by the Vietnamese Government. On November 10, 2001, Cat Tien National Park was recognized by UNESCO as the 411th biosphere reserve in the world and the second biosphere reserve in Vietnam.
Read more: 7 Primate Species in Cat Tien National Park: Unveiling the Enchanting Majesty of these Playful and Clever Companions
Cat Tien NP has become one of the pioneering national parks in the country's conservation efforts. With such diversity, the park has also engaged in biodiversity conservation programs in collaboration with both domestic and international conservation organizations. Let's explore these Conservation programs at Cat Tien National Park with WANEE!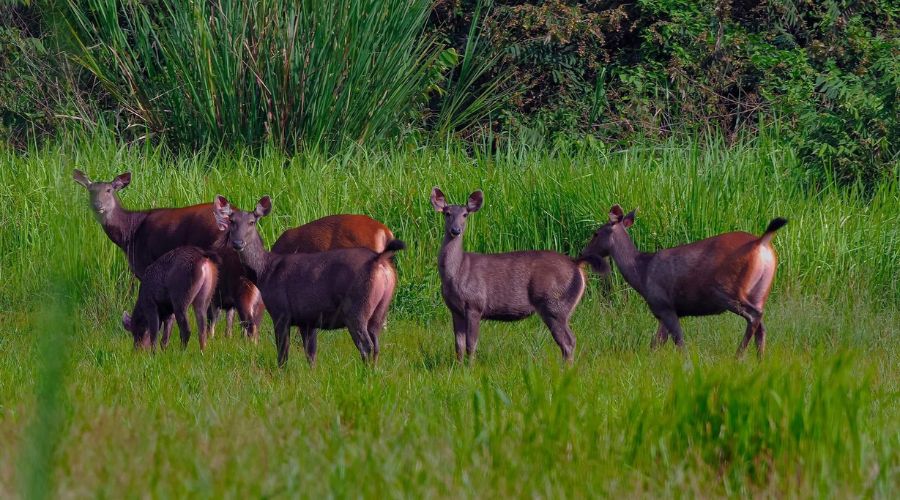 Conservation Program at Cat Tien National Park
Forest and Wildlife protection program
Collaborating with Cat Tien National Park, Save Vietnam's Wildlife (SVW) organized a workshop to enhance the effectiveness of forest protection and wildlife conservation at Cat Tien National Park. Over two days on April 18 and 20, 2023, 140 representatives, including park leaders, officials, forest rangers, contractual staff, and inspection officers, actively participated in the event.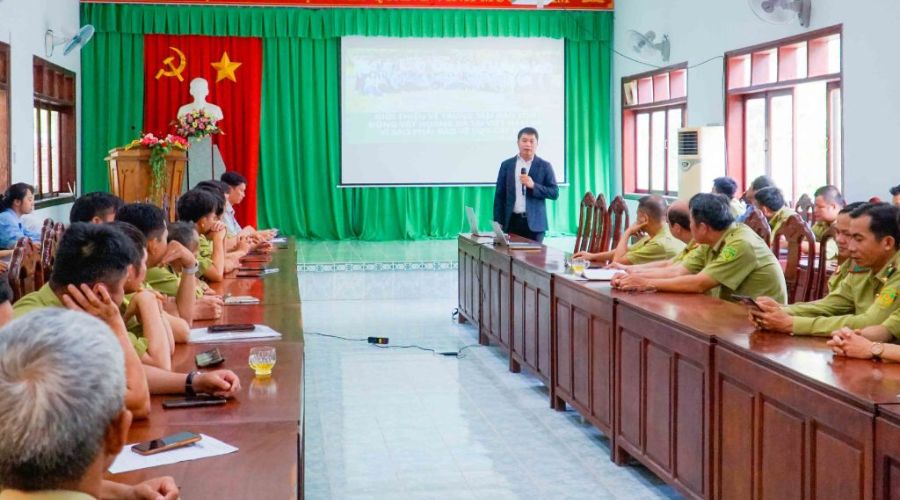 The workshop provided a valuable opportunity for participants to share their expectations and experiences in forest protection. Delegates engaged in discussions on solutions and collaborations between the two units to enhance the effectiveness of forest protection and wildlife conservation, law enforcement, and community awareness at Cat Tien National Park.
Over the two days, participants also dedicated time to discuss solutions and propose amendments to Decree 01/2019/NĐ-CP to enhance the roles, responsibilities, improve salaries, income, and benefits for the Forest Ranger force.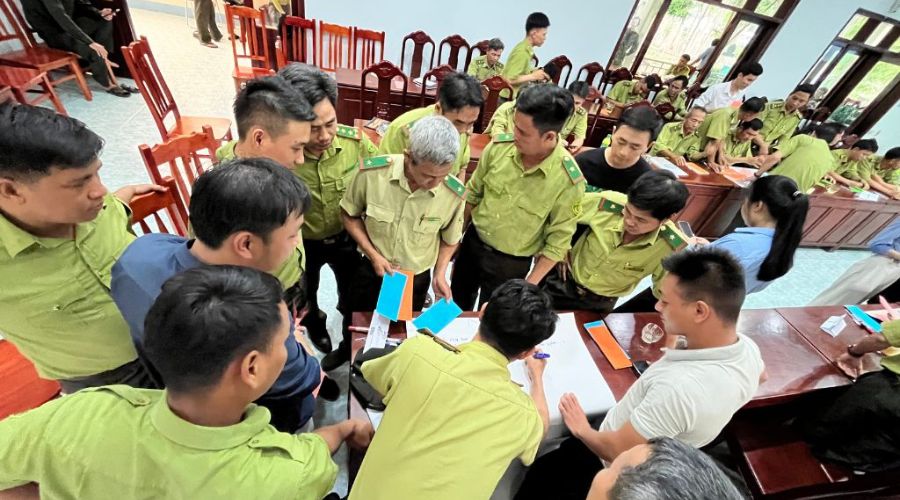 Forest rangers also worked in groups to discuss and share patrol measures currently being implemented in Cat Tien National Park. They proposed solutions, recommendations, and desired technologies to improve patrol effectiveness and law enforcement to prevent illegal hunting, transportation, and wildlife trade in the area.
Strengthening propaganda activities to raise awareness among loal communities about laws related to hunting, and trade of wildlife and communication campaigns to reduce the demand for wildlife and change the behavior of key stakeholders such as hunters and traders, were also important topics of concern for the delegates.
The workshop was a great success with conclusions and future cooperation content between SVW and Cat Tien National Park to promote forest and wildlife protection in the future.
Worldwide there are 8 species of pangolin: 4 species in Asia and 4 species in Africa. Vietnam is home to two species of pangolin, the Sunda pangolin and the Chinese pangolin, both of which are at serious risk of extinction, and and is ranked extremely dangerous on the International Union for Conservation of Nature's Red List (IUCN) – Critically Endangered (CR).
Cat Tien National Park is currently the place to care for, conserve, and release Sunda Pangolins (Manis javanica) into the wild with the combination of SVW and Cat Tien NP. Save Vietnam's Wildlife (SVW) has collaborated with Cat Tien National Park to release over 400 Pangolins from 2012 to 2020.
In addition, on November 6, 2022, Cat Tien National Park collaborated with the Wildlife Conservation Center in Vietnam – Save Vietnam's Wildlife (SVW), the People's Committee of Cat Tien District, Lam Dong Province, to organize the Run4Wildlife campaign.
The Run4Wildlife campaign was part of the UpRace 2022 running event for everyone, especially the youth, environmental organizations, and wildlife protection agencies. During the event, it aimed to achieve two main goals: raise awareness among all Vietnamese citizens about the importance of wildlife protection and encourage the collective efforts of everyone. Through the event, participants contributed to the efforts to protect Vietnam's wildlife and preserve the natural world we live in.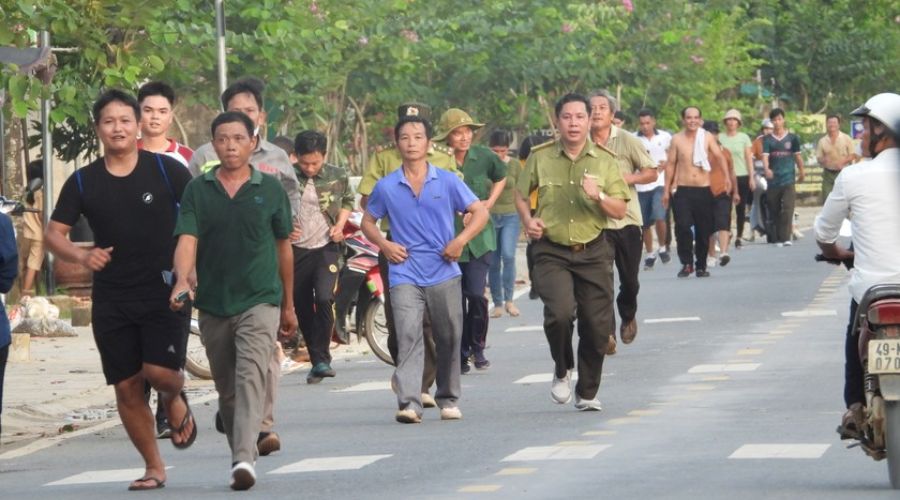 Read more: Seasonal Wonders: Best Times to Visit Cat Tien National Park
Biodiversity conservation program
World Wide Fund For Nature (WWF) Collaborates with Cat Tien National Park to Build Biodiversity. Enhancing Forest Protection Capacities with Advanced 5.0 Technologies: WWF's Support for Biodiversity in Cát Tiên National Park.
Within the High-Level Seminar on Sustainable Financial Directions and Solutions for National Parks and Reserves, on the morning of March 19, Ms. Kirsten Shuijt – Director of the International Organization for Global Nature Conservation, along with the delegation of the International World Wide Fund For Nature in Vietnam (WWF), organized a tree planting ceremony at Cát Tiên National Park.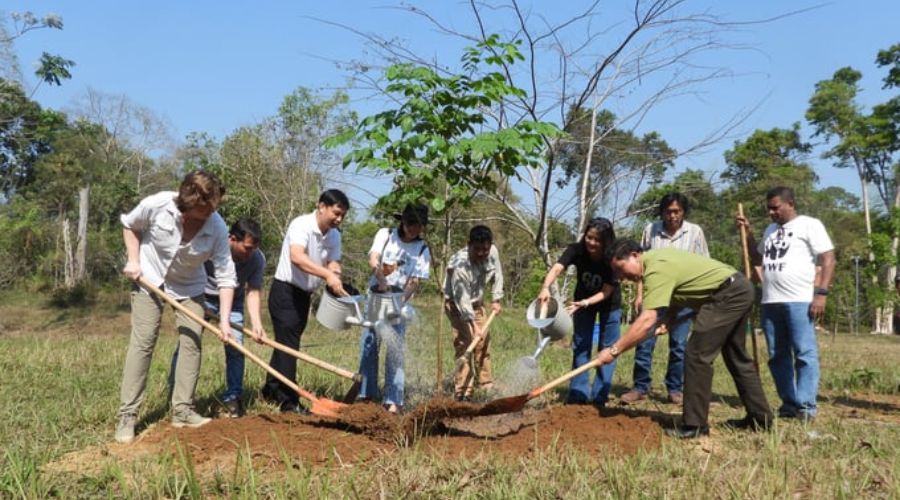 In Vietnam, WWF prioritizes support for conservation areas and national parks, collaborating with them on how to preserve biodiversity values. Particularly, many national parks and conservation areas in Vietnam were showing severe signs of biodiversity decline in the past. Over the last 10 years, biodiversity in these areas has been gradually recovering. Currently, we are supporting national parks and conservation areas from the Central region to Ca Mau, aiming to restore wildlife populations that are threatened with extinction. This is the goal of WWF.
WWF is currently continuing to support Cat Tien National Park in areas such as enhancing capacity in conservation work for forest ranger forces, scientific research teams monitoring the biodiversity impact of Cat Tien National Park, and supporting indigenous communities to build longhouses for ecotourism, helping them increase income and minimize impacts on the forest.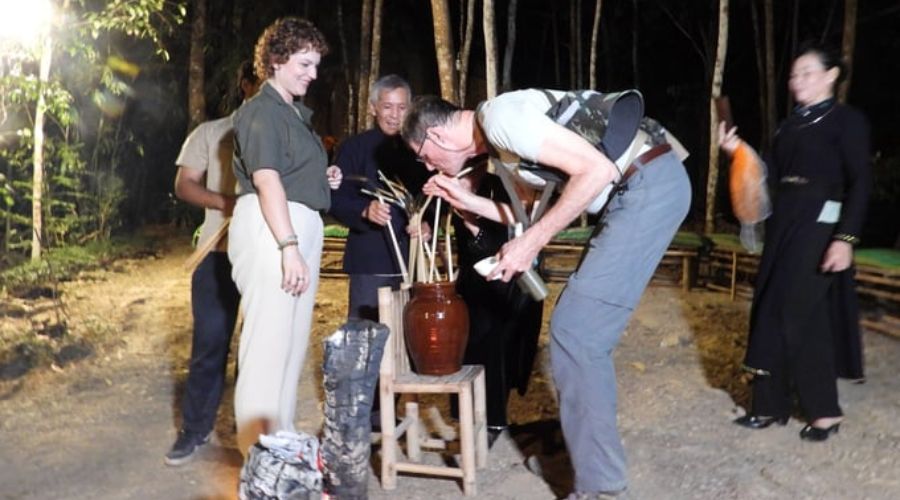 Sustainable Forest Management and Biodiversity Conservation
On February 18, 2023, a launch event for the Professional Trap Removal Team took place at Cat Tien NP. This marks an important initiative within components 7, 8, and 9 under the framework of the 'Sustainable Forest Management and Biodiversity Conservation' project (VFBC), funded by United States Agency For International Development (USAID).
The Professional Trap Removal Team is established with the core mission of conducting patrols, removing traps, and preventing activities that exploit forest resources. Additionally, the team will carry out other emergency activities related to forest protection as needed.
The objective of the project in establishing the Professional Trap Removal Team is primarily to encourage local communities, especially those in buffer zones, to actively participate in patrol activities, forest protection, and the conservation of local biodiversity. The establishment of the Professional Trap Removal Team aims to alleviate the pressure on forest protection patrols, which are often understaffed given the vast forested areas.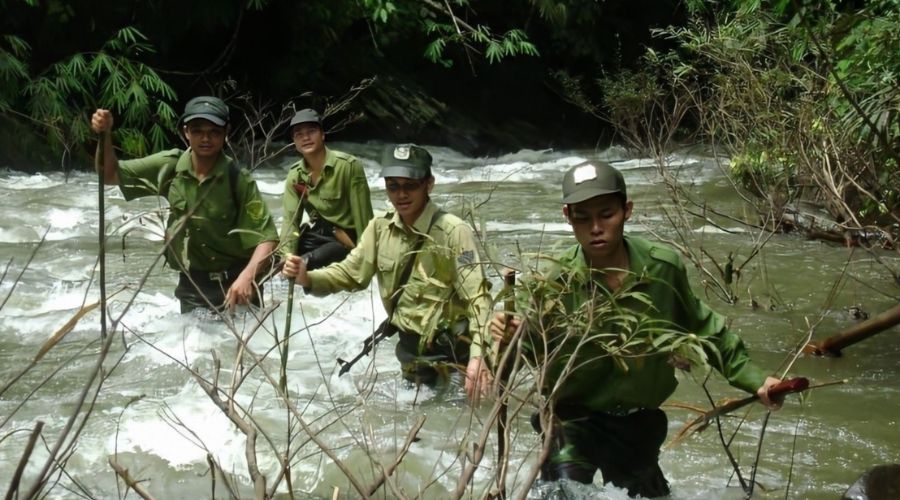 The Trap Removal Team consists of 9 members, mainly local residents from the buffer zone villages of Cat Tien Forest. They will support in enhancing the effectiveness of forest protection and trap removal for the Forest Management Boards in the VFBC project area. The team's composition of members is a crucial factor, reflecting the community spirit in participating in forest protection activities.
In addition to establishing a trap removal team, the project also aims to deploy synchronous activities from livelihood development, strengthening capacity in biodiversity management and monitoring, as well as increasing community participation. community in on-the-ground conservation activities, as well as communication to raise awareness about biodiversity conservation and reduce demand for wildlife. consumption.
Summary
While the article has touched upon the collaborative conservation journey at Cat Tien National Park, continuing to sustain and enhance the power of perseverance and collaboration is more important than ever.
WANEE hopes that we will continue to act together, with steadfast patience and strong collaboration, to protect and preserve Cat Tien NP – a precious natural heritage of ours. Our mission is not only to conserve for the present generation but also to leave a sustainable legacy for future generations.
Embracing the power of perseverance and collaboration, we can truly make a lasting impact on the conservation landscape at Cat Tien National Park.
Read more: Discovering the Majesty: Top 5 Rare Ancient Trees at Cat Tien National Park – Await Your Exploration
Join Our Conservation Journey!
Your visit to Cat Tien National Park isn't just an adventure; it's a contribution to the ongoing conservation efforts that safeguard this ecological treasure. To stay connected with us, learn more about our conservation initiatives, and witness the latest wonders of Cat Tien, follow us on our social media channels.
🐦 Our Tour side: WANEE TOURS & ACTIVITES
🌿 Facebook: Birding and Wildlife Tours in Vietnam
📸 Instagram: wanee_asia
Join our community of nature lovers, and together, let's ensure that Cat Tien's magic endures for generations to come.